This Brit-Rock Classic Will Give You a Trouser-Leg-Flapping Experience You Won't Forget
The Orange OR120 taps classic rock's raw power.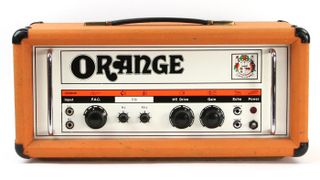 (Image credit: Frank Gross/Thunder Road Guitars)
Making and selling amplifiers was an afterthought for Orange, an act undertaken out of desperation to save the company from eviction. The Orange concept was founded in London in 1968 by musician and would-be all-round empresario Cliff Cooper, who rented a storefront on New Compton Street in the Soho district of London's West End.
Out of this he ran what was intended to be a recording studio, record label, music publishing and promotional agency business. Unfortunately, business wasn't very good. When the venture failed to bring in a profit, Cooper displayed his band's gear in the front window and marked it "for sale," in an effort to make the rent.
The amps sold the very same day, and soon after, the shop began selling second-hand musical equipment, catering to the needs of local bands who preferred older gear. The effort was so successful that Cooper had trouble keeping amps in stock.
In autumn 1968, he commissioned Matamp in the north of England to manufacture his new Orange amps. Mat Mathias's creations were known to be rugged and powerful, and were already in use by stars like Peter Green of Fleetwood Mac.
Around the turn of the decade, though, Orange established its own manufacturing facility in the southeast London suburb of Bexleyheath, and that's where this archetypal 1974 OR120 would have originated.
In addition to being robust and loud, Orange amps were distinguished by their orange tolex, although many were also covered in black. They also featured unusual front-panel features, with graphic legends adding to the explanatory control text.
The circuits were likewise quite different from those used in other large amps, giving Orange its own distinctive sound. Although the nifty big F.A.C. knob (short for Frequency Analysis Control) appears first on the panel, after the inputs, it actually follows the gain and dual EQ knobs in the signal chain.
This enigmatic six-position switch taps six different capacitors to revoice the signal between the preamp and output stages. As such, it's not entirely unlike the "click switch" on popular latter-day boutique amps by Matchless and Divided by 13, although the feature is used somewhat differently here.
The Hz and KHz legends represent the bass and treble controls, respectively, and govern a Baxandall tone stack that is very different from the EQ stages in popular amps from Fender, Marshall, Vox, and the like. The controls are highly interactive, making it a powerful tone shaper.
It's followed by HF Drive, a high-frequency boost akin to a presence control. The gain knob is the amp's main volume control and appears in the circuit between the first and second gain stages from the amp's first 12AX7 (ECC83) tube.
Orange offered models with master-volume controls, labeled OD120 and Overdrive, but those without them, like this OR120, were certainly loud by the time they gave up the grind. This model produces 120 watts from four EL34 tubes, with a lot of sonic bite going into it from the characterful preamp circuit.
These amps did induce some early breakup in the output stage even short of full whack, thanks to the use of a split-load (a.k.a. cathodyne) phase inverter, preceded by a driver stage. Not often used in amps of this size, it's a topology that largely went out of fashion in all but sub-20-watt amps after the archetypal designs of the '50s by Fender, Gibson, Valco and the like.
When pushed hard, this stage adds a little more hair to the overall tone, thanks to its own distortion, contributing to that legendary "Orange haze." Crank it up, and it's Brit-rock incarnate, and a trouser-leg-flapping playing experience you won't soon forget.
Essential Ingredients
Four EL34 output tubes generating around 120 watts
Two 12AX7 (ECC83) preamp and phase-inverter tubes
Unusual F.A.C. (frequency) and HF Drive (presence) controls
Split-load phase inverter
Thanks to Frank Gross at Thunder Road Guitars for showing us this incredible 1974 Orange OR120 amp
All the latest guitar news, interviews, lessons, reviews, deals and more, direct to your inbox!
Dave Hunter is a writer and consulting editor for Guitar Player magazine. His prolific output as author includes Fender 75 Years, The Guitar Amp Handbook, The British Amp Invasion, Ultimate Star Guitars, Guitar Effects Pedals, The Guitar Pickup Handbook, The Fender Telecaster and several other titles. Hunter is a former editor of The Guitar Magazine (UK), and a contributor to Vintage Guitar, Premier Guitar, The Connoisseur and other publications. A contributing essayist to the United States Library of Congress National Recording Preservation Board's Permanent Archive, he lives in Kittery, ME, with his wife and their two children and fronts the bands A Different Engine and The Stereo Field.