The Gretsch Guitar That Was Far Too Clever For Its Own Good
Despite its secret weapons the Viking failed to conquer when it landed.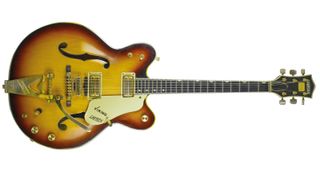 (Image credit: May Yam)
We'd heard that the Starving Musician in Santa Clara, California, had a 1930s molded bakelite Rickenbacker Electro, but by the time we got there it had been sold. We asked if they had any other "Whack Job"-worthy electric guitars and was pointed toward the 1967 Gretsch Viking shown here.
At first glance it looked too plain for our column of weirdoes and misfits, but upon closer examination, we discovered it had so many hidden surprises. Welcome to Gadgetville!
Weirdo Factor
Sure, it's a '60s American-made Gretsch, built in New York, and a first-class player all the way. But hiding in plain site are three gizmos that were ahead of their time. The first is an A-440Hz tuning fork – or what Gretsch called "The Floating Sound Unit" – hanging from a trapeze attached to the strings, right where a bridge would be. The fork is suspended through the body into a one-inch hole under the trapeze, where it supposedly enhances sustain and overtones (more on this below).
The second is Gretsch's patented T-Zone, or Tempered Treble Zone. To improve intonation with the Viking's somewhat compensated roller-style bridge, the 10th to 21st frets are angled slightly to adjust for pitch.
Finally, located between the standby kill switch and the Bigsby tailpiece (note its distinctive carved-out "V") is a lever to engage a foam string mute. All this weirdness hiding in the guise of a conservative jazz guitar!
Playability & Sound
If you like Filter'Trons, you'll love the Viking's slightly hotter Super'Tron pickups. The bridge unit is bright and chimey in that very special Gretsch way, while the neck pickup is bassy and jazzy. They sound great combined, but we enjoyed dialing back the neck pickup to balance the bass with the bridge pickup's chime. Super'Trons are very gainy and sound awesome, especially with a little overdrive. Add distortion or compression and the tuning fork starts to interact, hanging like a ghostly A note under everything you play, provided you're in a key that includes A.
The 17-inch-wide hollow body is laminated maple and has a high-gloss finish. The 21-fret neck is slender, comfortable and fast, and the fingerboard is ebony inlaid with art deco half-moon markers. The Grover tuners with large buttons are the finest I've ever used, while the Bigsby is smooth, although vintage units might need to have their spring replaced so the arm comes back to pitch. The other controls include a master volume, individual volumes for each pickup, a pair of three-way switches – one for preset EQ, the other a standard pickup selector – a two-way kill switch and, lastly, a lever to engage the string mute.
Value
Back in 1967, this guitar's MSRP was a whopping $675 (a Fender Strat listed for about $200), making the Viking second only to Gretsch's White Falcon flagship. These guitars now fetch between $2,500 and $3,500, which is worth it for a quality vintage guitar. Even a pair of used Super'Trons can fetch $1,500.
Why It Rules
The Gretsch Viking sounds musical, plays great and is loaded with fun and useful features that make it truly enjoyable to play.
Thanks to Gabe Horn at the Starving Musician.
All the latest guitar news, interviews, lessons, reviews, deals and more, direct to your inbox!