One of the rarest and most sought-after Japanese-made Teiscos, the 1968 May Queen is a guitar designed for players, not just beginners
Made for just one year, Teisco's May Queen was three times the price of its regular guitars. There's a reason for that…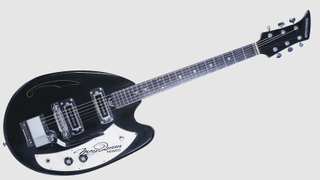 (Image credit: May Yam/Future)
There are Teiscos, and then there are Teiscos. The 1968 May Queen shown here is definitely in the latter category. Made for just one year, it's one of the rarest and most sought-after Japanese-made Teiscos, and with good reason: It's a proper electric guitar, not a knock-off made for department stores.
While the name May Queen brings to mind a certain British band and its celebrated guitarist, this model predates them both by some four or five years. In fact, the name refers to the young girl who leads the parade celebrating May Day, a mostly British holiday marking the start of spring and/or summer.
The shape is something akin to an artist's palette, or like a cross between a Vox Teardrop and a Rickenbacker 360. Speaking of Vox, in 1967 the company made a limited run of Mando-guitars with this exact body shape. But other than the shape and a groovy "cat's-eye" f-hole, the quality of this guitar is on a level with Teisco's fabled Spectrum line. It's a guitar designed for players, not just beginners.
Despite its semi-hollow body, the May Queen is most definitely not a jazz guitar. The tone is just too snarky. The two single-coil pickups are hot and musical, and great for surf and/or funk-style rhythm tones when run clean. But the real fun begins with overdrive or full-on distortion. Playing full chords through my Vox AC30 elicited the kind of distorted-but-defined sound of the early Kinks or '60s garage bands. Any resulting feedback could be easily molded, and musically so, just by changing my orientation to the amp. There are global tone and volume controls, and a three-way pickup toggle.
The May Queen's tremolo system is smooth and holds pitch well, and the bridge is fully adjustable and intonatable.
The enclosed tuners are the fancy starfish-cased ones that I've only ever seen on the Spectrum line. With the combination of the zero fret, well-grooved nut and well-pitched headstock, the guitar has no need for the "towel rack" string retainer typically found on Teisco's cheaper builds. The bolt-on neck has an easily accessible truss rod and sports 22 nicely dressed thin frets set into a ¼-inch slab of Indian rosewood. The string scale is 24 ¾ inches, like a Gibson, but the slender mahogany neck is somewhere between a shallow C and D shape. And at 1 11/16ths, the nut width is also like that of the average Strat.
The guitar's original $160 MSRP was triple what most of Teisco's guitars sold for, yet about half the price of a Stratocaster. Vintage market prices for the May Queen currently range from $600 to $1,600. The Teisco-branded 1999 reissue used different pickups and bridge, and sells for anywhere from $300 to $1,400. Eastwood made a nice replica in the 2010s that retailed for $800. And keep an eye out for 1968 models shipped into the U.S under the Kimberly brand. They're identical to the Teisco, except for a sticker crudely placed over the Teisco logos.
Unassuming yet idiosyncratic looks, it sounds both unique and musical. And thanks to its semi-hollow build, it weighs about two pounds less than a Telecaster and three to five pounds lighter than a Les Paul.
Thanks to Paul Connet for breathing new life into this one.
All the latest guitar news, interviews, lessons, reviews, deals and more, direct to your inbox!