The History of Rickenbacker 360/365/370/375 Capris
Rickenbacker's Deluxe semi-hollow electrics exhibited the full artistry of master luthier Roger Rossmeisl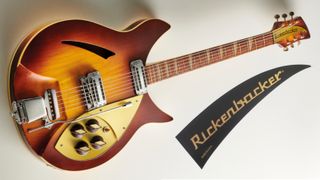 (Image credit: Future)
Appearing in 1958, Rickenbacker's Capri series of semi-hollowbody electrics comprises short- and long-scale models. Both follow the 300 series of model number designation.
In the short-scale camp we have the 310, 315, 320 and 325; and in the long-scale camp we have the 330, 335, 340 and 345, along with the 360, 365, 370 and 375. Respectively, that's three styles of Rick: short-scale, standard long-scale, and Deluxe long-scale.
Each sequence of four ascending model numbers in each style denotes the guitars' essential specs, in order as follows: two pickups, no vibrato; two pickups with vibrato; three pickups, no vibrato; and three pickups with vibrato. Hence, for example, a 325 has three pickups and a vibrato, a 330 has two pickups and no vibrato, and a 365 has two pickups and a vibrato as per the guitar featured above.
Here, we're taking a look at the Deluxe long-scale models 360, 365, 370 and 375. In this line of guitars, designer Roger Rossmeisl was able to apply his full artistry to the iconic Rickenbacker Capri.
Notable features include large triangular fretboard markers along with body and neck binding (the standard long-scale models 330, 335, 340 and 345 have dot markers and are unbound).
Larger-bodied, single-cutaway equivalents of both standard and Deluxe lines were also developed in 1958 (models 330F to 375F).
Within months of long-scale Capris being released in 1958, the controls changed from two switches (pickup selector and tone) and two knobs (volume and tone) to the more familiar layout of one pickup selector switch and four knobs comprising independent pickup volume and tone. At the same time, a split-level pickguard was introduced.
A smaller fifth 'blend' knob was added in 1961 that further expanded the choice of available sound following the introduction of the Rick-O-Sound stereo jack on Deluxe models 360, 365, 370 and 375 the previous year. Though many guitarists continued to plug in to the mono jack exclusively, the stereo Rick-O-Sound feature remains a standard appointment to this day.
1961 was a big year for the long-scale double-cutaway Capris. A second truss rod was added and the body depth thinned from two to one-and-a-half inches.
Simultaneously, the horns and headstock were widened, and the instruments' waist was lowered. This iconic design soon helped define Rickenbacker as one of the world's leading electric guitar builders.
The Evolution of Rickenbacker 360/365/370/375 Capris
Spring 1958 21 frets; 2" depth; 'toaster' pickups; single-layer pickguard; 2x cooker knobs; 2x switches
Summer 1958 Split level pickguard; 4x cooker knobs; 1x switch; natural and two-tone brown finishes
Late 1958 Autumnglo(w) with brown sunburst finish Early
1959 Fireglo(w) with cherry red sunburst finish
1960 Kauffman Vib-Rola replaced by Ac'cent vibratos; Rick-O-Sound jack
1961 Large horns; lower waist; 1½" depth; wider headstock; blend knob; dual truss rods
1964 Unbound rounded tops; chequerboard back binding; bound soundhole; KK knobs
Late '60s New finishes: Jetglo (1966); Azureglo (1967); Burgundyglo (1968)
1970 24 frets; Hi-gain pickups
2023 300 Series 360 and W Series 360W models available
While 330, 335, 340 and 345 models retained this body shape, in 1964 the Deluxe 360, 365, 370 and 375 models were revamped to include a rounded top. Meanwhile, soundhole binding appeared along with fancy chequerboard back binding a couple of months later.
Deluxe models continued to be available on special order in the early '60s flat/bound top style and are denoted by an 'OS' suffix, meaning 'Old Style'.
Standard finishes included a natural option known as Mapleglo and Fireglo – Rickenbacker's famous cherry red sunburst that superseded earlier two-tone brown sunbursts in 1959.
Opaque color options were introduced throughout the latter part of the '60s and included Jetglo (black), Azureglo and Burgundyglo.
In 1970, 24-fret fingerboards became standard, while the most significant change yet in terms of sound occurred when the classic 'toaster' lower-output single coils were replaced by fuller-sounding Hi-gain single-coil pickups.
All the latest guitar news, interviews, lessons, reviews, deals and more, direct to your inbox!
Rod Brakes is a music journalist with an expertise in guitars. Having spent many years at the coalface as a guitar dealer and tech, Rod's more recent work as a writer covering artists, industry pros and gear includes contributions for leading publications and websites such as Guitarist, Total Guitar, Guitar World, Guitar Player and MusicRadar in addition to specialist music books, blogs and social media. He is also a lifelong musician.