The Iconic Rickenbacker 325 Has a Story Like No Other Electric Guitar
Favored by John Lennon, this short-scale model was the first in Rickenbacker's defining Capri range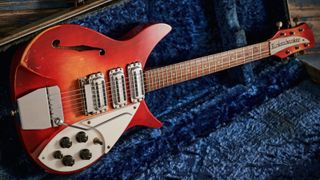 (Image credit: Future)
Rickenbacker's 325 has a story like no other guitar. It's hard to believe this quirky short-scale semi-hollowbody was a catalyst for the American firm's meteoric success in the mid '60s (as people who've struggled to get to grips with the diminutive 325 regularly agree).
But after falling into the nimble hands of a young John Lennon, this breakthrough design – the first in luthier extraordinaire Roger Rossmeisl's brand-defining Capri range – helped raise Rickenbacker's status from Californian guitar pioneer to global rock 'n' roll icon.
By a strange twist of fate Lennon acquired the first ever production 325 Capri. And thousands of miles away from California to boot.
Having been exported to Rossmeisl's homeland Germany in October '58, it was hanging up for sale in a Hamburg music store when the Beatle happened to purchase it in November 1960.
This guitar – serial number V81 – was one of eight instruments in the first batch of 30 that appeared sans f-holes. Built in early '58, that initial run comprised 325-style triple-pickup/vibrato-equipped models bar one dual-pickup/non-vibrato guitar (number V111).
By mid-'58, Rickenbacker had expanded the Capri range to include three other short-scale models: the dual-pickup/non-vibrato 310, dual-pickup/vibrato-equipped 315, and triple-pickup/non-vibrato 320.
325s are easily identifiable by their f-holes, as distinct from long-scale Rickenbacker Capris, which typically sport a slash/cat's eye soundhole. The exceptions are the Rose-Morris export models that were shipped between '64 and '67 after the U.K. firm signed a distribution deal in December '63.
All Rose-Morris Capris have f-holes and were deemed 'Special' orders. Thus, a U.K.-bound 325 was logged as a 325S.
At the same time, Rose-Morris advertised these guitars using its own catalogue number, 1996.
Similarly, there was the 335S/1997 and 345S/1998 long-scale Capris, 615S/1995 solidbody, and 4001S/1999 bass.
The Evolution of the Rickenbacker 325
Late 1957 'Polynesian' prototype; German carve; no f-hole
Early 1958 First production Capris (numbers V81-V111); flat tops; first 8 no f-holes
1959 Body depth reduced from 2" to 1½
1960 John Lennon purchases 325 number V81
1962-1963 No short-scale Capris produced
1964 Split-level 'guard; 5x black 'K.K.' knobs; Ac'cent vibrato; Rose-Morris 325S/1996
1985 V-Series; 325V59 (Lennon/#V81 specs); 325V64 (Lennon/#DB122 specs)
2002 C series; 325C58 (Lennon/#V81 specs); 325C64 (Lennon/#DB122 specs)
2006 1996 (Rose-Morris reissue); Amber Fireglo sunburst finish
2023 325C64 available; Jetglo (black) finish
The Rose-Morris 1993 12-string Capri was soon added to the range, inspired by George Harrison's recent acquisition of a prototype 360/12.
After Lennon acquired his second 325 (serial DB122) in '64 he was also gifted a unique 12-string – a one-of-a-kind 325/12 (albeit without a vibrato) – though this model never went into regular production.
The Rose-Morris export deal coincided with the explosion of the Beatles in America following their record-breaking television debut on The Ed Sullivan Show in February '64 when around 73 million people tuned in to watch.
The electric guitar industry suddenly boomed. And in a complete reversal of fortune Lennon almost single-handedly revived the ailing short-scale Capri.
Whereas there are no 325s recorded as shipped during '62 and '63 due to a lack of interest, in '64 Rickenbacker found itself struggling with unprecedented levels of demand.
Interestingly, Rose-Morris Capris were increasingly seen in the hands of British Invasion guitarists who then reimported their unique Rickenbacker sound to the U.S., further fueling the demand on home turf.
When the 325 recommenced production in '64, design updates included a split-level 'guard, small black 'K.K.' knobs and an Ac'cent vibrato in place of the original single-layer pickguard, large 'cooker' knobs and Kaufmann Vib-Rola.
Rickenbacker's ubiquitous blend knob (a.k.a. the Compensator control) was developed in the early '60s and was also included on the revamped 325, along with a sturdier dual truss rod system.
Thanks to Vintage 'n' Rare Guitars in Bath, U.K. for showing us this 1964 Rickenbacker 325S Rose-Morris model 1996.
All the latest guitar news, interviews, lessons, reviews, deals and more, direct to your inbox!
Rod Brakes is a music journalist with an expertise in guitars. Having spent many years at the coalface as a guitar dealer and tech, Rod's more recent work as a writer covering artists, industry pros and gear includes contributions for leading publications and websites such as Guitarist, Total Guitar, Guitar World, Guitar Player and MusicRadar in addition to specialist music books, blogs and social media. He is also a lifelong musician.