All You Need to Know About John Lennon's Favorite Rickenbacker Model
The Beatles legend's discovery of the 325 model launched Rickenbacker's British Invasion-era success.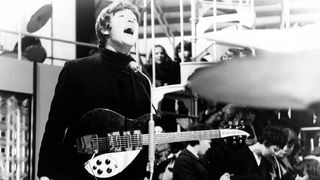 (Image credit: John Rodgers/Redferns)
Rickenbacker's explosion in popularity in the 1960s came courtesy of an unlikely and convoluted combination of circumstances: a British band selling a U.S.-made guitar back to the American audience, all thanks to an admittedly oddball model originally purchased in Germany.
But while anything the Beatles laid their hands on made for an easy ride in the marketing department, the Rickenbacker 325 and its brethren proved to have a lot going for them in their own right.
You'd be forgiven for thinking that Rickenbacker was born in the late '50s or early '60s, given the way its guitars hit the scene with John Lennon and George Harrison of the Beatles, the Byrds' Roger McGuinn and the Who's Pete Townshend, among others.
In fact, this manufacturer's origins extend back to the very dawn of the electric guitar. Rickenbacker evolved from a team of inventors and manufacturers who originally worked together at National in the 1920s, trying to make guitars louder using resonator cones, before amplification became the obvious way forward.
They included George Beauchamp and Paul Barth, who in 1931 developed what is widely considered the first successful magnetic pickup for guitar. With help from Harry Watson and Adolph Rickenbacker, they put this "horseshoe pickup" – so called for its U-shaped magnets – on a rudimentary maple solidbody guitar.
Dubbed the "frying pan" for its shape, this was the first of a line of solid Spanish and Hawaiian guitars made from both wood and Bakelite that would carry the Rickenbacker (and sometimes Rickenbacher) brand name that fronted Beauchamp, Barth and Rickenbacker's Electro String Company. Ownership went to distributor F.C. Hall in 1954, by which time Rickenbacker was on its way to becoming the jangly propellant of the British Invasion.
The big horseshoe pickup still appeared on some of the revamped company's early models, notably the Combo, but over the next few years, some more-conventional single-coil guitars went into production, and the line was lurching toward what we consider its classic status.
By the end of the 1950s, Rickenbacker offered a model range that included hollowbodies, short- and full-scale solids, and semi-hollowbodies with one, two and even three pickups.
It was around this time that a young John Lennon was walking the streets of Hamburg, Germany, in search of his dream guitar. For Lennon, Harrison or any young British rock and roller of 1960, the term quality guitar was synonymous with American guitar.
Lennon found his hanging in a Hamburg guitar shop in the form of a natural-finish 1958 Rickenbacker 325, which was part of the company's Capri series (named for the Hall family cat). The 325, like the other models in the series, was designed by German luthier Roger Rossmeisl.
Harrison, who was along for the ride when Lennon bought the guitar, told BBC Radio, "It was a great-looking guitar, and I think in England you had to order them and wait for six months. Not just for Rickenbackers, for anything – Fenders, Gibsons… And I think it [came about] purely because John needed a decent guitar and that one happened to be in the shop and he liked the look of it."
This 325 would become the sound of Beatles rhythm guitar from 1960 to around '65, as heard on "All My Loving," "I Saw Her Standing There" and "I Want to Hold Your Hand."
By the time it was thrust into the public eye during the band's 1964 debut appearance on The Ed Sullivan Show, Lennon's 325 had transmuted to a gloss-black finish in 1962, courtesy of an English coachmaker. (A decade later it would be repaired and stripped to natural by New York repairman Ron DeMarino.)
But fans comparing Lennon's early Rickenbacker with even slightly later 325s will notice several other things that stand out about it. For instance, later examples sported an f-hole on the upper bout that revealed the body's semi-hollow nature, though this '58 – an early guitar built in the model's first year of existence – had a solid top that gave it the impression of being a solidbody.
A year or two after Lennon's 325 was made, Rickenbacker switched to the characteristic white-plastic pickguard with a raised forward section, rather than the flat white (and later gold) pickguard. In addition, Lennon modified his 325 by swapping its original Kauffman Vibrola for a Bigsby, and changing out the original oven-style knobs for Hofners.
Mods, rare features and refinishes aside, the Rickenbacker 325 was something of an oddball to attain legendary guitar status. Its scale length was a mere 20¾ inches, putting it in the student-sized range. As such, it's likely the shortest-scale electric to attain star-guitar fame.
Given the limited appeal of these short-scale models, the 325 Capri wasn't setting sales records in the late '50s and likely would have been headed for deletion. After Lennon embraced it, however, it became one of the most desirable of all the now-vintage Rickenbacker guitars.
Tone-wise, the 325's scale length contributes to a loose, wiry sound, but the key proponent of that Rickenbacker jangle and kerrang is found in its three toaster-top pickups. Although these look somewhat like mini humbuckers, they are actually single-coil units made with a central row of six individual Alnico magnet pole pieces with a coil wound around them.
Their sound is appropriately bright and chimey, and has played a big part in Rickenbacker guitars' enduring popularity. In the wake of the British Invasion, the brand found favor with '70s and '80s stars like Tom Petty and Mike Campbell of the Heartbreakers, Paul Weller, Peter Buck, Dave Gregory, Johnny Marr and many others.
Despite the collectability of vintage 325s and Lennon's enduring legacy, relatively few major stars have turned to this short-scale model, although Susanna Hoffs made her mark with one in the Bangles, and a generation earlier John Fogerty used his Fireglo 325 on many Creedence Clearwater Revival recordings and live dates. In the eyes of most players, it remains a classic model from the British Invasion.
Check out Guitar Center's current line-up of Rickenbacker guitars here.
All the latest guitar news, interviews, lessons, reviews, deals and more, direct to your inbox!
Dave Hunter is a writer and consulting editor for Guitar Player magazine. His prolific output as author includes Fender 75 Years, The Guitar Amp Handbook, The British Amp Invasion, Ultimate Star Guitars, Guitar Effects Pedals, The Guitar Pickup Handbook, The Fender Telecaster and several other titles. Hunter is a former editor of The Guitar Magazine (UK), and a contributor to Vintage Guitar, Premier Guitar, The Connoisseur and other publications. A contributing essayist to the United States Library of Congress National Recording Preservation Board's Permanent Archive, he lives in Kittery, ME, with his wife and their two children and fronts the bands A Different Engine and The Stereo Field.