The All-American Acoustic Guitar: This Rare Sunburst D-18 From 1936 Represents a Pinnacle of Martin's Craftsmanship
Pre-war Martins are among the most collectible flat-tops in the world – and this stunning example is one of the cleanest we've seen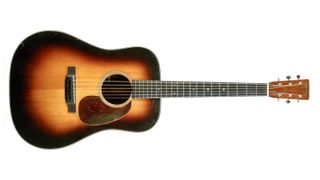 (Image credit: Well Strung Guitars/Paige Davidson)
The Dreadnought was originally developed by Martin in the earlier part of the 20th century when steel strings were becoming increasingly popular and Hawaiian music was all the rage. Hawaiian musician Mekia Kealakaʻi played a crucial role in the Dreadnought's birth in 1916 when he received his custom-built instrument, and the design entered production the same year as exclusive models, namely the D-111 and D-222, for retailer Ditson.
Following the demise of Ditson, Martin started marketing the Dreadnought under its own brand in 1931. But the now iconic Martin Dreadnought really came into its own in 1934 when it changed from a 12- to 14-fret neck design.
Finally, 100 years after Martin made its first guitar on U.S. soil, the archetypal American flat-top had arrived.
When America entered the Second World War following the December 1941 Pearl Harbor attack, guitar production was suddenly and irrevocably altered due to the war effort and materials shortages. Hence, pre-war Martin acoustics are among the most collectible flat-tops in the world.
David Davidson of Well Strung Guitars recently showed us this stunning example from the pre-war era.
"This is a 1936 Martin D-18 with a shaded top – probably the cleanest one in the world," he tells us. "Shipping records show they shipped two shaded top guitars in '36. The Martin ledger goes all the way back to before the American Civil War, which is pretty amazing.
"It's possible that not all 'dark tops', as they were referred to in the Martin catalog, were recorded being shipped as such, and some collectors estimate the figures to be higher. Even so, there aren't many out there."
Pre-war Martins are regarded by collectors and players as some of the best flat-tops money can buy. "In my mind, this is the pinnacle of a great-sounding Martin," agrees David. "Purists will sing the praises of '30s Martins, but I've had a lot from the '40s and '50s that sound great as well.
"The look of this guitar is beyond belief, but it sounds incredible, too. I don't do as much with acoustic guitars as I do electrics, but I'm pretty familiar with them and I can tell you that when it comes to these pre-war Martins, they're very desirable."
And when it comes to investing in a vintage piece, these instruments have a strong track record. "Even during the recession from 2008 to 2012, they never seemed to lose a dime," recalls David. "While electric guitars were struggling, acoustics were generally doing well. This one happens to be a really amazing piece, and it has all the good things people look for, including forward-shifted, scalloped X-bracing."
While we're used to seeing sunburst Gibson acoustics, such finishes are far less common with respect to vintage Martins. "The sunburst on a Martin is unique," says David. "It looks different to the sunburst on a Gibson flat-top. These guitars were made as a direct response to Gibson making sunburst flat-tops; they had a little competition going on. In fact, the whole thing is rooted in – often unspoken – competition.
"I'm sure they saw each other's products at the trade shows in the 1930s and, presumably, Martin thought they might be losing some market share if they didn't do a sunburst guitar. It's called a 'dark top' in the catalog, although people tend to call it a shade top or shaded top."
Finish aside, the shape and size of a guitar is crucial with respect to its look, not to mention its feel and tone. "Gibson had their Jumbos, which are often called dreadnoughts, too, but these larger guitars aren't comfortable for every kind of guitarist," points out David. "Alternatively, 000-sized Martins can fit a player's body better.
"Because of the way the guitar is shaped, it sits lower on your thigh, and the [lower bass bout] feels significantly smaller against the forearm. I think that's why the 000 guitars were so popular with female players and/or those of smaller stature."
According to David, the Martin Dreadnought (originally spelled Dreadnaught) was developed for enhanced volume and fullness of tone. However, the difference in sound between Martin D- and 000-designated instruments may be less obvious than some people think.
Explains David: "The Dreadnought was made to be played standing up. It was made bigger and louder so that players back in the day – be it in a church group, an outdoor singalong or whatever – had a guitar that was able to project when standing. Nevertheless, a lot of players ended up playing them sat down.
"You get more bottom-end with a Dreadnought than you do a 000. There's not a dramatic difference between them, but I think there is a dramatic difference between a 000 and 00 or 0. There's significantly less low-end with the smaller 00 and 0; that's another reason why I think a lot of people prefer 000s. Not only do they fit better and are easier to play both sitting down and standing up, but the sound is rich and full. I mean, either is wonderful."
Although many notable guitarists have used 18-series Martins, these guitars were (and remain) relatively affordable.
"An 18-series guitar is nowhere near the top of the line," highlights David. "It was one of the lower Martin guitar styles made at that time – the 28-series was considered the midline – and there wasn't a huge difference in price between a D-18 and 000-18. It was really about which was the more comfortable of the two."
"People like the 18s for recording, particularly fingerstyle. If you use an 18 – which is generally a brighter guitar than a 28 – for fingerstyle, it can balance out nicely. It can sound more subdued playing fingerstyle on a 28 because they're less bright, but they often sound better using a plectrum. A plectrum is going to make any guitar sound brighter than your fingers because it's a harder material.
"D-28s are associated with bluegrass, but you can use one to play just about anything. Same with a D-18. It really comes down to how you decide to play them. Dreadnoughts can be bigger and boomier if you strum them a certain way. You can get a lot out of them if you want it. Or they can be very subtle when gently picked."
Throughout the decades, Martin acoustics have remained workhorse instruments with a reputation for quality and consistency, although some extra care may be required in colder regions. "I've rarely come across an early Martin Dreadnought I didn't like," says David. "The only times they've not been that great have been when there were tons of repairs – too many cleats stopping the good vibrations of the soundboard.
"But they can be treacherous to own, especially in cold, dry climates. That's when you really have to give them a lot of care and feeding. The only guitars I've seen that seem to do well in virtually all climates are made of maple. Maple rarely cracks."
Vintage guitar veteran David Davidson owns Well Strung Guitars in Farmingdale, New York.

info@wellstrungguitars.com / 001 (516) 221-0563
All the latest guitar news, interviews, lessons, reviews, deals and more, direct to your inbox!
Rod Brakes is a music journalist with an expertise in guitars. Having spent many years at the coalface as a guitar dealer and tech, Rod's more recent work as a writer covering artists, industry pros and gear includes contributions for leading publications and websites such as Guitarist, Total Guitar, Guitar World, Guitar Player and MusicRadar in addition to specialist music books, blogs and social media. He is also a lifelong musician.