The History of the Martin 0-18
Available now in Martin's Standard Series, the 0-18 remains small in stature but big on tone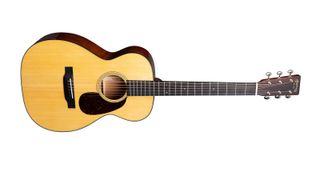 (Image credit: Martin)
Martin flat-top acoustic guitars are among some of the most highly regarded instruments of their type. Ever since Christian Friedrich Martin set up shop in the 1830s (originally in New York before moving to their current residence of Nazareth, Pennsylvania a few years later) they have spearheaded acoustic instrument design with several revolutionary technical developments along the way.
Martin's model naming system can sometimes cause a bit of confusion, although once armed with a handful of basic facts it soon becomes clear that a certain logic is at play. It comprises letters and/or numbers separated by a hyphen; the first part describes body shape while the second part describes style in terms of tonewood and ornamentation (generally the higher the number, the fancier the guitar). As far as vintage guitars are concerned, this system has remained consistent since the 1850s and provides a reasonable idea of the spec.
Some of Martin's most popular guitar shapes are (in diminishing size): D or 'dreadnought', 000 or 'auditorium' size, 00 or 'grand concert' size and 0 or 'concert' size.
The more numerous styles tend to be (in diminishing levels of fanciness): 45, 35, 28, 18, 17 and 15 – thus, the Martin 0-18 may be thought of in general terms as a smaller-bodied, mid-level instrument.
With a body width of 13½ inches and a scale length of 24.9 inches it is larger than the 'parlor' guitars (although it's a bit of a loose term, a 'parlor guitar' is often defined as any guitar with a body smaller than a Martin 'concert' or 0-size), although it's noticeably much smaller than today's most popular acoustic guitar shape, the dreadnought.
The Martin 0-18 was originally released in 1898 with Brazilian rosewood back and sides, an Adirondack spruce top and an unbound ebony fingerboard. In 1917 the back and sides were changed to mahogany and from 1935 rosewood began to replace ebony as a fingerboard material, becoming standard by 1940.
Post-war 18-style guitars have changed little since in terms of body tonewood type, but Martin is currently offering a brand-new 0-18 model sporting an ebony fretboard and bridge with a list price of $2,799 as part of its Standard Series of guitars.
One of the more significant changes to the 0-18's spec came in 1932 when the neck-body join changed from the 12th to the 14th fret, which no doubt took away some of its bottom-end punch, although the guitar is well noted as having a decent attack along with a sweet presence in the upper-mid range, which makes it particularly useful as a recording guitar.
"There was a particular guitar that was my go-to, a 1947 Martin 0-18, and it's a beauty," revealed U2's the Edge in our recent interview about the band's new Songs of Surrender album. "I was with my son, Levi, in McCabe's in Santa Monica. He was buying a pedal, and I was staring at this guitar in a case. I was like, "Mmm, do you mind if I try this guitar?" I instantly fell in love with it."
Although these smaller-bodied steel string instruments are more often associated with fingerpicking styles like traditional blues, the relatively long scale length of the 0-18 makes it a very respectable strummer (and its diminutive size means it's very good for relaxing and writing on the sofa with!)
A variety of other notable guitarists are known to the favour the 0-18 including Steve Earle and Bob Dylan, along with John Frusciante and Warpaint's Emily Kokal.
All the latest guitar news, interviews, lessons, reviews, deals and more, direct to your inbox!
Rod Brakes is a music journalist with an expertise in guitars. Having spent many years at the coalface as a guitar dealer and tech, Rod's more recent work as a writer covering artists, industry pros and gear includes contributions for leading publications and websites such as Guitarist, Total Guitar, Guitar World, Guitar Player and MusicRadar in addition to specialist music books, blogs and social media. He is also a lifelong musician.