You May Know the Fender VI, Gibson EB-6 and Danelectro UB-2, But Have You Ever Seen a Mosrite Six-String Bass?
Dating to 1966, this sparkle-finish rarity could be the only instrument of its kind in the world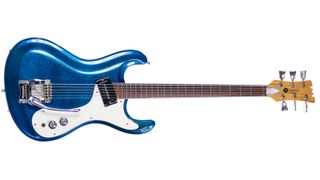 (Image credit: Paige Davidson/Well Strung Guitars)
David Davidson of Well Strung Guitars has owned a lot of oddball axes in his time. Prototypes, one-off custom orders, tradeshow builds, movie prop guitars, employee instruments…you name it, he's seen it.
Among such rarities is this uncataloged sparkle-finish guitar from the mid '60s.
"This is a 1966 Mosrite six-string bass," begins David. "Up at the top of the fretboard near the body where they put their serial numbers it says '6 001.' '6' indicates the model year, but '001'? I don't know how many six-string basses Mosrite made, but they're not in the catalog. And there are no markings on it anywhere that indicate a model name. I've never seen another one like it."
Impressed by its unique design, David acquired the instrument while considering if he'd ever see the likes of it again. You snooze you lose, as the saying goes, so he decided to pull the trigger before it got away. As he recalls: "I bought this guitar several years ago from another dealer here in the United States because I said to myself, 'I don't know if I'll ever see another one of these things again.' It wasn't very costly, and it had the original brown Mosrite 'gator case with some original paperwork, which is kind of neat."
While David has owned a number of vintage Mosrites, they are far from his favorite guitars. "I have to say that I've never been a huge fan of the Mosrite company," he admits. "I realize Semie [Moseley, Mosrite founder] was a forefather of the solidbody electric guitar business and I have to give him credit for his innovations and designs. But this guitar is way out there. I don't know how far this project went, but I'm sure it was in response to the Fender VI, Gibson EB-6 and Danelectro [UB-2] six-string basses. My feeling is that everyone was jumping on the bandwagon and trying to make something.
"This one has a very deep blue sparkle finish and it has the really cool 'Bart Simpson' tuners – they got the name because they look like a profile of the cartoon character Bart Simpson's head! It's also got a Mosrite vibrato that actually functions. I mean, it works fairly well. It's an interesting design, but it's an absolute rip-off of the spring-loaded Bigsby. The pickup is basically a six-polepiece guitar pickup."
It may look the part, but this vintage Mosrite also plays like a pro instrument. "The playability is great. Out of all the six-string basses or baritone guitars of this period that I've played this is probably second only to the Fender VI. It's far superior in build and design to the Gibson. There are two versions of the Gibson six-string bass – a semi-hollow version [from 1959] and a solidbody version [from 1961]. The hollowbody looks like an EB-2 [thinline] and the solid version has the typical SG shape. The SG-style ones tend to sound a little farty, and the earlier ones are also rather odd and cumbersome. The neck dimensions make them feel weird to play.
"This Mosrite six-string bass, however, plays pretty much like a regular guitar! You can pluck each individual string easily and hear each note clearly, or you can play chords. And the sound projects really well through an amplifier.
So what's the most obvious differences between this Mosrite and a Fender VI? "The advantage the Fender VI has over it is that it's got larger frets, whereas the frets on this Mosrite are tiny," David tells us. "You can even bend strings pretty comfortably on the Fender VI and get some very cool sounds. I always think of Glen Campbell's "Wichita Lineman" when I think of the VI because of the solo. But another great song featuring a Fender VI is Aerosmith's "Back In The Saddle" – that's certainly one of the most emotional sounds I've ever heard come out of a baritone electric guitar.
"But I don't know of any recorded music performed using a Mosrite six-string bass. So I can't recommend you listen to anything specific. This guitar is really a mystery. It's virtually unknown. But that's what got me interested in it to begin with. When I saw it online, I bought it for the Songbirds guitar museum in Chattanooga, Tennessee [David curated the museum's incredible collection]. I bought it because I thought the museum needed something strange like this. It's such a cool piece."
"Just to be completely transparent, I've only owned about 10 different Mosrite guitars in my life, so it's not like there's been a lot of them. I've had a couple of the set-neck ones they made early on that are good. Mosrite certainly had their fans."
Image 1 of 2
These days, we hear far more about how Fender, Gibson, Epiphone, Rickenbacker and Gretsch played a part in electric guitar history. But Mosrite also played an important role in the early days of the instrument. "Semie Moseley did a good job of getting his guitars out there into the country world," acknowledges David. "He got his guitars into many people's hands. There are clips on YouTube of guitarists playing Mosrites at barn dances and even places like the Grand Ole Opry.
"Because of the Ventures models, Mosrites are also associated with surf music. But when this was made in '66, the surf music era was pretty much over. The surf era really lasted from around 1960 to 1964. Once The Beatles became relevant, it was basically the end of a lot of people's careers. I hate to diss a company I know has a big fanbase, but I just never really got the whole Mosrite thing. But I'll say more positive things about this guitar than any [Mosrite] Ventures guitar I've played. I don't think I've ever advertised it before. Then again, I don't know who would be interested in it!
"Regardless, it's an honor for me to own something this weird."
Vintage guitar veteran David Davidson co-owns Well Strung Guitars in Farmingdale, New York
info@wellstrungguitars.com / 001 (516) 221-0563
All the latest guitar news, interviews, lessons, reviews, deals and more, direct to your inbox!
Rod Brakes is a music journalist with an expertise in guitars. Having spent many years at the coalface as a guitar dealer and tech, Rod's more recent work as a writer covering artists, industry pros and gear includes contributions for leading publications and websites such as Guitarist, Total Guitar, Guitar World, Guitar Player and MusicRadar in addition to specialist music books, blogs and social media. He is also a lifelong musician.