With X-Braced Tops, Top-Notch Tonewoods, and Plenty of Bling These Guitars Rivaled Martin – so Why Is No One Talking About Lyon & Healy Today?
Read the fascinating story of Lyon & Healy – one of America's best guitar makers of the early 20th century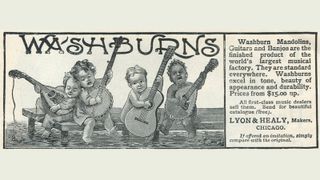 (Image credit: Jay Paull/Getty Images)
Unless you habitually peruse the dusty corners of acoustic-guitar specialty shops in search of petite-bodied parlor guitars from yesteryear, you might not know the name Lyon & Healy. But the brand was once one of the most prominent American guitar makers, and for a time it was a central fixture in Chicago's massive instrument-manufacturing scene.
It was also one of the best when judged by its upper-level flattops of the early 20th century. In terms of both build quality and presentation-grade ornamentation, the 1920s Lyon & Healy auditorium model featured here could have given Martin's 00-45 of the era a run for its money, although it arguably wasn't put together with quite the same depth of craftsmanship, nor has it attained a comparable status over the past 100 years.
George W. Lyon was a long-term employee of Boston's Ditson Company, a music publisher that also dealt in musical instruments, which was a common practice in the day and for many decades after. Ditson partnered Lyon with the younger Patrick Healy and sent the pair west to Chicago in 1864 to establish what would initially be another Ditson outlet. Lyon & Healy eventually built the enterprise into much more than that, even overtaking their original employer in scope and market reach.
Among the better-known creations from Lyon & Healy are Washburn guitars, originally branded "George Washburn," using Lyon's first two names. Many early 1900s Washburns were virtually interchangeable with the other guitars that Lyon & Healy manufactured and distributed. While all Washburn guitars of the day were made by Lyon & Healy, not all Lyon & Healy guitars carried the Washburn brand. The distinction can be confusing, and as far as we know the guitars were never sold to the public as Lyon & Healy models, either.
This guitar, while clearly a Lyon & Healy creation, carries no Washburn branding or markings, such as an interior label, or the logo of a belt emblazoned with "George Washburn" encircling a tiny guitar, as usually found stamped onto the center back brace beneath the sound hole.
Lyon & Healy opened a large factory in the early 1880s, where they made guitars, banjos, mandolins, harps, zithers and other stringed instruments. The company grew rapidly through both a network of retail outlets and mail-order distribution of its more affordable models. George W. Lyon, by then in his late 60s, retired in 1889 and passed away five years later.
Healy pressed on, and the company continued to go from strength to strength for the next few decades, passing into the hands of his sons and other management personnel after Healy's death, in 1905.
Lyon & Healy guitars from after the turn of the century range broadly in quality, construction, ornamentation and price. Like many manufacturers, the company resorted to marketing more affordable instruments during World War I to keep the line afloat. Some of the best flattop guitars of Lyon & Healy/Washburn's history arrived in the decade following the war's end, when they were designed to carry steel strings instead of gut, and delivered the bolder, crisper tone that went along with it.
While many of the company's lower-priced guitars were made with lesser woods and the parallel bracing that had been standard through most of the industry, its upper-tier models were different beasts entirely.
Although factory made, most of the more expensive Lyon & Healy-built guitars of the post-WWI period used X-bracing, which was only becoming prevalent at Martin in the 1920s, even though founder C.F. Martin had invented the technique around 1842 and used it on some of his early gut-string guitars.
They also employed tonewoods as fine as any used throughout the industry. The auditorium model pictured here has not only X-bracing but also a solid spruce top and solid Brazilian rosewood back and sides. And, while many student-level Lyon & Healy guitars carried trapeze tailpieces and rudimentary bridges (which minimized stress on less-robustly made tops), this model has a glued-down ebony pin bridge of the type reserved for higher-quality guitars in its day.
For all this constructional virtue, however, it's the prominent bling that usually catches vintage-guitar fans' eyes today. Lyon & Healy guitars displayed glitzy and complex inlays, in patterns and degrees that often seemed to evolve at the whims of the craftspeople who assembled them.
This 1920s auditorium model is no slouch, with a broad mother-of-pearl inlay that runs between parallel lines of diagonal-check purfling around the perimeter of the top, and ornate fleurs for position markers. Even more unusual than this, though, is the colored-wood purfling that rings the guitar's sides just below both the top and back binding, something you don't often see other than on the most elaborate presentation guitars.
In the late 1920s, the huge Chicago wholesaler Tonk Brothers bought out both Lyon & Healy and the rights to the Washburn brand name, and soon after all the guitars bearing these names were made by Regal, another major Chicago manufacturer.
The production of Washburn-branded guitars ceased during World War II, and after passing through the hands of several owners, the name was revived in a more lasting fashion in the 1980s.
For the past several decades, both Washburn acoustic and electric guitars have been produced mostly overseas, with a few special runs emanating from American manufacturers. Lyon & Healy still exists today as a Chicago-based distributor of several brands in the musical instrument industry.
Essential Ingredients
Solid spruce top with X bracing
Solid Brazilian rosewood back and sides
Elaborate decorative inlays
12-fret neck with slotted headstock
All the latest guitar news, interviews, lessons, reviews, deals and more, direct to your inbox!
Dave Hunter is a writer and consulting editor for Guitar Player magazine. His prolific output as author includes Fender 75 Years, The Guitar Amp Handbook, The British Amp Invasion, Ultimate Star Guitars, Guitar Effects Pedals, The Guitar Pickup Handbook, The Fender Telecaster and several other titles. Hunter is a former editor of The Guitar Magazine (UK), and a contributor to Vintage Guitar, Premier Guitar, The Connoisseur and other publications. A contributing essayist to the United States Library of Congress National Recording Preservation Board's Permanent Archive, he lives in Kittery, ME, with his wife and their two children and fronts the bands A Different Engine and The Stereo Field.