Kari Nieminen's Versoul Guitars are the Stuff of Rock and Roll Royalty
The high priest of six-string bling, Nieminen's guitars have been played by the likes of Billy Gibbons and Pete Townsend.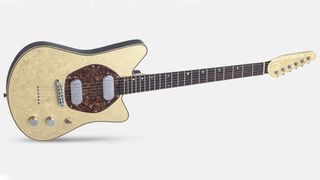 (Image credit: Versoul)
Kari Nieminen launched the Finnish guitar company Versoul in 1995 with just two acoustic models. He now offers more than 50 acoustic, electric, resonator and bass guitars, as well as amplifiers and a fuzz pedal.
Multiple examples of his instruments are owned by a who's who of rock royalty, including Billy Gibbons, Pete Townsend and various members of the Rolling Stones, and have found their way into the hands of players like Michael Landau, Tim Pierce and the late Allan Holdsworth.
Some thanks for that is owed to the Who's Roger Daltrey, who introduced Nieminen to guitar technician/guru Alan Rogan in 2003. "Alan was Keith Richards' guitar tech before he switched to being Pete Townshend's, some decades ago," Nieminen explains. "Alan helped me introduce my guitars to many important artists."
Nieminen sent Rogan two guitars: a Resosun 6 resonator and a version of his Henry 6 finished in gold leaf. The first musician Rogan forwarded them to was Ronnie Wood, who immediately bought both.
Wood ultimately expanded his Versoul collection to 16 guitars, including versions of the Raya, the most popular of Nieminen's designs and the one named for his wife, Raija.
Wood's gold-foil Raya 6 Custom has a cast blue lens on both sides of the body, each containing four LED bulbs. That instrument also has perforated chrome-plated steel sides as well as additional binding and purfling on the body.
Wood's collections also include a Raya 6 Custom Blue Lite with an Arctic Ocean salmon skin top and three Versoul pickups: one bridge humbucker and two single-coils.
"Ronnie bought this guitar in 2016 with a matching Versoul combo amp finished in Arctic Ocean salmon skin," Nieminen says. "I used a total of 13 skins to finish the amp shell."
Wood also used a Raya 6 Baritone on the Stones' A Bigger Bang tour and for the DVD A Tribute to the King; Scotty Moore & Friends Live at Abbey Road Studios. "In addition, Ronnie has bought a Raya 12-string Baritone and two Raya 6-string Baritones."
Wood isn't the only Stone sold on Versoul. In 2007, during the A Bigger Bang tour, Pierre de Beauport, Keith Richards' guitar tech and the band's backline chief, asked Nieminen to build his boss a 10-string acoustic.
"I spent the day before the show measuring another 10-string acoustic Keith had on tour," he recalls. "After the show, I built my first Buxom Minor 10-string in one month."
The Buxom Minor body is a slightly smaller jumbo. The guitar was shipped to Germany where the Stones were performing. Keith approved, and a few years later Nieminen built Buxom 10-string Baritone and Baby Buxom (parlor 0-size body) 10-string acoustics for him.
After playing one of Nieminen's creations, It's easy to see why players are drawn to them. He sent us a special version of his Custom Raya 6.
It sports the Raya's distinctively shaped two-piece Finnish alder solid body, but it's top-coated with 23-carat gold leaf finished over with lacquer, and it displays maple/mahogany/black-fiber purfling and maple/black-fiber binding. The headstock is covered in gold as well.
"I created a special method for gold leafing in the mid 1980s when I was studying at the University of Art and Design in Helsinki," Nieminen explains. "This method creates a three-dimensional effect and is unique each time it is applied."
The guitar's other offbeat features include brown pearloid for the pickguard and control cavity plate, a nut cut from wild Finnish moose shinbone, and hand-crafted pickups whose covers resemble vintage microphones. The overall impression is of a pimped-out pawnshop instrument, and that's meant as a compliment.
Still, these fancy appointments and idiosyncratic design features beg the question, "Is the Custom Raya 6 a conversation piece or a player's instrument?" The answer begins to reveal itself the minute you take the Versoul guitar in your hands.
The D-shaped neck is beefy yet comfortable, thanks to the smooth rolled edges, and the fret finish is perfect. The offset green abalone fretboard dots are hard to see while playing, but the fingerboard's gold-leaf side markers are easy to discern.
Even before plugging it in, it's evident that the Raya is a great-sounding guitar. The overtones sound perfectly in tune, the output volume of every note is nearly identical, and the acoustic tone is warm and inviting. The quality of the guitar's ring and sustain is interesting, and something about its attack, decay, sustain and release is different.
A single note played with vibrato sustains substantially. Strum a chord and it rings, but not quite like a typical high-end guitar. There is something reminiscent of the sonic personality of my Harmony Rebel, which adds to the Raya's character. I can't help thinking that the gold leaf is affecting the sonic imprint, and not in a bad way.
The Raya's pickups also recall the Rebel's in appearance, but their sound leans toward traditional midrange humbucking tones rather than gold-foil airiness. Run clean through a Fender Blues Junior and a 1966 Band Master, the bridge pickup retains plenty of clarity and bite, while the neck pickup is warm, but not muddy.
Adding some drive from a Jetter Jetdrive overdrive pedal reveals the Custom Raya 6 to be a terrific tool for rock or even fusion. The pedal's compression lends the guitar a more classic, less individual response, but the Raya's distinctive personality still shines through.
If you're a standard-issue working guitarist, and not a world-famous rock star or a hedge-fund manager, eight grand and change might be steep for even the best-playing and nicest-sounding instrument.
But if you don't need the bling, a non-gold-flake version of the Raya runs about five grand less. That puts you in Fender or Gibson Custom Shop territory for a hand-built guitar that will turn heads, please ears and set you apart.
Specifications
PRICE: $8,350 street
NUT WIDTH: 1 11/16"
NECK: Bolt-on Aspen curly maple
FRETBOARD: East Indian rosewood
FRETS: 21 medium jumbo
TUNERS: Gotoh
BODY: Solid Finnish alder, two piece
BRIDGE: Gotoh Tune-o-matic-style
PICKUPS: Versoul humbuckers with Alnico V bar magnets
CONTROLS: Volume, tone, 3-way pickup selector
FACTORY STRINGS: S.I.T Power Wound Nickel .010–.046
WEIGHT: 7 lbs.
BUILT: Finland
CONTACT: Versoul
KUDOS: Beautifully built. Inspiring, distinctive sound.
CONCERNS: Bling may not be your thing.

All the latest guitar news, interviews, lessons, reviews, deals and more, direct to your inbox!