"I'll Always Leave the Mistakes In": Jimmy Page Talks Recording Led Zeppelin's Debut in this Vintage GP Interview
Read how this classic album was bestowed with some of the best guitar tones in hard rock history.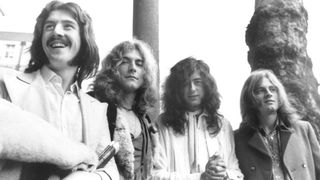 (Image credit: Chris Walter/WireImage)
On this day in 1969, Led Zeppelin's self-titled debut album peaked in the U.K. top ten at number six. (It eventually exited the British top 40 album chart in 1971!)
Meanwhile, on the other side of the Atlantic, the eponymous LP with its iconic Hindenburg disaster artwork was also setting the music world alight.
Tracked in October and November 1968, the recording sessions totaled just 36 hours. But within that time, Led Zeppelin had managed to lay down a timeless, multi-Platinum game-changer that has informed generations of electric guitar and acoustic guitar players ever since.
Fusing blues, folk, and rock 'n' roll into a timeless guitar-led masterpiece, Led Zeppelin's no-fluff banger heralded the arrival of the hard rock era.
Jimmy Page was the superbrain behind the project, producing and paying for the Glyn Johns-engineered sessions at London's historic Olympic Studios.
Back in the '70s, Guitar Player spoke to Page about the album's sessions. Here, the guitarist speaks about his approach and some of the gear he used for the recording…
What kind of guitar were you using on the first Led Zeppelin album?
A Telecaster (opens in new tab). I used the Les Paul with the Yardbirds on about two numbers and a Fender for the rest. You see the Les Paul Custom had a central setting, a kind of out-of-phase pickup sound which Jeff couldn't get on his Les Paul, so I used mine for that.
Was the Telecaster the one Beck gave to you?
Yes. There was work done on it, but only afterwards. I painted it; everyone painted their guitars in those days. And I had reflective plastic sheeting underneath the pickguard that gives off rainbow colors.
It sounds exactly like a Les Paul.
Yeah, well that's the amp and everything. You see, I could get a lot of tones out of the guitar that you normally couldn't.
This confusion goes back to the early sessions again with the Les Paul (opens in new tab). Those might not sound like a Les Paul, but that's what I used. It's just different amps, mic placings, and all different things. Also, if you just crank it up to distortion point so you can sustain notes, it's bound to sound like a Les Paul.
I was using the Supro amp (opens in new tab) for the first album, and I still use it. The "Stairway to Heaven" solo was done when I pulled out the Telecaster, which I hadn't used for a long time, plugged it into the Supro, and away it went again.
That's a different sound entirely from the rest of the first album. It was a good, versatile setup. I'm using a Leslie (opens in new tab) on the solo on "Good Times Bad Times". It was wired up for an organ thing then.
What kind of acoustic guitar are you using on "Black Mountain Side" and "Babe I'm Gonna Leave You" [both on Led Zeppelin]?
That was a Gibson J-200 (opens in new tab), which wasn't mine; I borrowed it. It was a beautiful guitar, really great. I've never found a guitar of that quality anywhere since. I could play so easily on it, get a really thick sound; it had heavy-gauge strings on it, but it just didn't seem to feel like it.
The solo on "I Can't Quit You Baby" is interesting – many pull-offs in a sort of sloppy but amazingly inventive style.
There are mistakes in it, but it doesn't make any difference. I'll always leave the mistakes in. I can't help it. The timing bits on the A and Bb parts are right, though it might sound wrong. The timing just sounds off. But there are some wrong notes. You've got to be reasonably honest about it.
It's like the filmtrack album [The Song Remains the Same (opens in new tab)]; there's no editing really on that. It wasn't the best concert, playing-wise, at all, but it was the only one with celluloid footage, so there it was. It was all right; it was just one "as-it-is" performance. It wasn't one of those real magic nights, but then again it wasn't a terrible night.
So, for all its mistakes and everything else, it's a very honest filmtrack. Rather than just trailing around through a tour with a recording mobile truck waiting for the magic night, it was just, "There you are – take it or leave it."
I've got a lot of live recorded stuff going back to '69.
Buy Led Zeppelin here (opens in new tab).
Thank you for signing up to The Pick. You will receive a verification email shortly.
There was a problem. Please refresh the page and try again.