How Tom Bartlett Made the Retro Mk2 a Planet-Friendly Player
Adapting to ever-changing CITES regulations, Bartlett has updated his Retrospec model.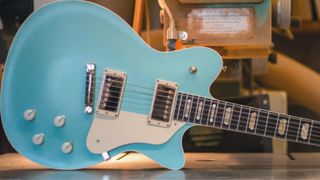 (Image credit: Tom Bartlett)
Such is the difficulty of establishing an original new guitar design that many otherwise talented builders abandon the effort altogether and simply re-create their own version of the Stratocaster, Jazzmaster, or Les Paul.
Contrary to this, Canadian luthier Tom Bartlett made a new classic in grand style a few years back when he teamed up with Kim LaFleur of Historic Makeovers and Swedish designer Magnus Melkersson to develop the Retrospec model.
Previously known for his high-end, detail-perfect guitars created through fastidious research of original 'Bursts, Bartlett packaged the essential ingredients and proportions of a vintage-style Les Paul into the Retrospec's uniquely stylized body and immediately won plaudits from players who normally wouldn't touch anything but a guitar shaped exactly like the real thing.
Now Bartlett has ported the unique, asymmetrical, rounded-dual-horned body and offset-peaked headstock shapes into the Retro Mk2.
While retaining the general dimensions, electronics, and neck feel of a good 'Burst, the new model changes up the formula with some wood substitutions and more playfully colorful top finishes to dress up a guitar that has no top flames to display.
"I've been dealing with Brazilian rosewood for years," Bartlett says, "and everything needs to ship with CITES [Convention on International Trade in Endangered Species] certification. And it's not a major hassle for me, but touring musicians could get into huge trouble if they don't have the right documentation for their guitar.
"The Mk2, on the other hand, is a non-CITES, easily traveled guitar. There's nothing about it that needs a special permit: There's no pearl inlay, no Brazilian rosewood. It's all above-board, non-CITES wood. I would have built the Mk2 anyway, because I'd been wanting to make a korina-based model for some time, but the fact that it avoids CITES issues should be a bonus for many guitarists."
Outwardly, the Retro Mk2 retains many essentials of the classic Les Paul specifications morphed into an appealingly retro-alternative body style. They include set-neck construction on a 24.75-inch scale length, dual humbuckers with four knobs and a three-way switch, and a back-angled three-per-side headstock.
In place of the original Retrospec's traditional, LP-inspired solid-mahogany body and neck and carved maple top, the Retro Mk2's foundation is constructed of old-growth korina, with a chambered one-piece body with a carved two-piece korina top, and a glued-in one-piece neck.
The backs of these are done in a natural nitrocellulose finish that lends a glow to the lovely grain of this wood, while the top is shot in Daphne Blue nitrocellulose lacquer, with a thin matte finish that reveals the texture of the top's grain. (The Mk2 is also available in Matte Gold and Shell Pink.)
In hand, the style and beauty of the creation comes out much more fluidly than any photos can capture – the complementary contrast and flow from powder-blue top to off-white binding to characterful korina is especially lovely – and the overall veracity of the chassis' design is immediately apparent from all angles.
"The Mk2 design was sort of my personal beliefs of what I wanted in a guitar at that moment," Bartlett tells us. "And korina is so underutilized, but such a wonderful tonewood. People who don't use it, or use it some but would like to use it more, say that it's so hard to get in good quality, and that is true. But the payback is so great on it."
The fingerboard is a dark slice of old-growth Indian rosewood, inlaid with cellulose-nitrate position markers with what might be called a rounded trapezoidal shape.
Body and fingerboard binding are made from Bartlett's own custom cream Royalite stock, with matching pickup rings and pickguard and complementing cupcake control knobs. Further tasty stylistic touches include the white-finished tip of the otherwise black holly headstock veneer, making a canvas that beautifully accentuates the gold silkscreened Bartlett signature.
In a further nod back to the period-correct, LP-inspired specs of the model's predecessor, the nut is cut from hard, self-lubricating nylon 6/6, and the playful style follows through with Bartlett's own empire truss-rod cover design and simple three-on-a-plate Kluson tuners with off-white buttons.
Down at the other end, a compensated MojoAxe wraparound bridge keeps things suitably simple, yet tightly anchored. The pickups are a pair of custom-wound humbuckers from OX4, a British maker that has been getting a lot of attention for its reproduction PAFs in recent years.
The pickups' DC resistances read 7.68k ohms in the neck position and 7.92k ohms in the bridge, par for the course with low-wind PAFs. The traditional four-knob electronics with three-way switch are done up with '50s-spec wiring and include CTS pots and paper-in-oil Bumblebee tone capacitors.
The body's slightly offset waist helps it balance nicely on the lap, where playing comfort is further enhanced by the light seven-pound weight, and a sweet, late-'50s C-shaped neck profile that sits beautifully in the left hand.
Played unplugged, the guitar rings loud and lively, with some emphasis in the upper mids and a certain high-end sparkle, versus the lower-mid grunt that you might expect from a solid slab of mahogany and maple in, say, a Les Paul played acoustically.
Tested into a tweed Deluxe-style 1x12 combo and a Friedman Small Box head and 2x12 cabinet, the Retro Mk2 proved a versatile performer that ably spans aspects of the Les Paul/SG/ES-335 skill set, while adding plenty of its own character.
The latter comes largely in the form of that signature korina upper-midrange sizzle, with a certain chewiness in the midrange overall and some bounce in the wound strings, and a bass that isn't overly prominent but is well balanced and focused.
Low-wind though they are, these humbuckers drive an edge-of-breakup amp very well, knocking it into juicy overdrive when you hit hard, with a little furry graunch from the low notes and an appealing blend of compression and bite throughout the range. With a bit more drive applied to either amp, there's snarl and sting in lead runs and a gritty thickness to rhythm parts.
With full-on overdrive, the Mk2 exhibits good sustain without excessive feedback, and a singing, reedy quality that adds a "blown" character to the notes, making it an expressive lead machine with plenty of personality. Between the cheery looks and lively playing response, the Retro Mk2 is a fun and inspiring guitar all around, and a welcome breath of fresh air from up north.
All the latest guitar news, interviews, lessons, reviews, deals and more, direct to your inbox!
Dave Hunter is a writer and consulting editor for Guitar Player magazine. His prolific output as author includes Fender 75 Years, The Guitar Amp Handbook, The British Amp Invasion, Ultimate Star Guitars, Guitar Effects Pedals, The Guitar Pickup Handbook, The Fender Telecaster and several other titles. Hunter is a former editor of The Guitar Magazine (UK), and a contributor to Vintage Guitar, Premier Guitar, The Connoisseur and other publications. A contributing essayist to the United States Library of Congress National Recording Preservation Board's Permanent Archive, he lives in Kittery, ME, with his wife and their two children and fronts the bands A Different Engine and The Stereo Field.