How to EBow Like a Pro
Watch guitarists Phil Keaggy and Big Country's Stuart Adamson demonstrate their mastery of this oft-misunderstood guitar gadget.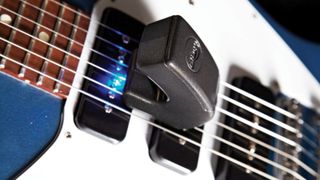 (Image credit: Future)
With a solo career spanning nigh on 50 years and dozens of albums, gospel-oriented guitarist/vocalist Phil Keaggy (opens in new tab) has achieved – and still enjoys – incredible popularity via his albums and concert appearances.
PRO TIP
The Ebow will also work on steel string acoustic guitars. Try it on the unwound strings to discover new textures and sounds.
One of Guitar Player's top 50 acoustic guitar players of all time, Keaggy is a strikingly imaginative guitarist who weaves loopers (opens in new tab) and effects into his fingerstyle playing to create beautifully textured music that inspires audiences and fellow guitarists alike.
He is also a master of the Ebow (opens in new tab) – a device for electric guitar that, when used well, can emulate the sound of orchestral strings, horns and woodwinds by producing infinite sustain.
Invented in 1969 by Greg Heet, the EBow uses an inductive string driver to form a feedback circuit that creates continuous vibrations.
Early adopters include Blondie's Chris Stein, Blue Öyster Cult's Buck Dharma (who used it to create the sustaining note that ends his solo on "Don't Fear the Reaper") and Bill Nelson, who many consider to be the EBow master.
It was Nelson who introduced it to the guitarist who made the greatest impression with it: Stuart Adamson of the Skids and, later, Big Country.
While it's often thought Adamson used an EBow to create the bagpipe-like lead guitar on the hit "In a Big Country," that effect was created with an MXR M-129 Pitch Transposer, chorus and delay.
His most evident – and influential – use of an EBow was on the Big Country tracks "Lost Patrol" and "The Storm."
More than 50 years on, the EBow's appeal, like its effect, is infinite.
Visit the EBow website (opens in new tab) for more information.
All the latest guitar news, interviews, lessons, reviews, deals and more, direct to your inbox!
Guitar Player editor-in-chief
Christopher Scapelliti is editor-in-chief of Guitar Player (opens in new tab) magazine, the world's longest-running guitar magazine, founded in 1967. In his extensive career, he has authored in-depth interviews with such guitarists as Pete Townshend, Slash, Billy Corgan, Jack White, Elvis Costello and Todd Rundgren, and audio professionals including Beatles engineers Geoff Emerick and Ken Scott. He is the co-author of Guitar Aficionado: The Collections: The Most Famous, Rare, and Valuable Guitars in the World (opens in new tab), a founding editor of Guitar Aficionado magazine, and a former editor with Guitar World, Guitar for the Practicing Musician and Maximum Guitar. Apart from guitars, he maintains a collection of more than 30 vintage analog synthesizers.