Chris Stein: My Career in Five Songs
He's a huge Flatt & Scruggs fan, but Blondie's Chris Stein put his signature on the punk era with these five tracks.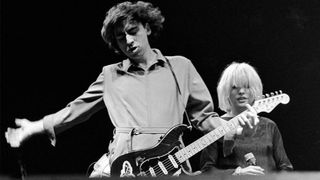 (Image credit: Virginia Turbett/Redferns)
While many '70s punk bands reveled in looking disturbing and outrageous, the New York sextet Blondie appeared to spring directly from the pages of Vogue.
A highly photogenic lot, the male members of the group routinely sported crisp, matching suits and neatly coiffed hairdos that echoed the Mod fashion sense made famous in Britain a decade earlier.
And it certainly didn't hurt things that their charismatic singer, Debbie Harry, had the kind of glamorous, movie-star good looks that were made for the camera.
"People assume that we had a master plan for how we presented ourselves, but it wasn't that way at all," says Chris Stein, the guitarist and songwriter who co-founded the band with Harry in 1974. "The guys all had long hair when we started out, and then we gradually started getting haircuts.
"We were very attracted to the Mod style and even a West Side Story motif, so that began to evolve. And Debbie was always inventing and reinventing her own look against the backdrop of what we were doing. Once we had it down, it seemed to fit."
Of course, a successful band can't make it on beauty alone, and Blondie, rising from New York City clubs like CBGB and Max's Kansas City, proved to be a crafty group of pop hitmakers.
On their 1976 eponymous debut and 1977's Plastic Letters, elements of high-energy punk decadence mixed with a reverential '60s girl-group sound, and tracks like "Denis," a sparkling update of the 1963 hit for Randy & the Rainbows, and "(I'm Always Touched by Your) Presence, Dear" (written by then-bassist Gary Valentine) hinted at things to come.
By the time of the band's third album, 1978's Parallel Lines, the songwriting team of Stein and Harry, with assists from keyboardist Jimmy Destri and new bassist Nigel Harrison, was firing on all cylinders. The breakthrough record, packing the radio-ready production of Mike Chapman, included hits like "Sunday Girl," "One Way or Another," and the disco-flavored number one "Heart of Glass."
"The first couple of records were a little rough and punk edged," Stein says. "We were kind of eclectic and all over the place. With Parallel Lines, things were more polished and stylized. I don't know if it was a conscious decision to find a specific sound.
"We were just doing what we liked. And I give a lot of credit to Mike Chapman. He was like a film director. He was charming, witty and a lot of fun, no matter what he put us through."
During Blondie's chart heyday – which included three more number ones: 1980's "Call Me" and "The Tide is High," and 1981's "Rapture" – Stein relied mostly on Fender Stratocasters. His favorite was a 1956 model that he still regrets selling some years back.
"I gravitated to Strats because I loved Hendrix," he explains. "He was a real hero of mine. He had the technical side down, but it was kind of secondary to the emotion he brought to his playing."
A striking aspect of Stein's technique is his use of fingerpicks, which he began in his pre-rock-and-roll days. "I started as a folkie and was a huge Flatt & Scruggs fan," he recalls.
"Earl Scruggs used fingerpicks on his banjo, of course, but Lester Flatt used them on his guitar. Then one of the very first electric bands I saw was the Blues Project, and I noticed that Danny Kalb played with fingerpicks. I started doing it myself. It's kind of tricky at first, but you get into it. And I've been doing it ever since."
Rip Her to Shreds – Blondie (1976)
"It's a total homage to 'I'm Waiting for the Man' by the Velvet Underground. It was kind of funny how the Velvets came out with their first album in 1967, right in the middle of all the hippie stuff. Everybody was peace and love, and here's this dark record with songs about heroin and murder and stuff. The people in my crowd thought it was great.
"Deborah and I wrote this one together. We had an easy kind of collaboration. It was always back and forth with us. I would play something on guitar and suggest a melody, and she'd embellish it. I would occasionally do lyrics. That wasn't my main thing.
"We recorded the first album at a really great studio called Plaza Sound, which was on top of Radio City Music Hall. Richard Gottehrer produced the first two albums, and he was sensational.
"We pretty much tracked everything like we were doing a live show. There were some overdubs, but not many. Things moved fast. We started getting into more production on later albums. I didn't mess around with my guitar sound too much. I used my Strat and a Marshall amp, sometimes a Fender amp. We didn't have too much gear back then."
Hanging on the Telephone – Parallel Lines (1978)
"This song was written by Jack Lee from the Nerves. They were a really cool band from L.A. that started up around the same time as Blondie. They had already put the song out on an EP of theirs in 1976, but not too many people heard it. A mutual friend of ours, Jeffrey Lee Pierce from the Gun Club, gave me a cassette mix tape, and this song was on it. I was in the back of a taxicab in Tokyo, oddly enough, and I put it on.
"Sometimes the tiniest of things can mean a lot. I put the song on and was listening to it, and I started to watch the cab driver. He was this old guy, but he was tapping his fingers on the steering wheel to the song. I thought to myself, Hey, if he likes it, maybe this song has universal appeal.
"I'm very fond of the Nerves' original. It's a bit more Beatles-esque than what we did to the song. We made our version more urgent and ferocious – more punk. By this time, we were working with Mike Chapman, and he had a lot of great ideas. He wanted us to kick the song up and add a guitar solo, which wasn't on the original. The song became a hit for us, which was nice. My attitude at the time was, 'It's either all or nothing.'"
Heart of Glass – Parallel Lines (1978)
"The song appeared on Parallel Lines, but we had written it much earlier. My go-to method for making demos was working on a TEAC four-track that I had in the house. This song went through several incarnations on a bunch of different demos. Our songs would often refer to other things, and I was influenced a bit by 'Rock the Boat' by the Hues Corporation. I always liked disco. It's just an extension of R&B. I like the Bee Gees' early rock stuff, but their Saturday Night Fever material is my favorite.
"As we were getting ready to make Parallel Lines, Mike Chapman asked us to run through our material. When we were done, he asked if we had anything else, and we were like, 'Yeah, we got this older song.' We played it, and he really liked it. I knew it had some potential, so we went for it.
"It all evolved out of a Roland CR-78 drum machine, synchronized with a VCF [voltage-controlled filter] on a Roland synth, which was a big deal at the time. This was pre MIDI, so everything was voltage controlled. We structured the song with the synth playing the chords, and then everything else was layered around that. The whole thing was done in pieces; there was no playing live in the studio. Mike was like Stanley Kubrick. We did stuff over and over.
"As we went, the song started to sound more European. Frankie [Infante] did the little guitar riff throughout, and that was kind of brilliant. I'm doing those whooshing sounds on my guitar – that's me going through a [Roland] Space Echo. It took us years to figure out how to do a live version because everything had to sync up in time. It's kind of stabilized now, but we went through so many approaches with it onstage."
Fade Away and Radiate – Parallel Lines (1978)
"I was a Robert Fripp fan. I had listened to King Crimson back in the day, and I loved what he did with Bowie on 'Heroes.' I remember he approached us after a show at the Palladium in New York. We just became buddies after that. He would come up and play shows with us. We'd learn some songs with him. It was great.
"I don't think there was any big discussion about bringing him into the studio. It happened very naturally. This song was kind of ethereal and otherworldly, things I associate with Robert's playing, so it seemed like something he'd be great on. I didn't really have to explain anything to him.
"A guy like Robert knows what to do, and you want him because of who he is and what he does. He plugged in his black Les Paul and did the take really fast. It was marvelous. I'm still in touch with him. I hear from him occasionally. He's just a great guy – a real gentleman and super professional."
Rapture – Autoamerican (1980)
"We loved Chic, so we did this song as our homage to them. But it's also our homage to the early rap and hip-hop scene, which was very exciting. Fab 5 Freddy took us up to an event in the Bronx, and it was the first time I'd been exposed to a live rap event. I'd heard 'Rapper's Delight,' but seeing this music performed in front of me was amazing. I was really moved and grew attracted to it.
"It didn't take long to write this one. It was all built around the bass line, really. Without that bass, you don't have a song. I doubled the bass on guitar, and then I did the other rhythm stuff. I used my fingerpicks on this track, although sometimes I used flatpicks in the studio. The guitar stuff is very minimal, but that's the whole point. You listen to those Chic records, and they're very stripped down, but they're punchy and powerful.
"Frankie has that amazing solo at the end of the song, right after the line, 'And now he only eats guitars.' It's one of my favorite things that he ever did. It's just great. We had pretty late hours and were working a long time on the song, so I think I was passed out in the lounge when he cut it. I was really happy with what he did, so I didn't think that I could better it.
"We turned the album in, and, famously, the people at Chrysalis said, 'We don't hear any singles on it.' And then we ended up having two number-one hits with 'Rapture' and 'The Tide Is High.' So there you go. That just goes to show you who you should listen to."
All the latest guitar news, interviews, lessons, reviews, deals and more, direct to your inbox!
Joe is a freelance journalist who has, over the past few decades, interviewed hundreds of guitarists for Guitar World, Guitar Player, MusicRadar and Classic Rock. He is also a former editor of Guitar World, contributing writer for Guitar Aficionado and VP of A&R for Island Records. He's an enthusiastic guitarist, but he's nowhere near the likes of the people he interviews. Surprisingly, his skills are more suited to the drums. If you need a drummer for your Beatles tribute band, look him up.