How the Fender Twin-Amp Became a Worthy Weapon of Choice for Clapton, Richards, Gilmour and Bonamassa
With circuit advances and 12 on the dial, the 1958 Fender Twin-Amp was the world's most formidable roaring guitar combo.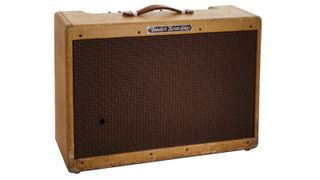 (Image credit: Heritage Auctions)
Although a Twin by name when it first arrived in 1952 with two 12-inch speakers, Fender's would-be flagship amp wasn't a Twin by nature until 1958, when Leo Fender and company massively increased its output power to achieve the outsized wattage-to-size ratio that the model has boasted ever since.
Come the 5F8 and 5F8-A update of 1958, Fender was showing the world the future of the professional amplifier for the big stage, and stepping up to a whole new level of performance – which is saying something for a company that was already setting the standards for high-quality guitar amps.
The 4x10 5F6-A Bassman combo gets a lot of plaudits for "best guitar amp ever," and for inspiring some of the other best guitar amps ever: the Marshall JTM45 and the Plexi models that followed, as well as countless others from the past 60-plus years.
However, the 5F8-A Twin was really kind of like a JTM45/100 in a 2x12 combo, and just a few ticks away from being a 100-watt "Plexi" Super Lead at that.
It had all of Fender's next-level thinking packed into a design that was only equaled in some respects by the 5F6-A Bassman, except that the Twin – boasting around 85 watts – also had twice the power. It would be several years before amps from other major manufacturers would reach similar power levels.
Fender released the first Twin Amp, model 5C8, in a so-called wide-panel tweed cabinet in 1952. Like many of the company's other dual-6L6 tube amps of the early '50s, it put out only about 25 watts, but it was a big amp for its day and got the ball rolling toward an industry standard.
By the latter mid '50s, the 5E8-A Twin delivered 35 to 40 watts in its updated narrow-panel cabinet, with features akin to the 1x15 Pro, 2x10 Super and 3x10 Bandmaster, although it boasted a slightly larger output transformer for a gutsier sonic delivery, and a few inexplicable differences in the preamp.
The reason these amps are often seen as second-tier to the Bassman, however, is that they employed several elements that made them a little less robust sonically.
All shared the split-load phase inverter configuration, which was less efficient and more prone to distortion than the long-tailed pair used in the Bassman, and none had the Bassman's middle control, among a few other things.
The high-powered Twin of 1958 changed all that by taking on these circuit advances, and in doing so it arguably became the world's most formidable guitar amp.
The '58 Twin arrived first as the model 5F8, which was fairly quickly tweaked into the 5F8-A. Relatively minor changes between the two included different values and configurations of grid resistors on the output tubes, a move toward a more conventional presence control that was no longer tied to the middle control, and a more reliable GZ34 rectifier tube (similar changes were made from 5F6 to 5F6-A Bassman).
In the Twin, Fender was also reaching the point of maximum capacity for what could be squeezed into the relatively compact tweed-era chassis that the maker used.
The power transformer – bolted to the back of this long, rectangular steel box – was an enormous chunk of iron. The output transformer was even bigger – and there was a lot to cram inside the thing, too.
The two Jensen P12N speakers mounted in the open-back combo cabinet play a big part in the Twin's sonic splendor, but they were barely up to the amp's full fury, and certainly unequal to it with the volume fully wound up to a roaring tweed-era 12 on the dial.
These were among Jensen's sturdiest speakers of the day, and while ratings vary, they were generally about 30 watts RMS in the late '50s (the current P12N reissues are rated at 50 watts apiece).
You don't have to be a mathematician to figure out that won't cut it with the amp cranked.
Why the inadequate drivers?
For one thing, these were among the highest-rated speakers available at the time – at least before Fender moved over to JBL speakers to handle the Showman's massive power in 1961-'62 – and delivered an acceptable performance while ensuring a bottom line that Fender could tolerate.
For another, amp makers of the day were moving to higher-wattage amp designs to ensure more headroom earlier in the volume range. They didn't really expect guitarists to throw the full 85 watts into the game.
Unsurprisingly, many amps have survived beyond the lifespan of their original speakers, or have been reconed, at the very least.
A number of big guns have turned to the glories of the high-powered Twin of 1958-'60 for their tonal needs. Keith Richards owns several and has toured with multiple examples for several years, and Eric Clapton has often used one (and reproductions thereof, in addition to also using the earlier 40-watt iteration).
Joe Bonamassa added a pair of vintage high-powered Twins to his rig in 2014, and Fender reissued the 5F8-A in 2018 as the '59 Twin JB Edition.
"I plugged in a Les Paul," he says of first hooking up his dual-HP Twin-loaded rig, "and we were just like, 'Wow, that is just optimized sound!' Then we plug the Strat in, and, 'Well, if that ain't the best Strat tone I've achieved in a while!' And then the Tele, and the 335, and you go, 'There's your sound!'"
Acquiring the real thing has gotten harder and harder for your average workaday guitarist. Original 1958-'60 tweed Twins have been rare at the best of times, and now good examples are pushing $20,000 on the vintage market.
Fortunately, Fender's JB reissue and other reproductions can get players close to the mighty potential of a raging 85-watt amp stuffed into a pine box with two 12-inch speakers – which is something every guitarist should experience at least once in life.
ESSENTIAL INGREDIENTS
Approx. 85 watts from four 5881/6L6GC output tubes
One 12AY7 and two 12AX7 preamp tubes
Bright and Normal channels with volume on each; shared treble, bass, middle and presence controls
Cathode-follower tone stack
Two 12" Jensen P12N Alnico speakers
Finger-jointed pine cabinet covered in diagonal-striped tweed cloth
All the latest guitar news, interviews, lessons, reviews, deals and more, direct to your inbox!
Dave Hunter is a writer and consulting editor for Guitar Player magazine. His prolific output as author includes Fender 75 Years (opens in new tab), The Guitar Amp Handbook (opens in new tab), The British Amp Invasion (opens in new tab), Ultimate Star Guitars (opens in new tab), Guitar Effects Pedals (opens in new tab), The Guitar Pickup Handbook (opens in new tab), The Fender Telecaster (opens in new tab) and several other titles. Hunter is a former editor of The Guitar Magazine (UK), and a contributor to Vintage Guitar, Premier Guitar, The Connoisseur and other publications. A contributing essayist to the United States Library of Congress National Recording Preservation Board's Permanent Archive, he lives in Kittery, ME, with his wife and their two children and fronts the bands A Different Engine and The Stereo Field.