Gritty and Elegant, Bunting Guitars' Amarok is a Lot of Fun by Any Measure
This stripped-down rock 'n' roll warrior looks, plays and sounds like an old familiar friend.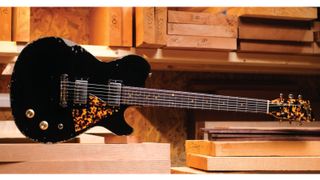 (Image credit: TAI VILLEVAL)
For Yaniv Loria of Bunting Guitars, it's all about creating vintage-familiar tones in guitars that boast 21st century usability, without ever copying the classics.
Between that winning philosophy and the personal "tone quest" that starts every new client's journey, it appears that he's onto something.
Loria founded Bunting Guitars in 2012 in Ein Shemer, Israel, with a love for classic electric guitars and an eye for original design.
He built on his own for several years, and today the Bunting workshop includes fellow luthiers Tai Villeval and Stav Eskenazi, everyone working cooperatively in a "teal organization," a self-management system that, as Loria puts it, has "no boss, and no employees. We do everything together in terms of decisions. We all have the same voice in the brand, and we all do all the management together."
Labor philosophy aside, the key to Bunting's success so far is in the tricky merging of contemporary styles and classic tones, as seen throughout the lineup.
"It started from there," Loria tells us. "I said to myself, 'I want to build guitars, so how can I bring this magic to new guitars without trying to mimic the old ones? Without building replicas?'
"The biggest thing was to find out what happens to a player when he holds an old guitar. I wondered, How can I bring that feeling to it and achieve it with a new guitar?"
If our impressions are anything to go by, Loria, Villeval and Eskenazi have indeed achieved it, and then some, in the example of the new Amarok model we're checking out here.
In the hands and on the lap, even when played unplugged, it immediately feels like a well-gigged instrument that's been seasoned and smoothed through years of playing.
A rendition of a guitar that Bunting admittedly intends to be "their Les Paul," this particular Amarok is one of the first few off the workbench and was built specifically for Tom Shemer, the lead guitarist with Canadian glam-rockers the Damn Truth.
Shemer has played a Bunting Melody Queen model for a time, while Damn Truth singer Lee-la Baum frequently plays the Alice EP model (a single-pickup LP Junior-meets-Tele design) and bassist PY uses a Lightning Dove bass made for him.
"We've been working with them for five years now," Loria says of the project, "and it was fun to do a pure rock and roll guitar, simple, made to cut through the mix. The black-with-leopard-skin look was fun to work with, and that's totally Tom's style.
"In a couple of months we'll put out Amaroks that are more classic, with a flame top and a burst, PAFs and two electronic options: stripped down, like you've got, and the classic four knobs and switch. This one is a bit wild because it was made for that specific artist."
Further evidence of the alternative approach is apparent in the tone woods and components used to concoct this variation on the single-cutaway, set-neck, dual-humbucker rocker.
These include a body of solid Spanish cedar and a flat top of Bosnian maple. Spanish cedar is not a type of cedar but a relative of mahogany, which some contemporary makers consider one of the better available substitutes for the high-quality Honduran mahogany that was more plentiful in the 1950s and early '60s, but which is relatively scarce and expensive today.
We've seen it become more accepted in the boutique-guitar world of late, used by respected makers like Nik Huber and Doug Kauer, among others.
In fact, the Amarok's overall vibe puts us in mind of those makers.
"The Spanish cedar body in the Amarok is traditionally a neck for flamenco guitars," Loria elucidates, "and the Bosnian maple neck is traditionally a violin neck and back, since Stradivarius. Because of these woods, it's very lightweight for a Les Paul.
"A lighter guitar means the wood is less dense, and that makes the guitar more resonant. You immediately lose the muddiness in the lows and the harsh high-mids, and that's basically, for me, what describes a good vintage guitar."
Not that the ingredients Loria discusses here are by any means set in stone. In fact, each guitar is tailored to the specific sonic and playability goals of its intended user.
"Every build starts with something we call the 'tone quest,'" he tells us. "It's usually an hour-long Zoom call with the client, and for at least the first half hour we don't even talk specs; we just talk about the tone and feel they are trying to achieve, because sometimes the specs and parts they think they want don't really add up to the guitar tone they envision for the build.
"Then once we have that concept, we can easily make it look and feel right for them."
The glued-in Bosnian maple neck Loria mentions has a subtle but appealing flame to it, and the fingerboard is a sumptuously dark slice of rosewood, unbound, with 22 medium-high frets and tortoiseshell position markers.
Another departure from the archetype is the 25-inch scale length used here, which should give the attack a little more snap and zing.
The tortoiseshell visuals are echoed in the top binding, pickguard, control-cavity cover and headstock facing, where the material is etched with the Bunting logo.
It makes for a snarling, leather-clad contrast with the guitar's black top, which is pre-aged with scuffs, scratches and dings, as are the guitar's back and sides, while the neck is blended in with vintage-amber lacquer, but no physical antiquing.
For Bunting, the wear is an important part of the formula: It means a guitarist doesn't have to worry about handling something brand new and can play away with all the attitude and aggression necessary, without fearing that heart-breaking first scratch or ding.
The bridge is a fully intonatable Pigtail wraparound, and tuners are Gotoh's vintage Kluson-style with locking posts.
For pickups, this Amarok sports a PAF-like Wolfetone Dr. Vintage in the neck position and, in the bridge, a hotter Wolfetone Marshallhead, which is suited to its new owner's rock-intended tonal requirements.
Played unplugged, the Amarok exhibits excellent tonal balance and good articulation, which translates to a full-throated performance when amped up through a Fender Super Reverb tube amp and a Friedman Mini Dirty Shirley and 1x12 cab, with a selection of overdrive pedals.
It has a thick, meaty voice overall but with good clarity and a degree of "bite" in each individual note that helps it cut through, even with judicious distortion applied.
Unsurprisingly, it excels at anything you'd expect to tackle with a set-neck, dual-humbucker solidbody.
But it has its own voice, too, one that is mostly defined by a certain girthy warmth in both the neck and bridge positions, with a particularly aggressive mids-forward growl in the latter, clearly achieving that rockier voicing here that the client has requested.
The merging of the two in the middle position elicited a chimier, janglier sound that increased the guitar's versatility in lieu of any single-coil or low-output bridge settings (although that pickup does clean up well by winding down the guitar's volume control).
The overall balance between the two pickups works surprisingly well without dual volume controls.
All in all, it's a stripped-down rock and roll warrior that presents plenty of gritty attitude, with a surprising amount of sonic elegance beneath it all.
And it's just a lot of fun by any measure.
Visit Bunting Guitars for more information.
All the latest guitar news, interviews, lessons, reviews, deals and more, direct to your inbox!
Dave Hunter is a writer and consulting editor for Guitar Player magazine. His prolific output as author includes Fender 75 Years, The Guitar Amp Handbook, The British Amp Invasion, Ultimate Star Guitars, Guitar Effects Pedals, The Guitar Pickup Handbook, The Fender Telecaster and several other titles. Hunter is a former editor of The Guitar Magazine (UK), and a contributor to Vintage Guitar, Premier Guitar, The Connoisseur and other publications. A contributing essayist to the United States Library of Congress National Recording Preservation Board's Permanent Archive, he lives in Kittery, ME, with his wife and their two children and fronts the bands A Different Engine and The Stereo Field.