Get a Close Look at John Frusciante's Rare Gretsch White Falcon
The Red Hot Chili Pepper reveals another classic guitar from his collection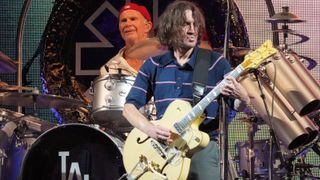 (Image credit: Kevin Mazur/Getty Images for Live Nation)
John Frusciante has played a number of 1950s Gretsch White Falcons over the years, and this DeArmond Model 2000-loaded single-cut electric guitar with a Melita bridge, Bigsby vibrato and winged headstock logo is currently his main squeeze.
Guitar Player tagged along to the Red Hot Chili Peppers' Austin City Limits October 9 concert to get a close look at several guitar from Frusciante's arsenal.
In addition to the guitarist's iconic Fender Stratocasters, Fender Telecaster Custom, and Martin 00-15, we spotted this rare bird…
"John used to have a '55 White Falcon," says Frusciante's current guitar tech, Henry Trejo. "That guitar, I believe, was on loan to him from [artist, actor, filmmaker and musician] Vincent Gallo.
"Dave [Lee, Frusciante's former guitar tech] actually found the '58 that he's using now.
"In the current set he uses this guitar on two songs: 'Otherside' and 'Californication' [both from 1999's Californication].
Image 1 of 5
"I got this guitar at a truck stop during the By the Way period. No kidding," recalls Lee.
"I had to meet a guy there because he was driving it down and it was a halfway point. I remember getting the cash and going to a Flying Jay truck stop in Gorman, California, and I felt so weird standing there with tens of thousands of dollars.
"The guy showed up, and he wanted 20 grand for it. And then I saw the guitar and I said, 'Look, it's had some refinishing work done.' And he goes, 'Oh, let me make a call.'
"He comes back and says, 'Okay, we'll take seven.' Like, that's quite a drop!"
See this guitar and more in our latest issue. Follow the link on our homepage to order your copy.
All the latest guitar news, interviews, lessons, reviews, deals and more, direct to your inbox!
Rich is the co-author of the best-selling Nöthin' But a Good Time: The Uncensored History of the '80s Hard Rock Explosion. He is also a recording and performing musician, and a former editor of Guitar World magazine and executive editor of Guitar Aficionado magazine. He has authored several additional books, among them Kurt Cobain: Montage of Heck, the companion to the documentary of the same name.