Five Inspiring Ways to Use a Volume Pedal
It could be one of the most overlooked pieces of gear you own.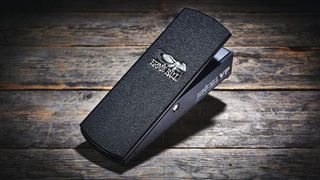 (Image credit: Future)
The volume pedal might be the most underused and underrated tool on your pedalboard. Here are five ways you can put it to highly effective use:
1. AS A BOOST
Your volume pedal offers a simple and effective way to boost your level. And unlike a standard boost, it can be adjusted gradually for added expression.
2. FOR SWELLS
You can use your volume pedal to control the attack of notes and chords, creating a violin-like "swell" that can be evocative of orchestral strings. Start with the volume pedal heel down; play a note or chord and bring the volume up, then pull it back to heel position at the tail end. Use a reverb pedal for a more symphonic sound and to add ambience that can cover the silences between the swells.
3. IN FRONT OF OTHER EFFECTS
Some guitarists place their volume pedal at the end of the signal chain or before it. Why not try putting it in front of specific pedals? For example, placing it in front of your distortion pedal allows you to create natural-sounding breakup as you increase the volume. Putting it in front of your delay or reverb ensures that the tails won't be cut off when you pull back on the volume.
4. IN YOUR EFFECTS LOOP
Placing your pedal in the effect loop of your amp means it no longer functions like a foot-controlled guitar volume. With gain in play on your pedalboard, the volume pedal now acts as a level control. You'll have the same amount of gain no matter how you set the level with the volume pedal.
5. AS A NOISE GATE
Simple and highly effective at gigs, a volume pedal cuts out your signal between songs for guitar changes or breaks. It also gives you an organic way to fade out your guitar at the end of songs if you want.
Buy the DOD Mini Volume here
Buy the EHX Volume Pedal here
Buy the Boss FV-500L Foot Volume Pedal - Low Impedance here
Buy the Morley 20/20 Power Wah Volume Pedal here
Buy the Dunlop DVP3 Volume (X) Volume and Expression Pedal here
All the latest guitar news, interviews, lessons, reviews, deals and more, direct to your inbox!
Guitar Player is the world's most comprehensive, trusted and insightful guitar publication for passionate guitarists and active musicians of all ages. Guitar Player magazine is published 13 times a year in print and digital formats. The magazine was established in 1967 and is the world's oldest guitar magazine.
When "Guitar Player Staff" is credited as the author, it's usually because more than one author on the team has created the story.