Designed for Players With Refined Tastes, the EKO Florentine 2 Is a Unique Under-the-Radar Vintage Guitar
Located in Recanti, Italy, and still operating today, the EKO Company was the largest exporter of electric guitars in all of Europe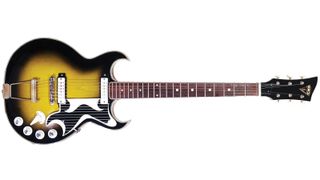 (Image credit: May Yam)
As a collector of unusual guitars, I'm drawn to those that look weird, have unusual features or boast both of these qualities.
What's odd about this 1966 EKO Florentine 2 is not simply how it looks but also that it has remained relatively unknown for well over half a century.
Located in Recanti, Italy, and still operating today, the EKO Company was the largest exporter of electric guitars in all of Europe, from its inception in the late '50s right through the '60s.
EKO was also known for making the highly sought-after Vox guitars of the '60s, as well as other, lesser-known brands.
While many of its models were adorned with outlandish plastic wraps and multi-button matrixes, the Florentine 2 is rather understated and appears to have been designed for guitarists with refined tastes.
Weirdo Factor
Other than the wonderfully unique back-painted art on the pickguard and the rather sharp upper cutaways, this is a players' guitar, and play it does!
Playability & Sound
The lower bout of this guitar is only 13 inches wide, about the same as on a Fender Stratocaster.
The upper cutaway is even narrower, which makes this semi-hollowbody guitar light (just 5.5 pounds) and easy to navigate.
The enclosed tuners still work smoothly, with no slippage, and the Tune-o-matic-style bridge is a nice modern feature that allows you to dial in exacting intonation. The guitar was also available as the Florentine 2V, which featured a vibrato bar.
Each of the two pickups has a dedicated volume and tone knob. The electronics also feature a four-way selector that offers a choice of either pickup or both, and works as a kill switch in its fourth position. (Why don't more guitars have kill switches?)
The pickups are hot and difficult to work with individually – the bridge unit is almost too trebly, and the neck pickup too bassy. I found a more musical sweet spot after finagling with the tone controls.
That said, when used in combination, the pickups are loud, full and so musical that you can hear and feel the guitar's body resonating.
With distortion, this guitar took off like a Frisbee in a wind tunnel, conjuring lots of microphonic squealing and feedback. Stay off the dirt and this instrument would be a great strummer for the singer-songwriter or for playing clean-tone jazz guitar.
Value
The Florentine 2 has become desirable. Several years ago, this example was purchased from Real Guitars in San Francisco for $500, but it could easily fetch multiple times that at auction today.
Why It Rules
This is a great-sounding and great-playing guitar. Its somewhat conservative shape is offset by the wild pickguard, and together they make a pleasant presentation.
Thanks to Doug Agnew for the loan of this sweet guitar.
Got a whack job of your own? Feel free to get in touch with me at rtcarleton@ gmail.com. Who knows? Maybe I'll write about it.
All the latest guitar news, interviews, lessons, reviews, deals and more, direct to your inbox!