"Bigger Isn't Always Better. And Longer Isn't Either": Joe Satriani Explains Why Shorter Cables Can Improve Your Sound
Satch takes the lead and reveals some more guitar tone wisdom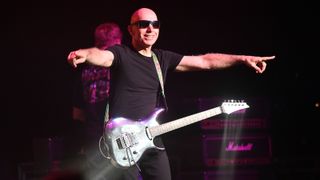 (Image credit: Scott Dudelson/Getty Images)
***The following interview extract originally appeared in the November 2018 issue of Guitar Player***
Joe Satriani is happy to discuss nearly any topic related to the electric guitar. But when the subject turns to tone, the voluble master of the six-string becomes downright enthusiastic.
"Tone is such an endlessly fascinating concept," he says. "Right off the bat, what I find interesting about tone is how subjective it is: What's good tone? What's bad? There may not be a right or wrong here, because, as it is with all music and art, context is everything."
Here, Satch takes the lead and dishes out some sound advice on guitar cables…
People rarely talk about guitar cables when discussing tone, but it's really one of the most important aspects of how a guitar sounds, isn't it?
It really is, and it never gets the kind of attention it should.
I always went for the cables that colored the sound the least. You can A/B cables to find the one that's louder and offers more fidelity – more low and high end.
With bad cables, we're really talking about capacitance: The guitar signal is coming out of your guitar, and when it hits the cable you don't want any frequencies to be chopped off or deteriorate.
With rare exceptions, shorter cables do the trick because the signal doesn't have to travel as far, so there isn't the same amount of frequency loss.
You can test this easily: Go get a Telecaster and a Vibrolux. Take a two-foot cable, a three-foot cable and one that's 40 feet long. You'll be able to tell which cable works best pretty quickly.
When we were recording [1987's] Surfing with the Alien, we got on this crazy kick of using the shortest cable possible. We even made our own Mogami cables. We were really into it.
John Cuniberti would find a cable that allowed me to stand where I needed to in order to record a particular part. But that was just it: I had to stand in one spot and I couldn't move any further.
Sometimes it was a four-foot cable, and I would stand right in the control room. It was a little crazy, but it worked.
These days, we use D'Addario cables both in the studio and on tour. We make them up for every gig. If it's an unusual venue – if it's a bigger or smaller place than what I'm used to – my tech, Mike, will come to me and say, "Hey, I switched to this length cable because I can save you 10 feet." We know it'll make a difference in how my guitar sounds.
It's kind of funny: Back in my lean years I always went for the cheaper stuff, because economy was extremely important and I had to prioritize.
I would look at my budget and say, "Well, I really want that one pedal, so I can save a few bucks if I buy the cheaper cable." But cheaper isn't always the way to go when purchasing something like guitar cables.
This just goes back to what I said before: You want your gear to inspire you. It has to deliver a sound that makes you want to play and create. So if you have to spend a few more bucks on a cable, do it.
And if you're thinking, Well, I can't jump into the audience with an eight-foot cable so I should get the 40-foot one, just remember that the longer cable is going to affect your sound a lot more.
Bigger isn't always better. And longer isn't either. [laughs]
For more great advice on guitar cables, check out our essential buyer's guide: Best Guitar Cables 2023: Hard-working Cables That Will Preserve Your Tone.
All the latest guitar news, interviews, lessons, reviews, deals and more, direct to your inbox!
Joe is a freelance journalist who has, over the past few decades, interviewed hundreds of guitarists for Guitar World, Guitar Player, MusicRadar and Classic Rock. He is also a former editor of Guitar World, contributing writer for Guitar Aficionado and VP of A&R for Island Records. He's an enthusiastic guitarist, but he's nowhere near the likes of the people he interviews. Surprisingly, his skills are more suited to the drums. If you need a drummer for your Beatles tribute band, look him up.