All You Need To Know About the Fender Mustang – the Guitar of Choice for Kurt Cobain
This humbly stylish offset was a popular "student" model of the 1960s that saw use with some big-name artists.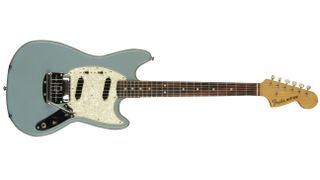 (Image credit: Olivia's Vintage Guitars/Joseph Deas)
As one of the more affordable "genuine vintage Fender guitars" in the '80s and '90s, Mustangs were snapped up and hot-rodded by punk, grunge, indie-rock and alt-rock players who were in search of punchier, more powerful sounds than the original, fairly weak single-coil pickups could provide.
As a result, the model roared back into popularity. However, an original Mustang – such as our featured instrument from '66 – can be an excellent and expressive guitar before you inflict a single tweak upon it.
The Mustang was unveiled in 1964 at the tail end of Fender's pre-CBS years in an effort to upgrade the company's beginner and student lines. Previously, in 1956, Fender unveiled its scaled-down, single-pickup Musicmaster and dual-pickup Duo-Sonic models to capture the business of young players hot for this new rock and roll fad.
These models quickly became gateway guitars to more grown-up Fenders. Each had a 22 1/2–inch scale length that was shorter than anything Fender had yet produced in a Spanish-electric. These short-scale models are sometimes referred to as "three-quarter-scale" guitars, but they're closer to nine-tenths the size of a standard Fender model from the day.
A slight reworking of the body style and electronics delivered both the hardtail Duo-Sonic II and vibrato-equipped Mustang in '64, and although both were also still available in the shorter 22 1/2–inch scale length early on, the 24-inch scale quickly became more popular for both models.
The body represented another slight departure for Fender, both in its more compact and streamlined size and shape and in the poplar wood that was most often used for its construction. The neck was the standard bolt-on Fender configuration of one-piece maple with a rosewood fingerboard and generally feels superbly comfortable in the hand.
Both were made in two different widths, too, as measured at the nut and indicated by a letter code found alongside the date stamped on the neck's heel: "A" indicated a narrower 1 7/16–inch width, while "B" signaled the more standard, and more desirable, 1 5/8 inches.
The Mustang vibrato was an entirely new contraption, with a sprung tailpiece unit and separate rocking bridge, all mounted to the same base plate (with much of the workings hanging underneath).
New, too, were the electronics. The pickups were made similarly to the Stratocaster's but were entirely covered, with no pole pieces showing, and often tended to be a little weaker.
Each was wired through its own three-way slider switch, which provided not only "on" and "off" positions but also an out-of-phase setting in relation to the other pickup when both were on and the switches set in opposite directions.
Original Mustangs of 1964–'68 vintage were offered in white, blue and red finishes similar to Fender's Olympic White, Daphne Blue and Dakota Red, although they were never officially named as such.
The Competition Series Mustangs, which featured diagonal racing stripes and forearm and rib cage contours, were introduced in 1968 and fetch about 30 percent more on the vintage market today. This is purely due to their cosmetics, as '64–'66 Mustangs can be perfectly excellent electric guitars.
The Mustang remained in regular production until 1982, when ownership shake-ups at Fender induced a lot of changes. It was back by demand in reissue form in 1990. For examples in the hands of pros, check out Kurt Cobain's frequent use of a battered Mustang (often with bridge humbucker added), David Byrne with early Talking Heads or Matthew Healey of the 1975, among many others.
Thanks to Olivia's Vintage Guitars for showing us this wonderful 1966 Fender Mustang.
All the latest guitar news, interviews, lessons, reviews, deals and more, direct to your inbox!
Dave Hunter is a writer and consulting editor for Guitar Player magazine. His prolific output as author includes Fender 75 Years, The Guitar Amp Handbook, The British Amp Invasion, Ultimate Star Guitars, Guitar Effects Pedals, The Guitar Pickup Handbook, The Fender Telecaster and several other titles. Hunter is a former editor of The Guitar Magazine (UK), and a contributor to Vintage Guitar, Premier Guitar, The Connoisseur and other publications. A contributing essayist to the United States Library of Congress National Recording Preservation Board's Permanent Archive, he lives in Kittery, ME, with his wife and their two children and fronts the bands A Different Engine and The Stereo Field.