11 of the Best Micro Tube Amps
Our pick of micro heads and combos from Blackstar, Fender, Jet City, Hughes & Kettner, Kustom, Laney, Vintage47 and Vox.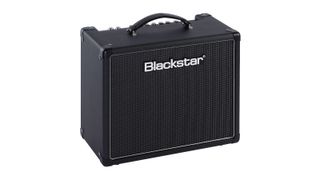 (Image credit: Blackstar)
Tube amps of five watts or less have been at the heart of some of the most inspired recordings by rock's legendary guitarists - many of whom used stacks onstage, but favored small "practice" combos from Fender, Supro, Selmer, Valco, Vox and others for tracking mammoth tones to tape.
A tiny tube amp pushed into saturation typically delivers warm, beautifully compressed distortion, minus the deafening roar that a larger amp produces. And in a recording studio or a practice session – or even on a gig where low levels are mandatory – amps that use one 6V6 or EL84, or even just a 12AX7 dual triode for power, may be the perfect thing to plug into.
We in the guitar community often get snickered at for sticking with "obsolete" tube technology, but the fact is that many of today's new micro amps are highly evolved designs that – besides sounding more organic and dynamically responsive than anything conceived via software – offer such features as footswitchable gain modes, sophisticated tone controls, built in power attenuation, speaker emulated line outs, and other features that weren't even in the neuron stream when engineers were designing guitar amps back in the '40s and '50s.
This round-up focuses on new micro heads and combos from Blackstar, Fender, Jet City, Hughes & Kettner, Kustom, Laney, Vintage47, and Vox, which we tested in a variety of environments using a selection of guitars from Fender, PRS, Gibson, and Gretsch. We also report on three new 1-watt Marshall heads – the JMP-1H, JTM-1H and JCM-1H – that the company released in celebration of its 50th anniversary.
1. Blackstar HT-5R 1x12 Combo
The diminutive HT-5R packs the bells and whistles of larger contemporary channel-switchers to achieve "beyond bedroom status" in an amp that is nevertheless ideally sized to pedal-down playroom jamming. In a near-physics-defying feat, this 17.5" x 14" x 9" box even includes a 12" speaker. Its two footswitchable channels have independent EQ – a simple tone control on Clean, but three knobs and ISF control for Overdrive – plus global reverb.
The ISF (Infinite Shape Feature) control is continuously variable between tight, bright, in-your-face "American" tones and warmer, looser "British" tones. The chassis' underside boasts a series FX loop with level switch, an mp3/ line input, a speaker-emulated DI/headphone jack (with closed-back 4x12" and open-back 1x12" options), and multiple speaker outs.
The HT-5R achieves its 5-watt goodness by using both sides of a 12BH7 dual triode – normally a preamp tube – in a pushpull output stage, rather than following the traditional single-ended format. This implies a sonic signature that's more "big amp feel in a small-amp package," rather than the typical mini-class-A deal. The cabinet and cosmetics are mostly businesslike, although the black grille cloth on the review model was a little slack across the speaker front.
Tested with a Tele and an SG, the HT-5R hopped easily from Fender-y cleans to British overdrive and beyond. The Overdrive channel is surprisingly versatile, and runs confidently from chewy blues crunch to high-gain sizzle – all of which are a total blast to play. It's a gutsy little monster, too – although low end is understandably attenuated in a package this size. The reverb sounds good on the clean channel, but it gets a little lost in high gain tones. The speaker-emulated output is effective for recording and headphone rehearsing alike. All in all, the HT-5R is a surprisingly versatile little tone generator.
2. Fender Greta
Sporting a retro, tabletop-radio look, the Greta is an adorable lil' thing with a 4" speaker and Volume and Tone controls. There's also a VU meter that moves to the red the more you push the amp's Volume control. Using the onboard speaker, the tones are small, funky, and kind of fun. It's not the sort of town you would want to live in, but a fun place to visit – maybe on a recording session for a lo-fi track, or practicing at home when you need to be super quiet.
But plug the Greta into a speaker cabinet and stand back – it sounds remarkably real, true, and loud. Gig loud? Well, not really, but certainly something that is worthy of being miked up, as it spews frothy distorted tones that are full of fang-y midrange and sweet top end. Very fun! With the amp's Volume turned up halfway, you're afforded some tough, punchy grind, yet you can back off your guitar's volume for lovely clean tones that compress and sparkle nicely. We typically cranked the Tone control all the way, which yielded excellent results with humbuckers and single-coils.
The Greta can also run into the front-end of another amplifier – think of it as a tube-powered stompbox with Volume and Tone controls and a 4" speaker! The line out gracefully adds to the Greta's utility as a studio tool. I even used it to run the Greta in front of my Deluxe Reverb with excellent results. The Greta is a blast to play, it has a small footprint, it sounds cool, it looks cool, and you can't argue with the price.
3. Hughes & Kettner TubeMeister 5
Lunch box amps are getting even smaller – way too small to fit your schwarzwurst and spargel leftovers in, that's for sure! Case in point: the TubeMeister 5 – a tiny Teutonic tube terror that is potently portable at 7.5 lbs, and includes a padded gig case.
The key to the 'Meister is its front-panel Drive switch. When it's not engaged, the TubeMeister stays tight, clean, sparkly, and dynamic nearly throughout the range of the Master Volume control. Strat players will love the glassiness that the TubeMeister offers, as it really enhances the funky "cluck" of in-between pickup settings. Humbucker players will be as happy as can be with the TubeMeister's ability to yield swift, hammer-like, AC/DC-style tones with a fast attack that delivers tough, barking chords like a lead pipe to the head.
And, the 'Meister sports an abundance of chime and high-end definition with humbuckers too. Crank the amp's Gain and an aggressive grind enters the picture with a bounty of tight and powerful low end, as well as musically snarling midrange. Yes, the TubeMeister is dynamic – you can go from gorgeous clean to Iron Maiden with a twist of your guitar's volume knob. Brilliant.
Kicking in the Drive switch, all hell breaks loose with crushing high gain that manages to stay tight and focused, even when Master and Gain are cranked. The low end can pummel through a 1x10 or a 4x12, and it doesn't sound hyped, fake, or detached from the notes that are being played. The treble frequencies need to be dialed back a bit with single-coil-equipped guitars, but that's an easy fix.
The TubeMeister excels at classic and modern rock tones. I wish the Drive function was footswitchable, but the TubeMeister 5 sounds so good, we can look past that. Plus, the addition of Hughes & Kettner's famous speaker simulated Red Box direct out establishes the TubeMeister as a fantastic choice for silent recording.
4. Jet City Amplification PicoValve
Designed by boutique pioneer Andy Marshall of THD fame, the Jet City PicoValve rocks the rugged roll-cage look, and boasts a 16-gauge steel chassis, as well as a circuit that can handle nearly any octal-based tube (such as a 6V6, EL34, or 6550). Tube-swappin'-tonetweakers unite!
The PicoValve is one of those amps that sounds good right from the get-go, no matter where you set the controls. With a Gibson SG and the PicoValve plugged into a 4x12 Marshall cabinet loaded with Celestion Vintage 30s, it was hard to go wrong. In either 5- or 2-watt mode, the Pico's tones remain coherent and tight when the amp is running full on – even with the Gain dimed.
What you get by cranking the Master Volume is more touch and tonal sensitivity and power tube compression. The PicoValve's tones were dynamic, reacting to pick attack and subtle nudges of our guitar's volume and tone controls to give us some nice sonic shadings. The PicoValve also excels at giving up clean-ish distorted tones – preferably with the preamp Gain about halfway up, and the Master Volume cranked.
With a Telecaster and the amp in 5-watt mode – and the Gain less than halfway up – we were able to elicit some sparkling clean tones that really shined through our open-back Fender 1x10 and 1x12 cabinets. The amp's EQ is simple and effective, as any setting pretty much gets you exactly what you need without having to resort to excessive knob turning. The PicoValve is thick and meaty with a side of sparkly jangle. What's not to like about that?
5. Kustom Defender 5H Mini-Stack
You can't overestimate the timeless appeal of a simple, foolproof, one-knob tube amp, and the Kustom Defender 5H delivers on that Thoreauvian promise right out of the box. No tone control? That's right! Made in China? Who cares? It'll cost you less than a hundred bucks for the head, and take you to Crank Town without triggering a knock on the door from the boys in blue.
Within its lunchbox-sized 12" x 4" x 7" vented-steel box, the Defender 5H taps a single 12AX7 preamp tube and single EL84 output tube to churn out 5 incontrovertible class-A watts. There's a single volume knob – turn it up, turn it down – and a Power switch. And, along with the three speaker outputs and AC connection round back, that's it. If you need more, look elsewhere.
The accompanying Defender 1x12 speaker cab carries a Kustom-designed 12" 16Ω speaker with a 30-watt power-handling capability. It's a sturdy enough MDF box, with a plywood speaker baffle "for enhanced tone and resonance," as Kustom puts it, and inspires no complaints at this price point.
The real glory of simplicity like this – and, arguably, one of the main points of the micro amp in the first place – other than its premise of keeping down the volume, is that this is truly a plug-and-play machine. Injected with the seminal purity of a Telecaster or an SG Standard, the Defender 5H Mini-Stack delivers everything from shimmering cleans, to throbbing Brit-rock crunch, to mouse-that-roared lead tones.
Lows are surprisingly gutsy, highs shimmer with harmonic complexity, and it all cleans up nicely at the guitar's volume control, or simply by easing up your pick attack. This is the kind of amp you decide to buy for that guitar-playing niece or nephew in need of their "first real tube amp," while secretly deciding you will probably just keep it for yourself. Buckets of fun!
6. Laney Cub 8
Lyndon Laney started out as a bass player in England in the 1960s, and has the distinction of being in a group called Band of Joy, which featured John Bonham and Robert Plant. After those guys went on to bigger things, Laney himself got into building amplifiers. He was quite good at it, too, as Laney amps have been used by a lot of great players over the years, most notably Tony Iommi. While the Cub 8 looks like something Laney might have introduced early on, it's actually a new design that exudes a soulful, retro look courtesy of its cream pointer knobs, brown top panel, leather-grain covering, and amoeba-shaped front with basketweave grille cloth. Not that the Cub 8 is a heavy amp, but the squishy rubber handle sure makes carrying it a breeze.
With a 12AX7 in the front end, a 6V6 for power, and solid-state rectification, the Cub offers a useful range of sounds that can be optimized for a cleaner response by using the Low input. Keeping the Volume control below 9:00 lets you work in that edge-of-breakup zone that sounds great for blues and jazz, while turning the Volume control up to half or higher allows the amp to go into grinding overdrive that you can easily control from the guitar. The distortion gets a little buzzy when you really start crankin,' but keeping the well-voiced Tone control turned down, and/or using humbuckers, helps to smooth out the sounds.
Jacking into the High input opens the door to the Cub 8's most saturated realms. As with many small, single-ended class-A amps, however, the sweetest and most balanced distortion tones are usually somewhere short of a "dimed" setting. Amps like these are also very sensitive to the guitar level, so although using singlecoils will likely induce more top-end bite, they can also facilitate a wider range of tones—and may be the best way to go if you're already wedded to a boost or distortion pedal for your lead sounds.
The Cub's 8" speaker has a midrangey focus that's very suitable for miking in a studio, though the amp opened up more and was louder when we plugged it into a 1x12 cabinet via the handy external speaker jack. It will safely drive 8Ω or 16Ω loads, so anyone planning to use the Cub 8 for small gigs or rehearsing with a band might consider bringing along an extra cab just in case a little more oomph is needed.
7. Vintage 47 Oahu Suitcase
Vintage 47 makes hand-made, point-to-point wired, period-correct recreations of killer old Valco-style (i.e., Supro, Airline, Oahu, etc.) amps from the '40s. For anyone who digs what those classic amps can do, this bitchin' little 5-watt beauty is a must-hear. Sporting super-cool cosmetics, simple controls, and weighing almost nothing, the Oahu Suitcase delivers a surprisingly big range of class-A tones from its 8" hempcone speaker.
Some of the most famous Supro tones can be found on the first Led Zeppelin album, and we wanted to see if the VA-422 could cop them. We cranked the Volume and Tone knobs up all the way and lit into the intro to "Communication Breakdown." Sure enough, we were greeted by a delightfully fuzzed out, spitty, mean tone that was perfect for the riff. Even with the controls maxed out, the Oahu was very quiet and cleaned up really well when we picked lightly or turned the guitar down a bit.
The Tone control has a lot of range and can get incredibly bright when cranked. We still found those trebly tones to be very useful, though, and they responded nicely when we rolled the guitar's tone knob back. The real sweet spot on this amp, though, was when we kept the Volume at about 80 percent and the Tone at about 50 percent. This produced a full, warm sound that was ultra-dynamic. It seemed to bring out the best in any pickup combination and even dealt with the PRS piezo tones no problem. And, in addition to sounding sweet, this amp feels great to play through.
Sticking a mic in front of the Oahu Suitcase instantly showed why so many great guitarists and producers love having amps of this type in the studio. This thing records like a dream, with a lively, punchy rhythm sound that sits in the mix like nobody's business. This little amp is a winner.
8. Vox AC4HW1
The Vox AC4, one of a series of small amps that the English company introduced in the early to mid 1960s, was basically a renamed AC2 that featured the same complement of tubes: an EF86 and a 12AX7 in the preamp, an EL84 for power, and an EZ80 rectifier. Vox's new AC4HW1 veers from the original design by using a pair of 12AX7s and an EL84 power tube with solid-state rectification, but retains the stellar look of the vintage classic by featuring period-correct fawn covering with gold piping, brown diamond- pattern grille cloth, pointer-style knobs, and a white handle.
The controls include Gain, Treble, Bass, and Volume, along with a Cool/Hot switch that toggles between the normal Top Boost sound (Cool), and a brighter, gainier response that results from partially bypassing the tone stack in the Hot setting.
The little combo hides a 12" Celestion G12M Greenback in its compact, semi-closed back cabinet. Removing the 15 screws that hold the rear cover in place provides full access to the handwired circuitry, which is laid out neatly on a phenolic board with flying leads to the pots, jacks, and switches. It's a show of quality that extends to all aspects of the AC4's construction and cosmetics.
Though small in stature, the AC4 throws out an impressive amount of sound. The cleanest tones are best tapped by plugging into the Low input and turning the Gain knob no higher than 9:00. In this mode you get a harmonically rich and jangly shimmer that's evocative of Beatles-era Brit-pop guitar tones. This amp loves to grind, and will do so readily if you pick or strum hard – especially if the Volume control is set high enough to invite power tube clipping.
Cranking up the Gain quickly brings on more chewy distortion and compression, and switching to the High input transforms the AC4 into a raging little beast with plenty of sustain for solos. The highs can easily be managed in Cool mode by setting the Treble knob fairly low and adjusting the Bass knob for the warmest response, but these controls have less effect in the Hot setting, which is designed to provide a boost in gain and brightness for solos.
We found the extra brightness hard to manage even with humbuckers, but by turning the amp's Treble control all the way down and backing off the tone controls on my PRS SC58, we could tame the slice to a reasonable degree. We think it would have been nice if Vox had added a little treble attenuation to the Hot setting, but this amp sounds so cool in its, well, Cool mode, that it's not a big deal.
Kept in its lower-gain realms and perhaps paired with a boost or distortion pedal for extra sustain, the AC4HW1 is a convenient practice/small-gig rig that packs an irresistible combination of British accent and "mod"-era Vox look.
Marshall JTM-1H, JMP-1H, JCM-1H 50th Anniversary 1-Watt Amplifiers
As part of Marshall's "50 Years of Loud Anniversary Celebration," the hallowed amplifier manufacturer introduced a series of five 1-watt mini amplifiers designed to represent the five decades of Marshall's existence. Each amp is available as a head or a 1x10 combo. Reviewed here are heads representing the first three decades: the JTM-1H (1960s), the JMP-1H (1970s), and the JCM-1H (1980s). The heads retail for $1,000 and street for $749. Combos run $1,060 retail and $799 street.
The heads were built in England at Marshall's Bletchley factory and designed to sound and look period-appropriate. Obviously, not all Marshall amps from any decade sound or look identical, but these little all-tube beauties capture the essential vibe of their ancestors – right down to the switches, knobs, name plates, and cabinetry.
Tone-wise, the amps come surprisingly close to replicating vintage sounds, which is particularly remarkable given the diminutive power tubes in their output sections. All three pack a good bit more gain than the originals, but that shouldn't be an issue, especially given that back in the '60s and '70s players struggled mightily to coax more gain from their Marshalls (and present-day guitarists who plug into actual "plexis" frequently find the sound too clean and unforgiving).
The 1-watters were surprisingly loud when powering a Marshall C110 speaker cabinet ($350 retail/$250 street) loaded with a Celestion G10F-15, and even rocked a 1x12 cab with authority. Should that be a problem when practicing, a Power switch on the rear panel drops the output to 0.1 watt operation, which thins out the tone a bit but still sounds fine.
We tested the heads with PRS P22 and Gibson '59 Les Paul reissue guitars, both of which paired beautifully with the Marshalls, yielding an impressive range of wondrous sounds. In fact, we can't remember when we've had more fun just plugging in and playing for pure enjoyment. Each model has its own personality, yet they all possess a magic that reminded me of why we fell in love with the electric guitar in the first place. So, while some may find these heads pricey, what's the going rate for inspiration and fun? Besides, these were limited-run products that weren't manufactured beyond 2012, making them potentially savvy investments as well.
9. Marshall JTM-1H
Fans of simplicity will love this spartan beastie, with its lone Loudness and Tone controls. The JTM-1H sports a vintage style Tolex-covered cabinet with gold piping and a block logo nameplate. The JTM-1H employs two 12AX7 and one 12AU7 tubes in a Class A/B configuration, and Marshall says that the amp is "based on the JTM45 tone stack, as if the inputs had been jumped," which sounds about right, though with more gain on tap as mentioned previously.
The sound is big, round, and bursting with harmonic complexity, and the nicely voiced Tone control sweeps a relatively wide range from dark to sizzling. The amp feels right, too, both in terms of playing dynamics and palpable thump – even through the 1x10 cab.
10. Marshall JMP-1H
Very similar in look, sound, and feel to the JTM-1H, the JMP-1H provides separate Bass and Treble controls, along with a Gain Boost switch that dramatically changes the amp's response in addition to it's sound when engaged – almost like having two amps in one. The diminutive Super Lead-style head boasts two 12AX7 and two 12AT7 tubes with a Class A "parallel single-ended" power-stage topology.
The tone controls are effectively voiced, offering lots of sound-sculpting capabilities, especially on lower-gain settings. There's more high end available than with the JTM-1H, and considerably more gain than you'd expect from a vintage JMP series amp – but the bottom line is that this amp sounds truly magnificent.
11. Marshall JCM-1H
The JCM-1H reaches for the roar and percussive knock of the famed JCM800 Lead Series amps that ruled the '80s, offering Bass, Middle, and Treble controls, along with Pre- Amp Volume and Master Volume controls, and a front-panel Boost switch designed to provide the extra punch of Marshall's Jubilee and Split Channel amps. It shares the same tube complement and Class A/B topology of the JTM-1H, but has more high-end overall than either of the other two heads, resulting in the slightly harsher and buzzier tone of the period.
The additional controls combined with the very effective Boost circuit allow you to dial in scores of glorious tones. Along with its two siblings, the JCM-1H is absolutely adorable and makes a majestic racket.
All the latest guitar news, interviews, lessons, reviews, deals and more, direct to your inbox!
Guitar Player is the world's most comprehensive, trusted and insightful guitar publication for passionate guitarists and active musicians of all ages. Guitar Player magazine is published 13 times a year in print and digital formats. The magazine was established in 1967 and is the world's oldest guitar magazine.
When "Guitar Player Staff" is credited as the author, it's usually because more than one author on the team has created the story.