This touch-sensitive and musical overdrive offers a superlative option for juicing your amp with some hot blues tones, or for setting and leaving for an always-on tone sweetener.
Pros
+

Dynamic tube overdrive with flexible 3-band EQ.

+

Silent true-bypass switching.
Cons
-

MagTraB magnet and sensor need to be perfectly aligned to function correctly.
You can trust Guitar Player. Our expert reviewers spend hours testing and comparing guitar products so you can choose the best for you. Find out more about how we test.
Handmade in Germany, and the brainchild of Dr. Henning Vahlbruch, the Kaluna is a tube-powered overdrive pedal that uses a 12AX7 operating at 250 volts, and features drive and volume controls along with a post-tube three-band active EQ that provides 12dB of boost and cut.
A power supply is not included, but any standard nine-volt unit that has a minimum output of 500mA will work. The unit looks nice with its metallic-gold aluminum enclosure (which measures roughly 4.5 by 3.5 inches), black retro-style knobs, and slots for venting heat from the tube.
The workmanship is top notch. The potentiometers are mounted to both the chassis and a glass-epoxy board that holds most of the circuit components. The 12AX7 resides in a socket on a small separate board, making it easy to change the tube if necessary.
A unique feature of the Kaluna is its MagTraB (magnetic transducer button) switching, which provides silent switching by using a combination of a footswitch with an integrated magnet and a sensor that is mounted to the circuit board.
When the footswitch is pressed, the sensor measures a change in the magnetic strength and sends this info via microcontroller to a relay with gold-plated contacts that provides the true-bypass switching. A simple programming procedure also allows you to have the pedal power up in either On or Bypass mode.
In use, the switching is indeed dead silent, however, I did initially experience a problem with it not switching on/off reliably. Vahlbruch explained that in order for the system to operate properly, the tip of the magnetic switch needs to be 2mm to 3mm away from the sensor when the foot switch is fully depressed.
If this distance changes for any reason – such as might occur if the pedal took a hard knock – the sensor has to be re-adjusted by bending its wire "legs" into the correct position. After opening the case I was able to easily get the magnet/sensor back into spec, and the bypass switching functioned perfectly.
Tested with a Les Paul Historic '59, a Fender American Pro II Strat, and a Reverend Greg Koch Gristlemaster (all through a Fender Deluxe Reverb and a Mesa/Boogie Mark Five: 25 1x10 combo), the Kaluna delivered a satisfying range of warm distortion tones that were easily dialed in with the active EQ controls.
These knobs allow for everything from grinding rock tones (with the middle control around halfway and the treble adjusted to get creamy tones with single-coils or humbuckers) to bottom-heavy scooped sounds with drive, bass, and treble cranked up and the middle knob close to zero.
The Kaluna's gain is similar to a Tube Screamer's, and it has a ton of output, so it's great for those who like to get blues tones SRV-style, by overdriving the front end of an amp while keeping the drive on the low side.
Conversely, a higher-drive/lower-volume configuration allows for easy control of rhythm and lead tones. And thanks to how the tube is configured in this circuit, the Kaluna's touch responsiveness makes it great as a "leave it on" pedal if you prefer to sweep between cleaner and dirtier textures with the guitar's volume knob.
Kudos to the Kaluna's sweet tube tone and responsiveness to player dynamics, as well as its unique bypass switching and quiet operation. It's certainly an interesting contender in the OD pedal market and one that's worthy of an audition if you're seeking a state-of-the-art tube overdrive pedal.
Specifications
PRICE: $372 direct
CONTROLS: Drive, bass, middle, treble, volume
I/O: Input, output, 2.1mm jack for external 9-volt adapter (not included)
EXTRAS: Proprietary MagTraB (magnetic transducer button) switching
CONTACT: Vahlbruch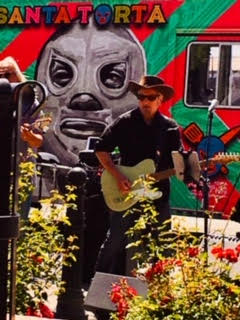 Art Thompson is Senior Editor of Guitar Player magazine. He has authored stories with numerous guitar greats including B.B. King, Prince and Scotty Moore and interviewed gear innovators such as Paul Reed Smith, Randall Smith and Gary Kramer. He also wrote the first book on vintage effects pedals, Stompbox. Art's busy performance schedule with three stylistically diverse groups provides ample opportunity to test-drive new guitars, amps and effects, many of which are featured in the pages of GP.