A booster like no other and well worth the investment for anyone who wants to be able to dial in the exact tone and feel they're after
Pros
+

A powerful and compact pedal that facilitates dialing-in tones with surgical precision
You can trust Guitar Player. Our expert reviewers spend hours testing and comparing guitar products so you can choose the best for you. Find out more about how we test.
An adventurous pedal to say the least, Totally Wycked Audio's original Triskelion debuted in 2010 as an updated reproduction of the Systech Harmonic Energizer used by Frank Zappa, Greg Lake, Joe Walsh and other '70s-era icons.
As described by TWA, the Triskelion was essentially a parametric midrange filter with adjustable peak and an obscene amount of gain. You could vary the mids to create cocked-wah sounds, and its powerful output allowed for massive distortion and infinite sustain.
It also offered extended high-frequency range and the option of expression control over the filter sweep.
The Triskelion Mk. III (or TK-03) is the latest incarnation and features a more compact Hammond 1590B chassis, as well as several functions that were absent on the Mk. II version when it was released in 2015.
Back now are the Variant Mass boost switch, which adds upper-midrange emphasis to the filter, along with 30 or so hertz of low-frequency response that TWA says had "mysteriously vanished" from the Mk. II.
A wicked-looking pedal with its gloss-red paint, gold-hued knobs and raised throwing-star logo, the Mk. III is also easy to grok once you get used to how the knobs and switches interact.
On the right side is the Variant Mass knob, which dials in the frequency you want to boost, and on the left side is the Energy knob, which adjusts the peak of the selected frequency.
Setting Energy halfway up and sweeping the Variant Mass clockwise from low to high is like working the rocker on a wah pedal, but with more lows and more highs.
Activating the VM Shift mini-toggle shifts the frequencies up an octave to provide more clarity and top-end bite, while the mini-toggle on the right activates the amplitude knob that adjust the gain of the circuit.
Turn up the knob to control the amount of boost, or you can connect a foot switch (not included) to the 1/8-inch jack marked FSW and turn the amplitude on and off. This is handy for setting a preset boost that can be kicked on and off as needed.
The 1/8-inch EXP jack lets you connect an optional expression pedal to manipulate the Variant Mass in real time and shape tones on the fly.
A related function that may be useful with some instruments is the low-cut slider switch (accessible though an opening in the right side) that trims the low end by 6dB per octave to allow fine-tuning expression pedal control of the VM range.
Played though a variety of amps from across the gain spectrum – from a Fender Deluxe Reverb to a Mesa/Boogie Mark 5:25 – and using single-coils and humbuckers, the Mk. III proved a powerful tone-sculpting tool that facilitates dialing in anything from glassy and super-funky clean sounds to crushing grind when driving a high-gain amplifier.
Set a dirty-rhythm tone on the amp and then click on the Mk. III to deliver a cool, punch-through lead sound.
We also liked using the Mk. III in front of a Fulltone OCD pedal (set to a moderate level of drive) to get controlled feedback and infinite sustain at the touch of a button. It's easier and more predictable than angling your electric guitar next to the speakers to get the same effect, and the ultra-quiet Mk. III doesn't add noise.
Three is a charm as they say, and TWA has put it all together with the Triskelion Mk. III. This pedal is a booster like no other and well worth the investment for anyone who wants to be able to dial in the exact tone and feel they're after.
Specifications:
CONTROLS: Energy, Variant Mass, amplitude. Amplitude on/off switch (LED indicates whether gain is on (bright) or off (dim). VM Shift on/off switch (shifts frequency setting on the Variant Mass control up one octave)
FOOT SWITCH: S3 relay/mechanical true-bypass switching (in case of power loss the unit reverts to bypass mode)
I/O: In and out jacks. 1/8" FSW jack (allows Amplitude to be activated via optional foot switch). 1/8" EXP jack (allows optional expression-pedal control of the Variant Mass pot)
EXTRAS: LC slider switch cuts low-end by 6dB/ octave
POWER SUPPLY: 9VDC (adapter not included)
BUILT: USA
The Triskelion Mk. III is available here.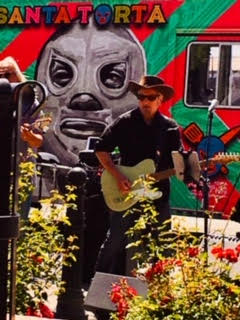 Art Thompson is Senior Editor of Guitar Player magazine. He has authored stories with numerous guitar greats including B.B. King, Prince and Scotty Moore and interviewed gear innovators such as Paul Reed Smith, Randall Smith and Gary Kramer. He also wrote the first book on vintage effects pedals, Stompbox. Art's busy performance schedule with three stylistically diverse groups provides ample opportunity to test-drive new guitars, amps and effects, many of which are featured in the pages of GP.