Music Man's evolution of Steve Lukather's signature electric is spectacular. This is a guitar that gets better and better each time. It's so playable, with a voice that makes it a comfortable fit for all kinds of styles.
Pros
+

Huge range of tones.

+

Awesome playability.

+

Perfect finish.

+

Super-smooth vibrato unit.
You can trust Guitar Player. Our expert reviewers spend hours testing and comparing guitar products so you can choose the best for you. Find out more about how we test.
It's hard to believe Steve Lukather has been consistently playing his namesake Music Man guitars since 1993. Although it was initially equipped with two single-coil pickups and one humbucker (HSS), in 2012 a twin-humbucking model designated the HH was added and has been available ever since.
Lukather calls this signature model "a hybrid of an old Les Paul and great Strat," which is on the mark for a guitar that feels so lively and vibrational, and is loaded with tone and playability-enhancing elements at every turn.
Let's start with the roasted, figured-maple neck with a soft V-shape that wears nothing but a thin finish of gunstock oil. This great-feeling stick is topped with a 12-inch-radius rosewood 'board carrying 22 polished, wide low-profile frets.
Music Man has always sought to maintain a linear string path on its instruments, and the .009–.042 wires on our review guitar run ruler-straight over a superbly worked synthetic nut to the 4+2 arrangement of Schaller locking tuners.
At the south end, they load through the chunky brass inertia block of the Music Man custom vintage tremolo bridge, which is equipped with a push-in bar and resonance enhancing bent-steel saddles that are adjustable for height, tilt and intonation.
The LIII arrived with an expertly dialed-in setup that provided low, buzz-free action and kept things sounding musically in tune throughout the reaches of the fretboard. Also new are the humbucking pickups, which feature dissimilar magnets under the chrome covers – alnico poles in the bridge and ceramic in the neck positions.
The controls are volume and tone and a five-way blade switch that selects the following pickup configurations: Position 1 (closest to neck): Neck pickup, coils in series. Position 2: Both pickups, inside coils in parallel. Position 3: Neck and bridge pickups in parallel. Position 4: Both pickups, outside coils in parallel. Position 5: Bridge pickup, coils in series.
There is also a preamp in this guitar that provides a 12dB boost when the push-push volume knob is in its "up" position (power is supplied by a nine-volt battery housed in a compartment on the back). This handy feature lets you instantly lift a solo above the mix, and it adds to the already stout assortment of sounds that are on tap here.
Tested through a new Mesa/Boogie Mark 5:25 1x10 combo and Fender Deluxe Reverb, the LIII proved very capable of dishing out whatever is needed for the situation.
The tones are stellar on the neck pickup, offering nice sustain and a balanced response that sounded excellent in cleaner modes or when pushing into the Boogie set for a singing, Mark I-style solo tone.
Then there are the split-coil sounds from positions two and four, which are so rich and chiming that I couldn't help going back to them again and again for funky rhythms and bluesy solos with a mild amount of distortion, à la Robert Cray.
The bridge humbucker, with its fat/bright response – which I assume has to do with the alnico poles – was just dynamite for everything from country twanging to heavily overdriven rock tones elicited by the Mesa's Mark IIC+, IV and Extreme modes.
It was just as easy getting killer overdrive tones from the Deluxe turned up to four or so, and boosted with the Mesa Cleo pedal or by using the LIII's onboard boost, which adds a little brightness to the sound and worked awesomely well with the sweet and slightly hollower timbres delivered in the LIII's middle position with both humbuckers running.
Our Fuchsia Sparkle LIII (also available in Bodhi Blue, Olive Pearl and Ocean Sparkle) is a tremendous guitar all around, with superb playability and ergonomics, a trem that feels butter smooth and keeps the tuning stable under hard workouts, and a range of tones that beg you to deploy it on practically any gig.
It's the result of a design that works for all the different applications that Steve Lukather encounters in his professional life as one of the hardest-working guitarists around. The LIII is simply fantastic and earns an Editors' Pick Award.
Specifications
PRICE: $2,549 street
NUT WIDTH: 1.69"
NECK: Figured roasted maple, five-bolt sculpted joint
FRETBOARD: Rosewood, 25.5" scale with 12" radIus
FRETS: 22 low-profile wide
TUNERS: Schaller M6-IND locking
BODY: Alder
BRIDGE: Music Man floating vintage tremolo. Chrome plated, hardened steel with bent-steel saddles and push-in arm
PICKUPS: Custom Music Man humbuckers with chrome covers (bridge alnico-magnet, neck ceramic-magnet). HSS version has same bridge humbucker and two Cutlass single-coil pickups
CONTROLS: Volume (push-push for gain boost), tone (500 kΩ with .022uF capacitor)
FACTORY STRINGS: Slinky .009–.042
WEIGHT: 8.10 lbs (as tested)
BUILT: USA
CONTACT: Ernie Ball Music Man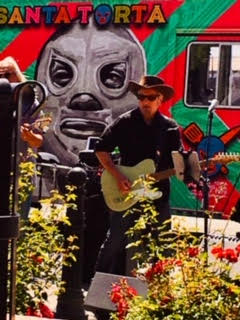 Art Thompson is Senior Editor of Guitar Player magazine. He has authored stories with numerous guitar greats including B.B. King, Prince and Scotty Moore and interviewed gear innovators such as Paul Reed Smith, Randall Smith and Gary Kramer. He also wrote the first book on vintage effects pedals, Stompbox. Art's busy performance schedule with three stylistically diverse groups provides ample opportunity to test-drive new guitars, amps and effects, many of which are featured in the pages of GP.