If you're looking to summon your inner Jimi Hendrix or just want the most flexible octave-fuzz available to add fresh color to your distortion tones, the Lizard Queen is the bomb
Pros
+

Delivers a wide range of octave-fuzz tones courtesy of an octave level knob and a unique balance control

+

Operates on battery power or optional 9VDC supply
You can trust Guitar Player. Our expert reviewers spend hours testing and comparing guitar products so you can choose the best for you. Find out more about how we test.
The result of an unusual coalition between Electro-Harmonix, JHS pedals founder Josh Scott and graphic artist Daniel Danger, the Lizard Queen Octave/Distortion is a compact version of JHS's "big box" pedal of the same name.
Created in the spirit of a "love letter" to Mike Matthews (who founded EHX in 1968), and made to echo the style of pedals that EHX produced in the mid 1970s, the limited-edition run features period-correct sheet-metal housings with silk-screened graphics, N.O.S. transistors and old-school circuit-board construction, complete with hand-drawn traces rendered artistically by Danger himself. (For the full story about the LQ, visit jhspedals.info)
The nano Lizard Queen has the same graphics and complement of volume, octave and balance controls, but adds modern conveniences like a jack for external power and an on/off LED, as found on the JHS version.
Removing the bottom plate from the die-cast enclosure provides access to the already installed "super-heavy-duty" carbon battery sporting Mike Matthews' image, and allows you to see all of the circuit components instead of just the back side of the PCB, as is often the case.
Scott maintains that the Lizard Queen is not a clone of a Roger Mayer Octavia, Foxx Tone Machine or, for that matter, any other vintage or modern octave-fuzz.
The pedal is particularly interesting because it's a fixed-gain fuzz that dispenses with a standard gain knob in favor of a balance control that operates with a sort of dual personality. As Scott says, it's "not a tone control, but it affects the tone; and not a gain control, but it affects the gain."
The distortion sounds thickest and heaviest with the balance control turned counter-clockwise to the Shadow position. It's more biting and gated sounding when turned clockwise to the Sun position, particularly when the highly interactive octave control is also halfway up or so.
Having a dedicated octave control is also somewhat unusual (although EHX's Octavix also has one), and it's a cool feature because you can turn the octave almost completely off or progressively add it to get the desired amount of shrill, ring-modulation-infused sound.
The pedal has a lot of output too, so plenty of boost is available, if needed. Played through a Fender Deluxe Reverb combo with a variety of single-coil and humbucker guitars from Fender, Gibson and PRS, the Lizard Queen was easy to dial in for tones that can be very reminiscent of the previously mentioned classic octave-fuzzes – or for that matter non-octave pedals like the Big Muff or Fuzz Face – while also having plenty of latitude to conjure sounds that are just fun and pleasing to hear.
For instance, turning the octave knob all the way up with the balance control set to Shadow elicits gated, modulating swells that sound like a backward effect. Turn the knobs the other direction and the tones become smooth and vocally in a "woman tone" sort of way with the guitar turned up (especially when using a neck-position humbucker), before descending into spittiness with a halo of octave chime as you turn down.
Neat stuff.
The Lizard Queen is such a blast to play, and for the admission price of $99 you're essentially getting a boutique pedal for a pittance when compared to the original JHS offering, which is a piece of sonic art in its own right.
Bottom line: If you're looking to summon your inner Jimi Hendrix or just want the most flexible octave-fuzz available to add fresh color to your distortion tones, the Lizard Queen is the bomb, and it gets an Editors' Pick Award.
Specifications
CONTROLS: Volume, octave, Balance
I/O: Input, output, 9VDC center-negative, power jack (adapter not included)
FOOT SWITCH: Mechanical, true-bypass
EXTRAS: 9V battery installed
SIZE: 4.25" x 2.25" x 1.25"
Visit Electro-Harmonix for more information.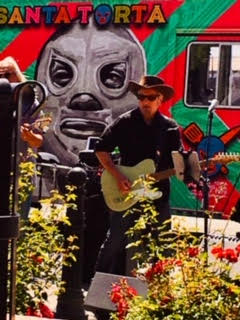 Art Thompson is Senior Editor of Guitar Player magazine. He has authored stories with numerous guitar greats including B.B. King, Prince and Scotty Moore and interviewed gear innovators such as Paul Reed Smith, Randall Smith and Gary Kramer. He also wrote the first book on vintage effects pedals, Stompbox. Art's busy performance schedule with three stylistically diverse groups provides ample opportunity to test-drive new guitars, amps and effects, many of which are featured in the pages of GP.