More than just a gnarly, aggressive fuzz, the Danelectro 3699's octave effects and very useful mid-boost feature make it a practical, dynamic and fun addition to your pedalboard.
Pros
+

Delivers fat fuzz tones with clear, well-defined octave effects.

+

Handy mid-boost feature.

+

Responds well to picking dynamics.

+

Performs well with single-coils and humbuckers.
Cons
-

No provision for battery power.
You can trust Guitar Player. Our expert reviewers spend hours testing and comparing guitar products so you can choose the best for you. Find out more about how we test.
The story of the the 3699 Fuzz begins with the Tone Machine octave/fuzz, which was one of a series of pedals Danelectro owner Steve Ridinger created in the early 1970s for his SoCal-based stompbox company, Foxx.
It was a fierce-sounding pedal, with volume, sustain and fuzz (tone) controls, a toggle switch to turn the octave on and off, and a unique velour treatment on the housing that came in red, black and purple and was, reportedly, a pain to apply.
Time-travel forward a half-century and Danelectro has introduced an updated version of the Tone Machine bearing the moniker 3699. It's significant for no other reason than it represents the last four digits of the phone number Foxx was randomly assigned back in the '70s, which coincidently spelled FOXX. Pretty strange.
The 3699 is a very different-looking machine, with its antiqued red housing and "arrow" knobs, and it carries an updated interface comprising volume, tone and fuzz controls, along with dual stomp switches.
The left button toggles the device on/off, and the other activates the octave effect. They're close enough on the compact housing that you can punch both if you get careless, so watch out. There's also a mini toggle switch that provides a choice of the stock mid-cut circuit or the newly added mid-boost function.
The pedal has indicator LEDs for bypass and octave status, and power is supplied by a nine-volt DC adapter (sold separately). Removing the backplate for a peek inside doesn't reveal much other than the three interconnected PC boards that grip the components.
One of Ridinger's goals for the 3699 was a warm tone, and it's evident upon plugging in that this is not a typical bee-in-a-beer-can fuzz. The gain range is wide and very accommodating to single-coils and humbuckers, and there's plenty of output on tap.
Tested with a Fender 70th Anniversary Broadcaster, a Gibson Historic ES-335 and a Hamer Newport with Seymour Duncan Phat Cat pickups (all through a Fender Deluxe Reverb), the pedal sounded excellent and needed only slight tone and gain tweaks to get optimal results.
With the voicing switch in the stock position, it was easy to dial in everything from fat, woolly fuzz flavors to skinnier, gnarlier textures as the tone knob was twisted toward its high range.
By contrast, the mid-boost setting delivers a strong midrange emphasis that adds girth and mass to the tone. The fun really begins when you switch on the octave and notice how well it stands out across the full range of the fuzz control, and how solidly it responds to guitar volume changes and picking dynamics.
There's still all that ring-modulator-like quirkiness in the sound, but the octave doesn't drift or become obscured at low or high-gain settings, or by how forcefully you play.
"The trick to getting the tone really sweet and the octave very prominent is to have the transistor gains in a very narrow range," Ridinger says. "The gains of the originals varied a lot because we bought surplus transistors, and they were all over the place.
"I think the transistor gains were closer to the sweet spot on some of the very early Tone Machines made in North Hollywood, but most of the ones made in Chatsworth from the summer of '72 onward had higher gains and lost some of the mojo.
"So for the 3699, we bought 60,000 NOS transistors, just like the originals, and tested them to hand select those with the ideal gain range. It has made a huge difference in the sound."
I'd agree with that assessment, as the 3699 embodies the spirit of the vintage Tone Machine in a configuration that is optimized for players who want meaty tones and a muscular, well-presented octave.
However you view the linkage between four numbers and a company that was on the leading edge of stompbox tone so many years ago, 3699 spells a hip pedal that takes Ridinger's original buzz bomb to a whole new level.
Specifications
Type: Fuzz and octaver
Controls: Volume, tone, fuzz, two-postion mid boost/stock switch, separate foot switches for bypass and octave on/off
I/O: 1/4" in, 1/4" out
Power: 9V DC [not supplied]
Contact: Danelectro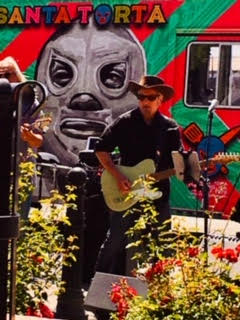 Art Thompson is Senior Editor of Guitar Player magazine. He has authored stories with numerous guitar greats including B.B. King, Prince and Scotty Moore and interviewed gear innovators such as Paul Reed Smith, Randall Smith and Gary Kramer. He also wrote the first book on vintage effects pedals, Stompbox. Art's busy performance schedule with three stylistically diverse groups provides ample opportunity to test-drive new guitars, amps and effects, many of which are featured in the pages of GP.