A vintage-correct reproduction that ably demonstrates Leo Fender's ability to get it right at the first time of asking. It's playable, with a wide array of tones, and it's only being produced for 2020. Hurry!
Pros
+

Awesome 1950 vibe.

+

This is a joy to play.

+

A very versatile tone machine.

+

Nice finish.

+

Includes a tweed hard case.
Cons
-

Accessing vintage truss-rod adjuster requires removing the neck.
You can trust Guitar Player. Our expert reviewers spend hours testing and comparing guitar products so you can choose the best for you. Find out more about how we test.
The Broadcaster of 1950 was a revolutionary and innovative guitar that featured a solid ash body, a fast-playing bolt-on maple neck and a pair of single-coil pickups, all cleverly incorporated into a sleek package designed to be easy to mass produce.
The only problem was the name: Gretsch already had a drum kit called the Broadkaster. Fender summarily deleted "Broadcaster" from the headstock decal, and after a short period of selling the guitar with just Fender on the headstock (commonly known as a Nocaster), the company found a permanent and fortuitous solution in the more modern-sounding name Telecaster.
Seventy years on, Fender is celebrating this important chapter in guitar history with the 70th Anniversary Broadcaster, a limited-edition replica that will be produced for 2020 only.
The model features an ash body wearing a Blackguard Blonde nitro-lacquer finish, a one-piece maple neck carrying 21 frets and black position dots, a stamped-steel bridge plate with three brass saddles, and a host of other period-correct details, including vintage-style nickel-plated tuners, knurled dome knobs, a single-ply black phenolic pickguard, a round string retainer and nickel-plated metal ferrules on the back for the through-body strings.
Only the neck plate nods to modernity with its inscription, "70th Anniversary Broadcaster."
On the electronics side, the pickups consist of a Custom Shop–designed '50-'51 Blackguard in the neck position and a '50-'51 Blackguard at the bridge. A three-way blade switch selects the pickups in standard Tele fashion (neck, both, bridge), and the circuit sports an old-style .05 MFD/150 V.D.C capacitor and cloth-covered wiring.
An included modification kit consisting of a 15 k-ohm resistor and detailed instructions gives you the option of changing to the original "blend wiring" circuit, which is significantly different in operation: The bridge and neck pickups are blended using the tone control when the selector is in the bridge position, while the neck pickup is available by itself (middle position) or with the .05 cap added (neck position) for a darker, thicker "jazz" sound.
The 70th Anniversary Broadcaster is a righteous-looking guitar that's lightweight and easy to play. It emerged from its tweed hardshell case with a wonderful factory setup that provided low action and surprisingly accurate intonation in spite of having only three adjustable saddles.
Playability is first-rate, and it starts with a fairly thick neck that feels very old-school with its hand-filling U shape.
On the top side is a 7.25-inch-radius fingerboard that's slotted with well-attended, highly polished Vintage Tall frets. The small bone nut is also competently notched and shaped. It all adds up to a great-sounding guitar that provides a glimpse of what it must have been like to check out a brand-new Broadcaster in the Harry Truman era.
The guitar's acoustic sound is lively and sustaining, and you can feel how well it transfers vibration via the confluence of ash, maple, brass and steel. These qualities really come to the fore when it's amplified.
Plugged into a Fender Deluxe Reverb reissue as well as an old Premier Model 50 combo (with refreshed circuitry by David Barnes of Vintage 47 Amps), the Broadcaster sounded excellent across the board.
It delivered rich, sweet tones that were awesome for playing clean rhythm, and it drove into the dirt at higher volumes, where I used picking dynamics and volume adjustments, along with the well-voiced tone pot, to control texture. And kudos to the Blackguard pickups, which strike a fine balance of clarity and output, sounding very detailed and smooth along the way.
The bridge setting is fat and bright, with a gutsy presence that's badass for country or rock lead work when fueled by distortion or boost pedals (a Zendrive and an Xotic EP-3 both sounded cool). And it was fun just laying back for clean comping on the neck pickup or getting funky on the "both" setting.
Par for the breed, the 70th Anniversary Broadcaster is a versatile guitar and so right for everything, from jazz and blues to country, pop and rock.
It rates as one of the best vintage-style Fenders around and is a fitting tribute to how perfectly right Leo Fender got it the first time. And with ash becoming a rare commodity, it makes a lot of sense to snap up a 70th Anniversary Broadcaster while they're still available.
Specifications
PRICE: $1,999 / £2,099
NUT WIDTH: 1.63" bone
NECK: One-piece maple, U-shape
FRETBOARD: Maple, 25.5" scale, 7.25" radius
FRETS: 21 Vintage Tall
TUNERS: Vintage-style
BODY: Ash with Blackguard Blonde lacquer finish
BRIDGE: Three-saddle vintage-style with brass-barrel saddles. Ashtray bridge cover
PICKUPS: Fender Custom Shop designed '50-'51 Blackguard (neck), Custom Shop hand-wound '50-'51 Blackguard (bridge)
CONTROLS: Volume, tone, 3-way selector
EXTRAS: Optional blend circuit kit. Leather strap, cord and certificate of authenticity
FACTORY STRINGS: Fender 250R nickel-plated steel, .010–.046
WEIGHT: 7.26 lbs (as tested)
BUILT: USA
CONTACT: Fender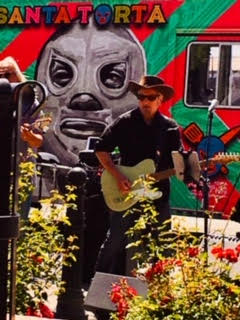 Art Thompson is Senior Editor of Guitar Player magazine. He has authored stories with numerous guitar greats including B.B. King, Prince and Scotty Moore and interviewed gear innovators such as Paul Reed Smith, Randall Smith and Gary Kramer. He also wrote the first book on vintage effects pedals, Stompbox. Art's busy performance schedule with three stylistically diverse groups provides ample opportunity to test-drive new guitars, amps and effects, many of which are featured in the pages of GP.