"You Hear These Guys Noodling Around and Playing Fast. It's Like Listening To Somebody Type": Joey Santiago Makes It Clear Why He Hates Guitar Solos.
The Pixies' secret weapon on finding the band's pioneering alt-rock sound.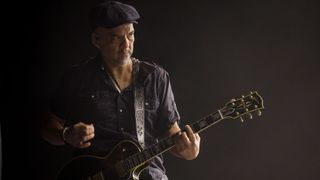 (Image credit: Xavi Torrent/Redferns)
Every great group needs a secret weapon – that singularly talented player whose unique contribution adds a magical, and oftentimes irreplaceable element to its sound. In the case of alt-rock pioneers the Pixies, whose loud-quiet-loud dynamic was famously adopted by bands such as Nirvana, that honorary title goes to guitarist Joey Santiago.
He's the first to admit that his playing style – big on jarring shrieks, abrasive chords and short "anti-solo" outbursts – probably wouldn't fit most other outfits. And that's just the way he likes it.
"I wanted to be in a weird band, and I got really lucky when I hooked up with Charles," he says, referring to Pixies frontman and co-guitarist Charles Thompson (a.k.a. Black Francis), whom he met in 1986 while the two attended the University of Massachusetts Amherst.
"He's got a wacky personality, and he understood right from the start where I was coming from. I made it very clear that I hated guitar solos. I still do. You hear these guys noodling around and playing fast. It's like listening to somebody type. That wasn't for me, and Charles agreed we wouldn't have it in our band."
Oddly enough, Santiago, who started playing the guitar at age nine, calls jazz legend Wes Montgomery – no stranger to solos – one of his biggest influences. He's also a huge fan of Brian May and Elliot Easton.
So what gives?
"With those guitarists, there was always a storyline running through their playing," Santiago says. "I always heard a lyricism in their solos. There was a narrative in the way their notes followed the chords. It wasn't random."
He also cites Jimi Hendrix as a prime source of inspiration. "He was the whole package. He could play incredible solos, but he worked with strange sounds and feedback. It was all very emotional and intuitive."
In his earliest days as a player, Santiago used to rely on his own intuition when coming up with electric guitar parts, but he then adopted a more formulaic approach that, in his view, served him well. "On those first few Pixies albums, I wrote my parts out on paper," he says. "That had its uses. I could kind of look at it and weigh my options.
"Lately, though, I've gone back to just trusting my gut and my ears. I think I discover more things by reacting on the spot rather than plotting everything out. I rely on vibe now. I think it lends more immediacy to what I do."
Browse the Pixies catalog here.
All the latest guitar news, interviews, lessons, reviews, deals and more, direct to your inbox!
Joe is a freelance journalist who has, over the past few decades, interviewed hundreds of guitarists for Guitar World, Guitar Player, MusicRadar and Classic Rock. He is also a former editor of Guitar World, contributing writer for Guitar Aficionado and VP of A&R for Island Records. He's an enthusiastic guitarist, but he's nowhere near the likes of the people he interviews. Surprisingly, his skills are more suited to the drums. If you need a drummer for your Beatles tribute band, look him up.