Watch Julian Lage's Enthralling "Study for Electric Guitar" Solo Performance
The master of improvisation stretches a Telecaster to its limits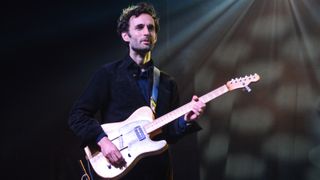 (Image credit: Andy Sheppard/Redferns)
Julian Lage once attached a stethoscope to a Fender Telecaster so that he could explore its tone more thoroughly.
The experiment was too harsh on the ear, he admits, but it was indicative of where his mind is at, and how restless his curiosity is.
Lage started young, but even as a child prodigy – and, later, a Berklee grad – who at age eight could play jazz standards on a Tele held behind his head, he gave no indication of the player he would evolve into.
Lage's compositions speak to something fundamental about the art form. Technically, he plays on the edge, a book-smart guitarist who is challenged by his own improvisational derring-do.
And tonally, whether on his Fender Telecaster or signature Collings 470 JL, he leans into the treble-forward tones of jazz guitar trailblazers like George Barnes and Charlie Christian, leaving himself nowhere to hide as he exploits his guitar's irradiant overtones.
"It's really important as an improviser to know when you're not actually being asked to improvise," Lage told Guitar Player. "If you're in a rock band and they say, 'Come up with a solo break that's awesome,' well, let's for a second suspend the notion that that's improvisation and think of it as you're being asked to be a composer.
"That's the way I think about George Harrison. Obviously, he and the Beatles were improvisers as humans and musicians, but you could also make the argument that George Harrison was one of the great arrangers, orchestrators, and composers with his solos.
"And my experience is that the people who really call themselves 'improvisers' think about improvisation the way that people think about producing and composing. They're obsessed with it. They're obsessed with parameters. They're obsessed with limitations that inspire them to improvise stronger. Improvisation is a legitimate study."
And in this amazing live clip filmed in 2017 at the National Sawdust venue in Brooklyn, New York, Lage demonstrates his sublime talent for "composing" while pushing the limits of a Telecaster.
All the latest guitar news, interviews, lessons, reviews, deals and more, direct to your inbox!
Guitar Player is the world's most comprehensive, trusted and insightful guitar publication for passionate guitarists and active musicians of all ages. Guitar Player magazine is published 13 times a year in print and digital formats. The magazine was established in 1967 and is the world's oldest guitar magazine.
When "Guitar Player Staff" is credited as the author, it's usually because more than one author on the team has created the story.