Vernon Ice Black on Learning from Herbie Hancock, Touring with the Spice Girls and Honoring Jimi Hendrix
The guitarist to the stars reflects on what it takes to be both a solo artist and a genre-hopping studio pro.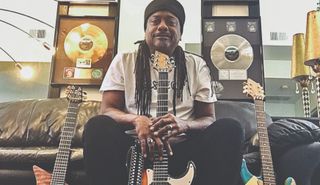 (Image credit: Vernon Ice Black)
For many guitarists, the ultimate dream is to join a great band, land some hit songs and become a star. For other players, the dream is less about individual stardom and more about building a decades-long career touring, composing and recording with superstars.
If working with legends has ever interested you, then session guitar ace, touring veteran, producer, singer and solo artist Vernon Ice Black should be an absolute hero to you.
His guitar adventures span more genres and great artists than we have room to print here, though suffice to say he's worked with Aretha Franklin, Mariah Carey, Herbie Hancock, Jaco Pastorius, Chaka Khan, Kenny Loggins, Whitney Houston (that's Black playing lead guitar in Houston's "So Emotional" video), Steve Winwood, Busta Rhymes, Celine Dion, India Arie and Stevie Wonder ("the eighth wonder of the world," as Black calls him), to name a few.
Some gigs have left an emotional impact that he feels to this day. Recalling his stint as a musical director at the 1995 Jimi Hendrix Festival in Seattle, where he performed with Hendrix's late bandmates Mitch Mitchell and Noel Redding, Black fights back tears.
"There was a moment that day that was so powerful," he says. "To most people, the fact that Jimi was a paratrooper is just a historical footnote, but on this day – I think right when we were playing 'Purple Haze' – some planes from his division flew in low, right over the stadium, in formation, and timed it perfectly with the song's solo section. It was such a dramatic way to honor Jimi.
"I'm getting emotional just thinking about it, because Jimi was huge for me. He was a guitar player who just went for it. I loved how he had this rock thing about him, yet he was also an R&B, funk and blues guy. And I loved that his playing had this adventurous, balls-to-the-wall, 'this is how I feel' attitude about it, too."
Hendrix, however, was a later influence. When Black was growing up in Kansas City, Missouri, it was non-guitarists such as Herbie Hancock, James Brown, Charlie Parker, John Coltrane and Mozart who had a profound sway on him, well before he ever got into fretted heroes such as Wes Montgomery, Johnny Winter, Jeff Beck, John McLaughlin, Paco De Lucía and Hendrix.
"Once, when I was with Herbie," says Black, who played guitar and bass for the jazz legend in 1994 and 1995, "I told him that he was one of my very favorite guitar players."
Black laughs at the memory. "I said that because I learned so much from him and guys like McCoy Tyner, Coltrane, Oscar Peterson and Keith Jarrett. Sure, they would play, say, a minor pentatonic lick, as we guitarists do. But then maybe they'd add a 6 to it.
"Next, they go up a whole step from there, and then another whole step, until you're hearing a totally different sound – the whole-tone scale. And that was just the harmonic and melodic side. We haven't even talked about time, yet. The way they phrased stuff, time is king. The silences between notes can be beautiful notes too."
Black's favorite guitar is Sunnie, a custom electric solidbody fitted with Seymour Duncan Hot Rails pickups and LaBella .010–.046 strings. He put the guitar together with tech help from Joel Tosta and Gary Brawer in the early '80s, when he was getting established in the San Francisco Bay Area music scene, the region that has remained his home ever since.
"I was a kid with $27 to my name, so I bought a body shaped like a Stratocaster," Black says, explaining Sunnie's origins. "Dan Ransom built me a custom bird's-eye maple neck with an ebony fretboard and Dunlop 6100 frets. Gary installed the early model Floyd Rose tremolo you see on there today.
"The push buttons on the pickguard allow for different coil combinations. One of them boosts things by activating a custom preamp/EQ. I call that the 'whoop-de-doo button,'" he adds, with a laugh.
A self-confessed gear nerd and "studio rat," Black was also involved in the design of ADA's popular '90s programmable tube guitar preamp, the MP-2.
"I was in France with Herbie, and we pulled into some city, only to discover that my rack full of gear had been stolen the night before," Black recalls. "People were sent scrambling to find it, and somehow they got it back to me before the show. When I opened it up, everything was still there – my power amp, my effects racks – except for my MP-2. That's the only thing the thieves stole! I kind of took it as a compliment."
After becoming an established touring and session guitarist, Black emerged as an in-demand musical director.
One high-profile gig he took on was leading the touring band for the Spice Girls at the peak of their fame.
"Usually it's keyboard players who get the big MD gigs, so it was interesting being a guitarist in that chair," says Black, who has also directed for Booker T. Jones, the Family Stone and other acts. "It was [bassist, composer, producer and music director] Rickey Minor who hired me.
He said, 'There's a Spice Girls tour coming up. You ready to go?' "Why did he pick me? Well, maybe because he knows I love hearing every note, beat, silent space, sound, tone, vocal and vocal harmony in the song, and I love knowing every peak and valley that's in a song's arrangement.
"I was always the kind of person who, after the session was done and my gear was all packed up, would ask the engineers if I could stick around and be a fly on the wall and watch them work, because I'd be so inspired learning what they do. I think being obsessed with every detail like that helps a guy like Rickey Minor have confidence in you when he taps you on the shoulder and says, 'Tag, you're it.'"
As for Black's solo work, one of his more recent tunes, "One World," brings, almost presciently, a well-needed message of love and unity in a year that has brought a global pandemic, intensified political tribalism and the nation-shaking police killing of George Floyd.
"We were getting lynched in different ways before, and we're still getting lynched today," Black says. "What I love about what's happening now is that when you look at people in the streets protesting – and I've been one of them – you see multiracial, multicolor crowds. That is the true America. My songs are about this stuff, but in smoother terms and different wordings."
While it's hard to find a guitarist more grateful than Black ("I love all styles of music and always wanted to play them all, and Most High gave that to me"), he has one bit of coaching to offer studio and touring guitarists.
"Get the business side of things together," he advises, "especially if you want to establish yourself as a solo artist. I always believed that good music and great artistry would speak strongly enough for itself to carry the business part of things, but that hasn't proven true. I've played so many genres of music, all over the world, yet not all of it has been captured and spread around effectively.
"So my word to artists is be strong, aware and connected on the business end. I take inspiration from Duke Ellington and Miles Davis. They were great bandleaders who also knew how to get their music out there."
Lastly, Black advises players to never grow up. At least not completely. "Music is a kid's game," he says. "Don't get old and grumpy. Don't ever lose that childlike spirit of musical exploration. Hold onto that vibrancy forever."
All the latest guitar news, interviews, lessons, reviews, deals and more, direct to your inbox!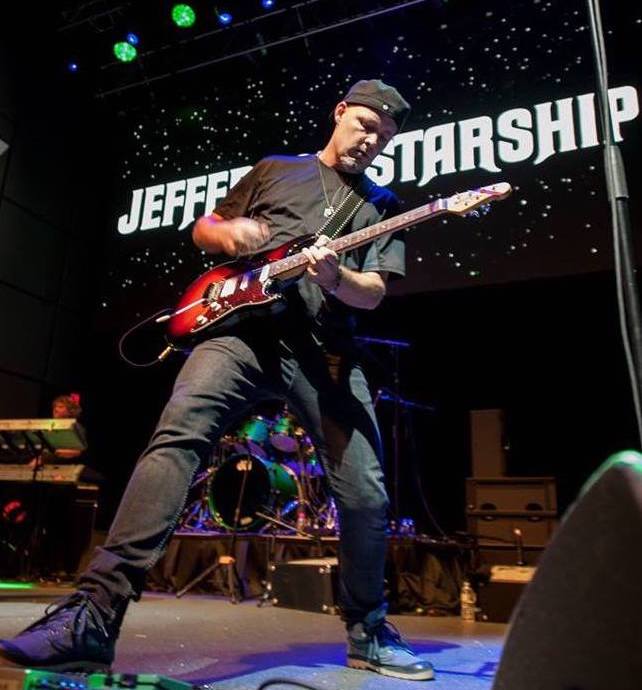 Los Angeles Editor, Guitar Player
Whether he's interviewing great guitarists for Guitar Player magazine or on his respected podcast, No Guitar Is Safe – "The guitar show where guitar heroes plug in" – Jude Gold has been a passionate guitar journalist since 2001, when he became a full-time Guitar Player staff editor. In 2012, Jude became lead guitarist for iconic rock band Jefferson Starship, yet still has, in his role as Los Angeles Editor, continued to contribute regularly to all things Guitar Player.
Watch Jude play guitar here.