This Surreal Flaming Lips Performance Is One of the Most Tripped-Out Gigs on the Internet
The neo-psychedelia stalwarts have remained unwaveringly true to their original artistic vision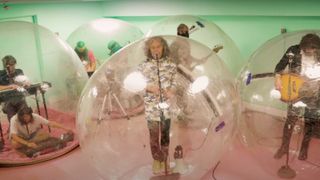 (Image credit: NPR Music/YouTube)
Formed 40 years ago, Oklahoma's Flaming Lips have always embodied a strong experimental/psych approach to their music.
Given that they covered The Dark Side of the Moon in its entirety in 2009, there is little doubt where their roots lie.
Frontman Wayne Coyne has been an ever-present member since founding the band, sharing guitar duties first with Ronald Jones, and now with guitarist and multi-instrumentalist, Steven Drozd, who originally joined the group as a drummer.
Jones was deeply into experimentation with signal processors, looking for ways to redefine the typical parameters of the guitar in a rock band.
And while Drozd was playing drums in the band, he was also laying down rhythm guitar tracks and collaborating on songwriting, so his shift into the guitar seat when Jones left in 1996 was a no-brainer.
Jones' sound was built on the use of Eventide Harmonizers mixed with a plethora of sonic shapers to obtain otherworldly tones that provided a key component of the band's signature sound.
Drozd quickly acquired a formidable arsenal of effects when he replaced Jones, and – influenced by Jimmy Page – worked in altered tunings, which added yet another line of attack to the band's songwriting process.
A fan of single-coil guitars, Drozd favors vintage Jazzmasters and an old Fender XII. His use of the XII was inspired by Page, once he realized that it was Page's 12-string of choice for Zep's albums.
The last Flaming Lips album with Jones onboard, 1995's Clouds Taste Metallic, was the band's most fully realized encapsulation of their psych-meets-alt approach, but for many, the definitive Lips album is 1999's The Soft Bulletin.
On it, Drozd carves out his own distinctive niche in the band's sound and stamps his identity firmly on their music – no mean feat with the big shoes of Jones to fill.
Unlike many bands who have dabbled in psychedelia before returning to their original mission statement, the Flaming Lips have remained unwaveringly true to their original artistic vision.
Browse the Flaming Lips' catalog here.
All the latest guitar news, interviews, lessons, reviews, deals and more, direct to your inbox!
Mark is a freelance writer with particular expertise in the fields of '70s glam, punk, rockabilly and classic '50s rock and roll. He sings and plays guitar in his own musical project, Star Studded Sham, which has been described as sounding like the hits of T. Rex and Slade as played by Johnny Thunders. He had several indie hits with his band, Private Sector and has worked with a host of UK punk luminaries. Mark also presents themed radio shows for Generating Steam Heat. He has just completed his first novel, The Bulletproof Truth, and is currently working on the sequel.