"The Way We Talk is Never in 4/4": Naia Izumi Speaks His Unique Musical Language on 'A Residency in the Los Angeles Area'
This compelling pop masterwork brings original style and showcases stellar guitar talent.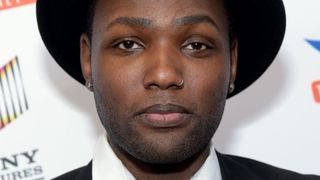 (Image credit: Michael Tullberg/Getty Images)
It has been said that instant, easy access to centuries of music makes it hard for young artists to find a truly original voice. Apparently, Naia Izumi didn't get the memo.
On the evidence of A Residency in the Los Angeles Area (Sony Masterworks) a fresh, new sound has been created, featuring electric guitar work that recalls neo-soul, but with a style of comping that incorporates unique chord voicings and string tapping.
This personal take on accompaniment is integrated into tunes featuring odd-time sections, hook-laden choruses and a high-voiced singing style that summons the emotional power of blues-legend Skip James.
When last interviewed by Guitar Player in 2016, Izumi was in Los Angeles, identifying as female, playing on the street and scuffling day to day. In 2018, now identifying as male, he submitted a video to NPR's Tiny Desk Concert almost on a whim, promptly winning the whole shebang.
That eventually led to a major label deal with Sony Masterworks and a record produced by Tony Berg (Phoebe Bridgers, Molly Tuttle, X, the Replacements). But as he explains, getting where he is today didn't require any changes in his approach.
"I got from where I was to where I am now by continuing to do the same thing, regardless of how things looked at the time," Izumi explains. "There were dark periods, but I still kept going. There was no real strategy other than to share my stuff online and keep playing. Since gigs never really pay, especially if you're unknown, it made sense to play on the streets where at least I could make something. I kept doing it, and things started opening up more and more."
Entering the NPR Tiny Desk Concert definitely upped the guitarist's visibility, but it was only part of a pattern of hard work.
"Different celebrities invited me over to play on stuff," he says. "They never gave me credit for anything, but it's okay. Tiny Desk was the big splash that made it seem like it was overnight, but it took a long, long time."
Izumi began talks with Sony in late 2018, and by early 2019 the deal was made official. He and Berg began working on the album during the summer of 2019 and finished it around December of that year.
Recording at fabled Sound City, producer and artist worked together from Izumi's original demos. "Tony is old school. We spent a lot of time connecting so he could understand where I was coming from," Izumi explains.
"I played the songs on guitar, and we formed everything around that. I originally played all the instruments to build it organically. There's no MIDI or click track. I played some drums but hadn't practiced much because I don't have a drum set, so K. Brown, who worked with Meshell Ndegeocello, plays drums on some tracks. On 'Be Still,' they liked my feel the best, so we kept it. It was right in the pocket and behind the beat, the way it needed to be."
If you listen to Izumi's previous Bandcamp releases, the talent and originality is all there, though in rough-cut form. Like any great producer, Berg became the jeweler that polished the diamond.
"I have chord types I tend to use," Izumi reveals. "Tony helped me refine my choices. He's would say, 'Maybe try this one instead of that one,' to balance where my vocal melodies lay.
"Being busy tapping on the guitar, I sometimes didn't pay attention to where the melody landed. There would be intervals that weren't achieving the objective the song was going toward. His ear really helped me see those parts. He would make little changes that helped to make the melody soar."
Berg also brought tasteful sound design to the project. "I'm happy with just drums, guitar and bass, and making the guitar sound live," Izumi says. But the producer encouraged some extra sounds.
"'Six Inch Stilettos' is a good example," the guitarist explains. "He pushed me to experiment with a lot of weird wah and all these crazy modulated sounds. Tony is the kind of producer who tries to bring out an artist's identity, improve it, and maybe expand it sonically."
A Residency in the Los Angeles Area may sound souped-up, thanks to Berg, but the stellar guitar tones originate in the Izumi's own years of recording experience. "I've been doing it for so long, I know what my tone is and how to get it to sit well in the mix," he says.
"At first, the guitar wasn't sounding right. I knew what it needed was my usual process of recording the same lines twice and panning each track to different sides. After we did that, they said, 'Oh wow, why didn't you tell us to shut up earlier?' But I feel it's a collaboration. I let the other person do their thing and then, if it's at a standstill, I'll put in my opinion."
The panned guitars largely included Izumi's '65 Jazzmaster Reissue, or an occasional dash of his Moollon T-type. He also used Berg's old Gibson Les Paul goldtop with P-90s. "For 'Good at Being Lonely,' Tony said, 'You need to do the solo with this thing,'" Izumi says. "I used it with one of those old Foxx Tone Machine fuzz pedals that have the fuzzy casing."
Berg brought many new textures to the party, but it was Izumi who contributed the unusual sound on "Natural Disaster," one that recalls EDM-style stutter effects. "That's me choking the note really tight, and using a just little fuzz blended with the guitar," he reveals. "It chops off the note a bit. It doesn't sound like a guitar at all."
For the funk of "Sad Song," the guitarist favored an envelope filter. "I had originally used a pedal they don't make anymore that opened up in a really smooth way," he reveals. "I went on a journey to find one that sounded similar for live use and found an older Keeley filter pedal that sounds exactly like the one I used on the record."
One thing that makes Izumi sound unique is the way he uses the vibrato bar when playing chordal accompaniment. This can be tricky, especially with some Jazzmasters. "I always think if it's hard to play a certain guitar, I need to practice with it and get used how it works," he says.
"But I also use a Mastery tailpiece on the Jazzmaster, which makes a big difference. The modern ones don't move like the old version. I can still get the same effect with the new Fender ones, but the Mastery feels like the older Jazzmaster tailpieces."
Like Sting's Ten Summoner's Tales, A Residency in the Los Angeles Area does not shy away from using odd time signatures in a pop context. "Voodoo," for example, turns out to be in 9/8. Also like Sting, Izumi never makes these complex rhythmic grooves sound choppy or jerky, rather giving them a floating quality.
"I play with it until it feels right," he says. "It's really no different than if you're writing a speech, or are in a conversation. The way we talk is never in 4/4. We use many weird time signatures every day."
Pick up a copy of A Residency in the Los Angeles Area by Naia Izumi here.
All the latest guitar news, interviews, lessons, reviews, deals and more, direct to your inbox!