The Revolutionary Genius of the Beatles' White Album
From its guitar tones to John Lennon's songs, the White Album rocks like no other.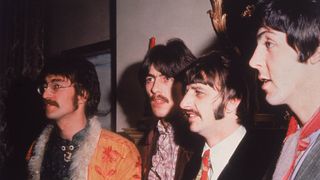 (Image credit: Hulton Archive/Getty Images)
I've been writing this column for almost three years and never covered the Beatles. It's tough to choose an album of theirs, because I love every one for different reasons.
Ultimately, I've selected the White Album for its variety of sounds, and because it was the first Beatles album I purchased, when I was 11 years old. It's also probably the record I've listened to the most.
Officially titled The Beatles, and released in 1968 on the group's Apple Records label, the White Album features incredible guitar sounds, as well as what are arguably John Lennon's most rocking and inventive songs with the group.
"Everybody's Got Something to Hide (Except Me and My Monkey)" is a study in rock guitar playing, with the opening, downbeat-obscuring chord phrase drawing us into the song.
The interplay between the guitars and bass is masterful, as is the song's climax, where the guitars plow away at the flat-7 chord. On "Yer Blues," Lennon sings "Yes I'm lonely, wanna die" over a unique, 6/8 blues form that goes straight for the jugular.
Here again, the guitar playing is phenomenally raw, and the scratch vocal leaking into the basic track makes me feel like I'm listening to Lennon's subconscious mind. "Yer Blues" sounds as vital and modern today as it did in 1968. I wish more blues releases had this kind of urgency and honesty.
"Happiness Is a Warm Gun" takes its name from the disturbing headline of an article in American Rifleman magazine, and is a continuation of Lennon's abstract expressionism exemplified previously on "I Am the Walrus."
The song's beautiful, haunting melody is supported by dreamy, arpeggiated guitar chords, and the song's sinewy low-note solo ends with a groan that's just brilliant. I still scratch my head in wonder at how terrific that guitar sounds 50 years on.
"While My Guitar Gently Weeps," though not one of my favorites, features Eric Clapton playing through what sounds like a Leslie speaker - the effect was actually created by a technician manually wobbling the Varispeed control on the tape delay. Here again, the guitars sound masterful and iconic, and every part fits just perfectly.
Elsewhere, the acoustic guitars on "Blackbird," "Julia," "Rocky Raccoon," "Mother Nature's Son" and "I Will" sound intimate and have breath - you can hear the air resonating around them. It's not a stretch to say these tracks created a template for a generation of Travis-picking singer/songwriters.
I've always felt the White Album was underrated compared to other Beatle releases. And while I hear in its songs the loss of the band members' youths and their growing isolation from one another, I also hear an inspired and ambitious effort that shows each of the Beatles maturing and developing his own distinctive voice.
Jim Campilongo's new album, Best of Jim Campilongo Vol.1, is out now via Sundazed/Harmonic.
The Beatles' White Album is available now on 4x LP 180gm vinyl via Capitol.
All the latest guitar news, interviews, lessons, reviews, deals and more, direct to your inbox!
Jim Campilongo has 14 critically acclaimed instrumental records available on vinyl, CD and digital download here.