The Revivalists' Guitar Duo Zack Feinberg and Ed Williams Talk Creativity in the Wake of Success
The New Orleans stars discuss their unique musical kinship and the making of their latest long-player 'Take Good Care.'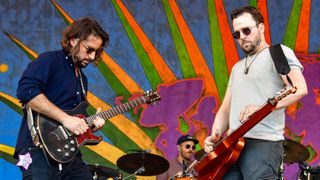 (Image credit: Erika Goldring/Getty Images)
Mounted in a small picture frame at Zack Feinberg's home in New Orleans, a pair of guitar picks illustrate two pivotal moments from his musical journey thus far. Both occurred when he was a kid growing up in New York City.
The first took place when Feinberg's father, a blues guitar fan and guitar player himself, took him to see B.B. King. The impressionable young blues fan was awestruck when King handed him a pick he'd used during the show. Two weeks later, Feinberg was standing among the fans at a Buddy Guy show on Jones Beach, off Long Island. As the blues veteran made his way through the crowd, he too handed the youngster one of his plectrums.
"I think it's unusual that I was into that music at such a young age," Feinberg recalls. "I was a nine-year-old kid listening to the blues and the classic rock radio station."
After absorbing blues and rock as a kid, Feinberg dove into jam-oriented, improvisational music. Upon graduating high school, he decamped bustling New York for the laid-back and musically rich environs of New Orleans, laying the groundwork for the band that would launch his career.
"I was in New Orleans, riding my bike down the street, and came across David Shaw sitting on his porch, playing guitar and singing his heart out," Feinberg says, recalling how he met his bandmate. "I stopped my bike and he stopped singing. I was like, 'Dude, don't stop singing! You're killing it.' As it turned out, David had just moved to town and was looking for people to play with, so he and I formed this friendship and started playing out."
Dubbing themselves the Revivalists, the duo performed over the next few years, adding steel guitarist Ed Williams as well as a rhythm section, keys and brass. In the process, the Revivalists transformed their singer-songwriter vibe into a full-on musical celebration that spans funk, soul, gospel, and rock and roll.
As the band's guitarists, Feinberg and Williams developed a kinship over their mutual love of sacred-steel player Robert Randolph. Like Randolph, Williams takes a creative approach to his instrument, playing it through stompboxes and cranked-up guitar amps to conjure wild sounds and textures.
"I was a teenager when I picked up steel, and it just blew me away how you could make it sing," Williams says. "I took the musical knowledge that I had and applied it in a more vocal-like way."
It might seem on paper that a band inspired by such a wild collage of influences can't possibly find a point of cohesion. But the Revivalists' mix of styles and instruments – and their incubation in New Orleans, which has its own melting-pot musical lineage dating back hundreds of years – is genuine Americana.
"I was drawn to New Orleans because of the music scene," Feinberg explains. "I remember somebody telling me it was easy to get gigs in New Orleans compared to cities like New York or Boston, where there are so many good players from the music schools but not that many venues that offer live music. In New Orleans, there's a ton of good players, but there are also so many clubs."
As the Revivalists developed, they sharpened their live set, playing more than 150 shows a year and using the stage to improvise and embellish their sound. Signature songs like "Fade Away," from their breakout third album, 2015's Men Amongst Mountains, evolved in performance, with Feinberg and Williams taking turns playing lead, then harmonizing over a swaying bed of brass and keys while Williams worked his steel licks with a wah.
By the time their Men Amongst Mountains single "Wish I Knew You" hit number one, back in 2016, the Revivalists had distilled their good-time brew of sinewy funk beats, eclectic instrumentation and Shaw's snaking vocal phrasing into a distinctive sound.
For the group's latest album, 2018's Take Good Care (Loma Vista Recordings), they added a second drummer and percussionist and split recording time between their hometown and Nashville, where they worked with producer Dave Cobb (Chris Stapleton, Jason Isbell), who took over the legendary RCA Studios on Music Row in 2016.
Back in New Orleans, they cut the other half of the album with Andrew Dawson (Kanye West, Sleigh Bells) and Dave Bassett (Elle King). The production lineup was a big change for the group, whose previous two albums, 2012/14's City of Sound and the aforementioned Men Amongst Mountains, were helmed by Ben Ellman.
"For Take Good Care, we started with 60 songs and had to whittle it down to 25," Feinberg explains. "We had three producers because we were reluctant to commit to somebody we hadn't worked with before. So we set up these little tests, doing a week with one guy, a couple days here with another… As it turned out, we loved all three producers, so we used everything we recorded."
Feinberg's clean, fingerpicked guitar is the backbone of the album's opener, "Otherside of Paradise," but he takes a supporting role on "All My Friends" – a number-one hit on Billboard's Adult Alternative Songs chart – dropping bluesy licks into the mix as accents.
Williams uses his pedal steel to create synthy countermelodies on the charging "Change" and "You Said it All," a song that nods to Dr. Dre's production style as much as anything. "You and I" channels Van Morrison circa "Wild Nights," while "Oh No" is built on a grungy guitar riff played by both Feinberg and Williams.
The Revivalists' sound is multidimensional, full of layers and pockets where an instrument can be tucked in. How do you find your place?
Zack Feinberg: Between the saxophone, the pedal steel, my guitar and the keys, there are a lot of polyphonic and lead instruments, and those give us a lot of options and palettes to be creative with. For Ed and me, it could be as simple as one of us doing basic chord comping, or swells and textures. Or we could both do a ripping rock thing or lead lines. We just try to feel it out and make the right vibe for the song.
Ed Williams: Neither of us is selfish. We're very good at asking ourselves, What does this song need? Is it just a lush thing in the background? And sometimes neither one of us is ripping. We're both doing lush stuff, and that's just what the song is all about for us. We've gotten so good at playing together and hearing what our parts are. It's something that's happened over the last 10 years, where we don't really clash.
What do you do to make the guitars work in a song where some other instrument is taking the lead?
Feinberg: It just depends on the track. If a song comes together on a jam led by a keyboard or a Wurlitzer electric piano chord progression, we're not gonna take it away from there. We're gonna work with the song and find ways to complement what's happening. For example, on [Take Good Care] Ed used an EBow on his pedal steel. He keeps it on one string and moves it around, and gets this almost synth kind of vibe with it.
I also like fingerpicking, and I like funk guitar, and I think as a band we're open to all these different sounds and styles and instruments. We try to take the same approach on a more microscopic level with our individual approaches to playing.
It sounds like everyone is feeding off one another. A guitar lick can turn into a saxophone phrase, and a steel lick all of a sudden becomes a vocal line.
Williams: Yeah, it's a lot of call and response. And it's great playing with the guys in the band. I know Zack makes me a better player, and I think I do that for him, too. It's just the way we play off each other, and we have for so many years. I'm better because of it. The songs and the music are bigger than the individual instruments.
Does the eclectic music scene in New Orleans play any role in the mix of influences in the Revivalists' music?
Williams: That's the funny thing about playing in New Orleans: We like to say you have no choice – it gets in your blood and what you play.
Feinberg: I think there's a certain joy to the playing here. It's not like a big music industry center or anything. People come down to play in New Orleans because they love to play. It's an uplifting community, which is another rare thing. It's not cutthroat at all. And once you're in the musical community, everybody's super supportive.
Having that New Orleans background, what drew you to Nashville to work with Dave Cobb for some of the tracks on Take Good Care? We understand you cut your tracks with him in the legendary RCA Studio B.
Feinberg: Well, he's a great producer, for one thing, and the studio is fantastic. His sensibility is right up our alley. He's all about capturing a live performance. We did a couple of songs with all the guitar amps in the room – with the drums and even Dave's vocals in the middle of the room.
Williams: It was a very live sound.
Feinberg: Dave is really good at capturing a raw live performance. We didn't even block off the amps. We were just in the room playing. Even the lead vocals were going through speakers in the room, bleeding into everything. And that room is, like, magical. Somehow it had good separation but still some good live bleed. Everything came together, and it worked out well.
There's a vintage-soul vibe on a lot of the songs on Take Good Care.
Feinberg: Exactly. He's got plenty of vintage stuff in that room, I'll tell ya that much.
How deep did you get into that collection for the album?
Feinberg: Guitar-wise, a lot of it was my guitars. "Celebration" and "Got Love" are two songs we did with Dave that had the most live parts on them. On "Celebration," we really liked my B.A. Ferguson guitar. He's a boutique builder out of Hartsville, South Carolina. I primarily used the Ferguson and my goldtop Les Paul, as well as my Telecaster and Guild Starfire. But Dave has an amazing collection of super-vintage '60s Fenders and Gibsons. I think I used his [Gibson] ES-335 on some things, as well as his Tele.
Williams: I played my Fessenden steel guitar through my Mesa Lone Star for some stuff. But actually, the amp I used for a lot of the album was this little blue Kustom that gave my pedal steel a gritty sound. The reverb was really good, too. So I played a lot of stuff through that.
Feinberg: The Parlor, in New Orleans, is where we recorded the other half. I know I used my vintage [Fender] Super Reverb for those sessions.
Williams: I think I played through a bunch of different things. At the Parlor, we just set up amps and plugged into whatever was there and tried to find the right sound.
You worked at the Parlor with Andrew Dawson and Dave Bassett. Musically, they have their own personalities and styles, and yet Take Good Care feels like a cohesive work. What did each of the producers contribute to the process?
Williams: Dave Cobb was really good at coming up with the horn parts. Andrew Dawson, who I love, understands how to build a drum beat. It always amazes me.
Feinberg: On "Otherside of Paradise," I had the fingerpicking part, and it just seemed like a little bit too busy through the changes. Dawson subtracted a couple of notes on two of the chords, and it made it flow much better. He did little things like that, which turned out to be significant.
Williams: Or with the steel, they would say, "Slide into this a little bit more. Make it lazy and it'll have more impact." And I would just play a little behind the beat and slide into it, and it came out better.
Feinberg: On "When I'm With You," Dave Cobb came up with the riff that the whole band plays at the beginning of the song. It's the most-used riff throughout the song, and it ties it together super well. He's really good at coming up with little riffs that become sections of the song and help propel it. He did that on "Got Love" as well.
Looking back, did the success of "Wish I Knew You" impact the direction you took on this record?
Feinberg: You know, I'd like to say that it didn't have an impact. The answer that we always give is no, it doesn't have an effect on our songwriting. We try to keep that process separate. But I think it's hard not to imagine a song being on the radio. Realistically, that might have had an effect on some of the songwriting.
Williams: Some of the new songs were written before "Wish I Knew You" became a hit. "Hate to Love You" has been around for a while. But like Zack says, the success of "Wish I Knew You" definitely changed our career path. So while I would say it affected our moves going forward, it did so in a good way.
How so? What was your headspace going into Take Good Care?
Feinberg: We had never really followed up a success before, so I think we realized it was going to be our most anticipated release. And it gave us the opportunity to work with great producers. Not to take anything away from our previous producer, Ben Ellman, who I adore and who was amazing on City of Sound and Men Amongst Mountains. It was just time to try some new things.
Williams: We made an effort to be ourselves and not let the success of "Wish I Knew You" change what we're trying to do. If the song hadn't done as well as it did, I still think we would be writing these songs and staying true to ourselves.
Browse the Revivalists catalog here.
All the latest guitar news, interviews, lessons, reviews, deals and more, direct to your inbox!
Jim Beaugez has written about music for Rolling Stone, Smithsonian, Guitar World, Guitar Player and many other publications. He created My Life in Five Riffs, a multimedia documentary series for Guitar Player that traces contemporary artists back to their sources of inspiration, and previously spent a decade in the musical instruments industry.