"The Key to Finding Who You Are is to Compose": Lee Ritenour Reveals His Top Five Career-Defining Tracks
With thousands of sessions to his name the guitarist talks definitive solo records and collaborations from his multi-genre catalog.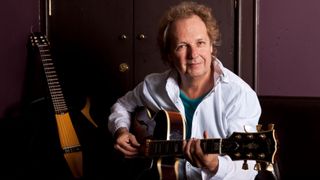 (Image credit: Future/Wiill Ireland)
From his first session for the Mamas & the Papas when he was just 16, Lee Ritenour forged a career working in L.A.'s pressure-cooker session scene and became a first-call guy for every major act from Michael Jackson to Pink Floyd. "I've done every style of music except country," he tells Guitar Player.
After becoming one of the most recorded guitarists in history, Ritenour decided in 1976 to make the switch from session superstar to solo artist with his debut album, First Course. "For modern-day readers, that session era probably seems like a thousand years ago," Ritenour says. "The mid-to-late '70s was an interesting period because, having already been established as a studio musician playing just about everything, I needed to create my own sound. My first album was a little lighter in feel to Captain Fingers [1977], which did well for me. Fusion guitar was really starting to come through with Al Di Meola, John McLaughlin, Allan Holdsworth and the rest."
Although Ritenour's career has proceeded without a hitch, he has suffered terrible personal misfortune. In the space of a few months in 2018, his house burned to the ground, taking with it priceless personal possessions, guitars and music. Soon afterward, he had major heart surgery.
Ritenour rebounded from those setbacks to record Dreamcatcher, which was released in 2020. "It was interesting that I got the chance to do that album, after the fire and the surgery," he says. "It was a good way of getting myself back on track. It definitely functioned as part of the healing process."
As a guitarist who worked hard to find his own voice on the instrument, Ritenour has strong thoughts about what musicians must do today to forge a unique identity in a world where countless teenage prodigies steal views on social media and the like.
"You have to be very wary about the fact that everybody has amazing technique," he says. "A lot of kids can copy incredible things, but the depth that goes into creating your own style and your own voice is much harder to achieve. I always stress the need to compose. You have to be a B.B. King, a Wes or a Jeff Beck, with such a strong individual identity to be able to do someone else's song and make it your own.
Look at Sinatra: Every song he sang became a Sinatra song. I think it's particularly important for anyone interested in making a career in music to always be learning about the music business itself. Understand promotion and social media, and find ways to get yourself heard."
He likewise has strong feelings about rhythm guitar. "You need to listen to the history of accompaniment guitar, not only in this country with things like rhythm and blues but also in areas like folk music in England, or old blues," he offers.
"Even in medieval times, the lute was used to accompany singers. The role of accompaniment is such an important thing to understand. Segovia used to say that the guitar was a mini orchestra. A lot of times when I was on sessions, I was listening to what the drummer and bass player were playing and trying to fit into the cracks. Most importantly, uppermost in my mind, was what the song called for, which most often was what the singer needed.
Like many artists, Ritenour has lost an enormous amount of live work due to the pandemic and is eager to get back on the road. "Besides thinking about getting back out there, I've got a couple more studio projects brewing for me," he reveals.
True to form, his love of fusion and sense of the guitar as the perfect means of expression remain central to his art. "While I know the energy level in straight jazz can be very intense, there is so much intensity in fusion," he offers. "The guitar is the perfect vehicle if you love exploratory music. We're dealing with 12 notes in the Western musical tradition, and maybe a few bent ones as well, but the guitar has the ability to exceed those inherent limitations.
"I think in some ways modern instrumental metal is the new version of fusion. Once upon a time there was the 'jazz committee' who would decide what jazz should be or what would be rock, but that all got blurred by fusion. Today's world is a perfect example of the genre. The whole world is interconnected. The pandemic proved that."
1. "Captain Fingers" from "Captain Fingers' (1977)
"This track had a combo of chops and technique, which were a big part of fusion, but it also had a great groove, and not too many people had that. When this album came out, I think it captured a lot of my personality and showed that I did have a distinctive voice as a guitarist.
It's still not an easy tune to play, even to this day; it wasn't just fast for the sake of it. It would have been recorded with my ES-335 into a Fender amp, a Deluxe Reverb maybe, but Paul Rivera was doing a lot of mods to amps back then, so he probably worked on that one. Actually, I had a very early version of the Mesa/Boogie at that time, so that may have been part of the sound.
That era was the first time that rock guitar and jazz guitar started to be lumped into fusion. It was a boom time for the fusion guitar movement. The first time I heard Mahavishnu with John McLaughlin, I was like 'Damn!' [laughs] I was also impressed by guys like Bill Connors, and of course no one could figure out what Allan Holdsworth was doing. I guess if Hendrix had a career that had endured, he could well have been doing great stuff in fusion."
"This was the first tune I wrote that really got a lot of attention, not only from other guitar players but also from fans and other artists, some of whom wanted to write lyrics to it. I recorded this version in 1978, and I actually revisited it on Dreamcatcher.
Harmonically, rhythmically and melodically, it really defined who I was as an artist because I'd been so versatile as a studio player that I had to find my own identity, as every guitarist does. I always say the key to finding who you are is to compose, and 'Morning Glory' is a good example of that. I think it really helped me home in on what my 'thing' was.
"I wrote this tune, and Eric Gale, an artist I really admired at the time, covered it [on his 1977 album Multiplication]. Then Bill Champlin put the vocal on. I remember playing at the Roxy in L.A. with my band, and as soon as I started to play 'Morning Glory,' it got a strong reaction from the crowd. You don't have to be some kind of scientist to work out that if something is really connecting with a crowd, as 'Morning Glory' did, you're onto something valuable."
3. "Night Rhythms" from 'Festival' (1988) and "Harlequin" from 'Harlequin' (1985) by Dave Grusin and Lee Ritenour
"I wanted to pick two tracks to kind of stand as one, because they reflect my deep love of Brazilian music, There is a lot of Brazilian influence on Festival. At the time that I recorded it, I'd started hanging out with my soon-to-be wife, who is Brazilian, and she was doing a big project in New York at the same time. She had a lot of amazing Brazilian artists coming to it. That lit a fire under me, and it started me working on music that reflected that Brazilian influence. This song became a signature sound for me, and I still hear it all the time on digital radio.
"The Harlequin album was also very Brazilian influenced. Dave Grusin has been a longtime collaborator for me. I met him when I was 18, and he was such a prolific composer for TV and film. I heard about him from his scores; he'd have Howard Roberts blowing over these really long chase scenes. I met him through Sérgio Mendes, and soon after that he started hiring me for some of the shows. The rest is history. We've been friends for about 50 years now."
4. "Stolen Moments" from 'Stolen Moments' (1990)
"This was a very traditional jazz album for me. I pulled out my '49 Gibson L-5 that I'd had since I was a teenager. A lot of people didn't know I had that traditional jazz background – the whole Blue Note thing – as the sessions and solo albums that I'd done previously weren't in that style, of course. People knew I had the fusion and Brazilian things going on, but at the heart of everything I do is my love for jazz.
"We did this album direct to two-track. It only took two days to record it at Sunset Sound studios in L.A., which is my favorite studio. It was recorded for JVC in Japan originally. There were so many excellent musicians that played on that record with me. I always loved this Oliver Nelson tune, and I feel that the album holds up really well when I listen back to it. The studio has such a beautiful vibe. I plugged the L-5 into a Fender Deluxe, but again one that had been modified by Paul Rivera."
5. "Lay It Down" from '6 String Theory' (2010)
"There is a lot more blues guitar in a lot of my playing on this album, and this track was a wonderful duet with John Scofield. The two guitars really complement each other. I think something about his playing influenced me into a more bluesy direction. The whole album was a dream project, working with so many great guitar players. I'd never done anything like it before.
"When I first put the project together, I knew it was going to be an expensive album, so I thought I'd go to a few guys that I trusted the most, and if they said that they wanted to do it, then I knew it would be viable. Those guys were Steve Lukather, who I've known since he was a teenager, and he immediately said yeah.
B.B. King was the other one that I called. I had a long relationship with B.B. I used to play rhythm on his records, and there was a double album that was sponsored by Guitar Player way back that I appeared on with him. I met him when I was 19, and we were friends ever since.
The third guy I went to was George Benson. After he agreed, I started to branch out into a whole bunch of newer guys, like Andy McKee and Joe Bonamassa. We all wanted to make a great record. Nobody wanted to show off."
Buy Lee Ritenour's latest album Dreamcatcher here.
All the latest guitar news, interviews, lessons, reviews, deals and more, direct to your inbox!
Mark is a freelance writer with particular expertise in the fields of '70s glam, punk, rockabilly and classic '50s rock and roll. He sings and plays guitar in his own musical project, Star Studded Sham, which has been described as sounding like the hits of T. Rex and Slade as played by Johnny Thunders. He had several indie hits with his band, Private Sector and has worked with a host of UK punk luminaries. Mark also presents themed radio shows for Generating Steam Heat. He has just completed his first novel, The Bulletproof Truth, and is currently working on the sequel.