Steve Hackett Details the Techniques Behind His Dramatic Nylon-String Showcase, 'Under a Mediterranean Sky'
Referencing Segovia et al, Hackett's latest album is a typically adventurous undertaking that is as much an orchestral album as it is acoustic.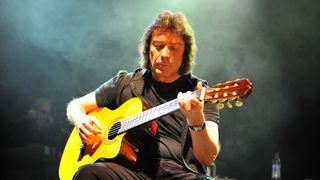 (Image credit: C Brandon/Redferns)
A half century since joining the band with which he will be forever associated, Steve Hackett remains the keeper of the truly progressive Genesis flame while maintaining remarkable success as a solo recording artist and concert draw.
His new album, Under a Mediterranean Sky (InsideOut), is his first acoustic effort since 2008's Tribute, and the orchestral setting is a spectacular platform for his unique approach to the nylon-string.
It's difficult to name another renowned electric player from a famous rock band that is as virtuosic and prolific in the classical realm, which is particularly interesting given that Hackett describes himself as an "instinctive player that never had any guitar lessons."
The self-taught maestro has always been highly respected by guitar zealots and his peers, and among his myriad credits players have a special appreciation for GTR, the '80s-era double-guitar dynamo he performed in with this month's cover artist, Steve Howe.
Trying to further encapsulate Hackett's 50-year contribution to music is kind of like trying to fit Moby Dick into a goldfish bowl. The full saga can be found in his autobiography released last year, A Genesis in My Bed (Wymer Publishing). Interestingly, Hackett's early acoustic contributions to Genesis were on steel-strings, mostly 12-string.
As he ventured down the classical path, Genesis went the other way and evolved into a pop outfit. Drummer Phil Collins succeeded Peter Gabriel on lead vocals, and multi-instrumentalist Mike Rutherford – who primarily held the bass chair in Genesis – undertook lead guitar after Hackett's departure in 1977. Keyboardist Tony Banks went on to round out the trio version.
After a failed attempt to get the gang together for a reunion tour in 2010, Hackett took matters into his own hands and created the tribute group Genesis Revisited, which performs one set of Genesis material focused on a particular album, and another set of his solo material.
Hackett has released a string of live albums from those shows, and it will be interesting to see how he adopts material from Under a Mediterranean Sky. The album is a superlative acoustic statement that takes the listener on a sonic journey around the fabled region. Ironically, it was brought about by travel restrictions.
What was the – pardon me – genesis of the new acoustic album?
I was halfway through an American tour when the pandemic hit, so my wife, Jo, and I flew back to London, where I suddenly found myself with time on my hands. I finished up my autobiography and looked toward making a new album, which was done in a couple of months.
Jo suggested the loose concept of visiting places around the Mediterranean via song [the two have traveled there previously]. She knew that I was capable of writing something in a Spanish style, and she'd been trying to get me to listen to Greek music for years.
She came up with some melodies that suited the Greek idea, such as the violin melody on "The Memory of Myth." I didn't use an actual Greek bouzouki on that track, but I used a Peruvian charango, which sounds like a cross between a bouzouki and a mandolin in this context, played with a sort of trill style.
Roger King, who co-produced the album with me, did the orchestration, and it's as much an orchestral album as it is an acoustic one. I play a bit of 12-string ghosting on "Casa del Fauno," but my main instrument is nylon-string guitar. I used the same one on the whole album.
What's the story of your guitar?
It's a Yairi, not Alvarez, that I bought in London in 1974 when we were making The Lamb Lies Down on Broadway. I chose it because it was the loudest guitar in the shop. It sounded more like a piano, even in regular tuning.
I use light-gauge D'Addario Pro Arte strings for that guitar. It looks Spanish, but I think it's a Japanese copy of the guitar Segovia used – a Ramírez. I've played a Ramírez, and it was not as loud as the Yairi.
What's your tuning strategy on Under a Mediterranean Sky?
I used three tunings. The first is what I think of as a G minor tuning, where I tune the two lowest strings down a whole tone and the second string by a semitone. That's my Death in the Afternoon [Ernest Hemingway's 1932 book about bullfighting] type of tuning. Everything immediately starts to sound Spanish and soulful, and it's great for creating a sound on the more exotic side of Russian music.
That's my go-to tuning for a very intense sound. I use the same tuning without altering the second string for a major tonality. You hear that on "Lorato" and "Adriatic Blue." The latter is actually in the key of D. The tuning allows me to operate in those two keys with more flexibility than standard tuning, which is the third tuning on the album.
How did you use the guitar to conjure visions of the Mediterranean?
My father was a painter who painted many landscape scenes. I feel like I do the same with music. At its most visual, music is a little bit like a film for the ear rather than the eye. People often tell me my stuff sounds cinematic, but then I believe Genesis sounded cinematic.
From the very early days, the tunes that worked had a grand sweep – songs like "The Fountain of Salmacis" from 1971 [Nursery Cryme], a mere 50 years ago. I'm still doing that. I've always loved how good the guitar is for conjuring the idea of fountains.
When I first heard [Joaquín] Rodrigo's concerto [Concierto de Aranjuez], there was the moment in the slow movement just before the big theme comes in where the guitar starts to arpeggiate very quickly doing an ascending line. To me, that sounded like a thousand fountains. It sounded like harps, but better, more soulful. I've used that as a template so often.
What fingerstyle techniques do you have for creating the harp-like arpeggios that flow in and out throughout the new record?
I've got techniques for "scrolling," using one finger. I also use a fan shape. Sweep picking can work with just the nail on the forefinger. You can use it the way a violinist might use a bow – he's got a fixed possession for arpeggiating with his left hand and is rocking the bow backwards and forwards. That's an extraordinary technique. I found I could do the same thing with a plectrum, and it's quicker with the nail.
Is a good example the arpeggios that occur right after the intro on "Mdina (The Walled City)"?
Yeah, that's the index-finger sweep, and it can cover a lot of notes. Sometimes I follow it with a fan-shaped move. I like to combine techniques such as arpeggiating up with a series of triplets, using the index finger to come back down, and then following up with a finger fan going right across the strings leading with the pinkie.
I don't know what it is in classical terms. I call it a "scroll" and it can go backwards, or forwards leading with the index finger [a flamenco rasgueado].
What's the key to your tone?
Segovia got an exquisite sound doing most of the work with his plucking hand using very short nails, and I've found that for peak function I have to keep my nails very short and file them every day. Most fingerstylists claim they need longer nails for grip, but for me it's precisely the opposite. I need to have short nails without any excess in order to skip around.
I need to be able to feel the strings with my fingertips. Using part fingertip and part nail makes a sweeter sound that took me a long time to find. I use my real nails, even when I'm playing electric guitar. I don't use a plectrum anymore. There's no point. I'm no longer any good with one, and it just gets in the way of the nails.
How did you make "The Dervish and the Djin" sound particularly exotic?
That features Malik Mansurov from Azerbaijan. He's an Arabian jazz musician who is the foremost player of the tar, which is a small stringed instrument. He's terrifying. Watching him is like a cross between Ravi Shankar and John McLaughlin.
I doubled the string line on an Arabian oud that I played very fast with a trill technique. But mainly I played rhythm guitar, first on an unplugged electric just to capture the sound of the strings, and then again on an acoustic with six steel strings.
Can you please address your steel-string roots with Genesis?
On the early Genesis albums, we were going for a minstrel-type sound, and the whole thing was about using lots of 12-strings. Mike, Tony, and I all playing 12-string acoustics together was part of the Genesis sound.
Part of the approach was to make guitars sound like keyboards, and keyboards sound like guitar. That was a deliberate attempt to obfuscate, not do the obvious. Tony used to put his 12-string through a Leslie cabinet.
When I was doing my tapping technique in '71, playing very fast on one string, it sounded like a keyboard. My only acoustic was a 12-string on the first album, Nursery Cryme. On the next album [Foxtrot] I also borrowed a Yamaha six-string to play "Horizons," and we ran it through a Leslie as well.
Would that be your signature acoustic tune in Genesis?
Certainly, and it's based on Bach's "Cello Suite No.1," so it was a huge throwback. I deliberately kept it to 90 seconds long because I was trying to do something like William Byrd. He wrote "The Earl of Salisbury" in the 1500s and it's only 90 seconds long, but perfect for its brevity. We used "Horizons" as an introduction for a very long song, "Supper's Ready."
What inspired you to bring a nylon-string to the table?
It seemed like no one was using nylon-string guitars in rock at the time, so I started using a nylon in 1973 on Selling England by the Pound. I didn't own a nylon-string at that point, but I decided to use one at the end of the album when "Aisle of Plenty" reprises the theme from the opener, "Dancing With the Moonlit Knight," which I played on electric guitar.
On the 1976 Genesis album, Wind and Wuthering, there is a long acoustic introduction to a song I wrote with Phil Collins ["Blood on the Rooftops"]. People said, "It sounds like Spanish guitar. I didn't realize you did that."
What's your live acoustic arsenal?
My nylon-string is made by the same company, Yairi, but it's got a thinner body with a cutaway and a pickup. I use a Fishman Aura pedal to make it sound as if it's miked up. I also have a big Tony Zemaitis 12-string with a D-shaped sound hole, but I don't use the Aura for that because it doesn't make it sound any more authentic.
What can fans expect on your set list for the coming year?
The fans want to hear new material, while the promoters and agents want the old Genesis stuff. So I'll be doing a set of solo material along with a set of Genesis featuring the whole live album from 1977, Seconds Out.
Do you think the pandemic will inspire Peter Gabriel and the others to finally get together and give it another go, or might it shut the window?
I can't say whether Pete is likely to ever join Genesis onstage even for five minutes. It became a very different band with Phil, Mike, and Tony compared to the one that existed in our early 20s, when everyone got a chance to shine. No one can say for certain, but I'd be surprised.
Steve Hackett's Under a Mediterranean Sky is out now via Inside Out Music.
All the latest guitar news, interviews, lessons, reviews, deals and more, direct to your inbox!
Jimmy Leslie has been Frets editor since 2016. See many Guitar Player- and Frets-related videos on his YouTube channel, and learn about his acoustic/electric rock group at spirithustler.com.