Channel Your Inner Lifeson, Howe, and Hackett with this Primer on Acoustic Prog
Sometimes, an old-world solution is the most progressive path.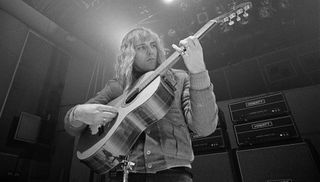 (Image credit: Fin Costello/Redferns)
Using different acoustic instruments in unique ways is a big part of what separates prog from the rest of rock music. Generally speaking, traditional American styles don't mix into a progressive recipe as readily as they do in other classic genres.
It's better to delve back in time and across the Atlantic to find flavors that do. Here are a few style and gear suggestions to help you incorporate acoustic instruments into a tasty prog stew.
Lose The Blues, Embrace The Classics
Delta blues and folk-revival influences are prominent in practically every other corner of the acoustic-rock arena, but to honor the spirit initiated by prog pioneers such as Rush and Genesis, lose the "Crossroads" licks and "Times They Are A-Changin'" tendencies.
Instead, look way back to baroque and classical composers as well as "modern" acoustic masters from Europe, such as flamenco fabuloso Paco de Lucía and Celtic guru Bert Jansch. They inspired progressive acoustic icons such as Steve Howe, Alex Lifeson, Steve Hackett, and Jimmy Page.
Go For Nylon- And 12-String Instruments
Nylon- and 12-string guitars can accurately express the classical, flamenco, and Celtic elements that inform pure prog. Check out Steve Howe's "Mood for a Day" from Fragile to hear how he used a nylon-string to summon flamenco influences with Celtic overtones.
See the Frets feature interview with Hackett for oodles of his nylon- and 12-string insights. And what would Rush's most epic tunes, such as "A Farewell to Kings," "The Trees," and "La Villa Strangiato" be without Lifeson's nylon-string intros?
Speaking of Rush, the chimey 12-string is a huge part of the charm on "Closer to the Heart" and "Natural Science."
Use the 12-string in Nashville tuning complemented by a standard steel six-string to come closer to Lifeson's studio sound. Vintage tones are always appropriate to prog-rock, and there are plenty of instruments worthy of the genre on the new gear market.
The Godin Multiac Grand Concert Deluxe, reviewed in our February 2021 issue, will feel friendly to the fingers of electric guitar players who are interested in exploring the nylon-string arena, and its hybrid design is ideal for live performance.
On the more traditional front, Godin is now manufacturing its venerable and reasonably priced La Patrie line of nylon-strings under the flagship brand. Steel-string aficionados looking to enter the classical realm might want to consider the Martin 000C12-16E Nylon introduced at last year's NAMM Show.
It has a low-profile neck on a familiar-feeling auditorium body shape with triple-0 depth. I enjoyed playing it so much that it's still on my mind.
Try "Outside" Acoustic Instruments
Adding an outside-the-box acoustic instrument to any ensemble or recording can immediately make it sound more progressive. How important is the flute to Jethro Tull? And while the mandolin may be as bluegrass as it gets, if you stick one in a rock context and avoid bluegrass clichés, it can summon a prog sound.
John Paul Jones' mandolin magic was Page's secret weapon in Led Zeppelin. If you don't have a mandolin but do have a ukulele, get creative with that. Here's a hip tip: Try tuning the first two strings up a half step from standard (low to high: G, C, F, A#). The resulting tuning and tone is like a cross between a nylon-string and a mandolin.
For even more adventurous acoustic inspirations, peering deep into the past can be cool. Instead of turning to a keyboard for a drone sound, check out a hurdy-gurdy. It's a medieval stringed instrument operated by a crank.
At a producer's suggestion, I rented one for a couple of days to play in the studio. Learning the basics didn't take long, and it totally transformed the tunes into Led Zeppelin III territory. Sometimes an old-world solution is the most progressive path.
All the latest guitar news, interviews, lessons, reviews, deals and more, direct to your inbox!
Jimmy Leslie has been Frets editor since 2016. See many Guitar Player- and Frets-related videos on his YouTube channel, and learn about his acoustic/electric rock group at spirithustler.com.