Here's How Bottleneck Master Son House Set a Precedent for What Blues – and, in Turn, Rock and Roll – Could Be
A part-time preacher, the blues legend – born Edward James House Jr. – influenced generations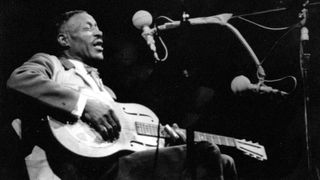 (Image credit: George Pickow/Michael Ochs Archives/Getty Images)
Of all the characters that feature in tales of blues from the early 1900s, singer and guitarist Son House is one of those most regularly cited by present-day enthusiasts.
In some ways he's not an obvious choice. He wasn't the most skilled purveyor of this music, or even the first, but he remains a quietly popular touchstone.
Jack White even named House's sparse, bewitching a capella number "Grinnin' in Your Face" as his favorite song.
"By the time I was 18, somebody played me Son House," White said in the 2008 rock music documentary It Might Get Loud. "That was it for me. This spoke to me in a thousand different ways.
"I didn't know that you could do that, just singing and clapping. It meant everything about rock and roll, expression, creativity and art. One man against the world, and one song. It didn't matter that he was clapping off-time, it didn't matter that it was no instruments being played. All that mattered was the attitude of the song."
To a degree, Son House simply had longevity on his side. Indeed one of the things that separates him from so many of his peers is the fact that he didn't die young. Passing away in October 1988, at the ripe old age of 86, he lived on to commit his memory to tape when so many other blues players didn't.
He was not a guitarist of great technical ability, or even an original pioneer of Delta blues. That accolade sits more comfortably with the earlier likes of Charley Patton, who became something of a travel companion to House, having seen him busking at a station in Mississippi.
But House was a remarkable performer, with one of the most harrowing voices in Mississippi. And he lived to document his legacy on record, setting a precedent for what blues – and, in turn, rock and roll – could be.
Eddie James "Son'" House Jr. was born in Mississippi in 1902. His father was a musician who played the tuba in a band. As a young man, Eddie worked as a manual laborer and preached on the side.
At one point he briefly became a full-time church pastor but continued to be lured by whisky and women. It was a tension that would last throughout much of his life: preaching and liquor, God and the devil, gospel and blues.
Around 1927, he heard slide guitar for the first time and decided to devote his life to blues music.
Like many other blues artists of the day, he suffered during the Great Depression, during which time record sales plummeted and he fell into relative obscurity.
Son House was not rediscovered until the 1960s. "Grinnin' in Your Face" was recorded and released in 1965, around the same time as his signature song "Death Letter Blues." The latter track was built on House's earlier recording "My Black Mama, Part 2" from 1930.
Thanks to televized and audio appearances in the 1970s, his legacy was propelled into the next generation, and beyond.
Order Son House's Father of the Delta Blues: the Complete 1965 Sessions here.
All the latest guitar news, interviews, lessons, reviews, deals and more, direct to your inbox!
Guitar Player is the world's most comprehensive, trusted and insightful guitar publication for passionate guitarists and active musicians of all ages. Guitar Player magazine is published 13 times a year in print and digital formats. The magazine was established in 1967 and is the world's oldest guitar magazine.
When "Guitar Player Staff" is credited as the author, it's usually because more than one author on the team has created the story.