Rick Nielsen on Cheap Trick's Musical Course, Love of the Sex Pistols and Winning Geddy Lee's '59 Les Paul Standard at Auction
Nielsen unpacks the tones behind Cheap Trick's new album and confesses he is yet to get a handle on his gear addiction.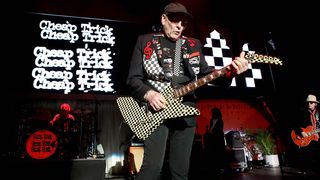 (Image credit: Ari Perilstein/Getty Images for The Recording Academy)
It's been 43 years since Rock and Roll Hall of Fame inductees Cheap Trick released their self-titled debut, and on the eve of unveiling their 20th studio offering, In Another World, guitarist Rick Nielsen is all too happy to share the band's enduring formula for success.
"We've never progressed and never tried to be something we weren't," he says from his home in Rockford, Illinois. New tracks like the chugging, riff-driven "Light up the Fire" and overdriven power-pop number "Here's Looking at You" indicate that Cheap Trick are wise to stay the musical course. It's a point of view shared by their longtime collaborator, Nashville-based producer Julian Raymond.
"Julian happens to be a big Cheap Trick fan, so he's heard our records more than we have," Nielsen says. "We might be working on a song and he'll say, 'Well this reminds me of this cool thing you did back on such-and-such album. Can you think of something like that?' He inspires us by reminding us."
But In Another World is more than a rehashing of past glories or a self-satisfied stroll down memory lane. Nielsen, 72, and his bandmates — singer/guitarist Robin Zander, 12-string bassist Tom Petersson and drummer Daxx Nielsen (Rick's son) — sound like they're fully engaged in the creative process and thoroughly enjoying themselves.
"We still have fun making records, still have fun writing songs, still have fun experimenting," Nielsen says. "Some stuff is good. Some stuff is not so good. But we're always trying to make whatever we've got better."
Guitar sales, both new and vintage, have skyrocketed during the pandemic. You've already got a legendary collection, but have you been doing any shopping?
Me? Noooo! [laughs] Of course I have! I think I probably bought 10 or 12 guitars this year. I bought a 1965 Lake Placid Blue Strat, I've got three 1959 TV Model Les Paul Juniors now, and just last week I got a lawsuit-era Greco copy of a '59 double-cut TV Junior as well. It's worth less than half of what a real one is, and it's not as good, but it's still kind of pretty good! I also found one of maybe two sunburst 1959 Les Pauls with a single-piece maple top. And back in January 2020, I actually won Geddy Lee's former 1959 Les Paul Standard at a Mecum auction in Florida.
I'd known about the guitar for a long time and I was semi-chasing it, because the 1959 Les Paul that my Rick Nielsen "Collector's Choice" Gibson Custom Historic model was based on was also a guitar I got in Canada, around 1980. I sort of forgot all about this particular guitar until it resurfaced with Geddy. The auction was January 10, and right as the gavel went up, the same day and same hour — the same minute basically — was when Neal Peart died.
I didn't want to seem like a ghoul, so I didn't tell anyone immediately that I had the guitar. Eventually word got out, and the guitar dealer Drew Berlin offered me twice what I paid for it. And when Steven Tyler saw that I had the guitar, he offered me even more money for it.
Did you take Steven's offer?
Nope!
In Another World is chock-full of aggressive, super chunky guitar tones. What were the main instruments you used?
There's a 1965 Gibson SG Standard, a Fender Custom Shop recreation of Jeff Beck's Esquire with the body contour, my Gibson Custom Shop Rick Nielsen Model '59 Les Paul reissue, a real 1959 Les Paul, an Epiphone Wilshire, a 1962 Dwight Epiphone Coronet, a 1959 double-cutaway TV Model Les Paul Junior, a 1963 Gibson Firebird I, my checkerboard "Dream Police" Hamer Standard, Julian Raymond's 1972 Les Paul Deluxe with mini-humbuckers, and a 1951 Telecaster… that I thought was a 1952 until I recently had the neck off and saw the "Tadeo Gomez 1951" pencil mark!
There's also a completely mean-sounding distorted 12-string on "Here Comes the Summer" that is freakishly focused and in tune for such an instrument.
The way to get a 12-string to be that in tune is to use two guitars. You're actually hearing a regular six string and then a Nashville tuned guitar, which is like all the octave strings on a 12-string. Both are playing the same part.
What were your go-to amps on the record?
I mixed and matched a 50-watt Marshall "Plexi" into a WEM 4x12 cabinet, a Vox AC30, an Ebo Customs Del Rio 1x12 combo and one of my blackface Fender Deluxe Reverbs that was modified by Paul Rivera. I had him build six of those in 1977–'78, and I've been using them almost exclusively for all these years. I have them in the studio and on the road.
The solos on In Another World sound very spontaneous and are really loud in the mix.
When I go in, I always play live. I sometimes have an idea of what I'm going to do, and usually the song dictates what I'm going to play. As far as the mixing. I want it to be like, [yells] "Here's the solo!" I don't want to finesse it. I want the listener to have his ass kicked.
Is Jeff Beck still your all-time favorite in the lead guitar department?
Absolutely. Our new single, "Light Up the Fire" wasn't written to sound anything like it, but when I went in to cut the solo, I realized that it was in the same key and had a similar feel to the Yardbirds' "Happenings Ten Years Time Ago." So I tried to play Jeff Beck's line from that for my lead. You know, not the whole thing but just like the attitude of the thing.
The story goes that in 1968, you sold Jeff Beck a 1959 Les Paul after his main guitar was damaged on tour.
I did. And a couple of years ago, we played together in Tokyo. He and Jimmy Page and Cheap Trick were all there, and I was talking to Jeff and he said, "Oh, God, I don't even have a backup guitar." Our equipment truck was already on its way to the hotel, but we called the guys and they brought back the Jeff Beck Esquire I mentioned earlier. I handed it to him and said, "Here, Jeff. Now you got a backup guitar." And he said, "History repeats itself."
In Another World closes with a cover of John Lennon's "Gimme Some Truth," which features a guest appearance by former Sex Pistols guitarist Steve Jones. Cheap Trick's debut came out in 1977, the same year as Never Mind the Bollocks, Here's the Sex Pistols and shares some sonic DNA with it. Were you fans of theirs?
One of the biggest disagreements we had with Tom Werman, who produced several of our albums beginning with our second, In Color, was that he didn't like the Sex Pistols. That was a bone of contention. We loved the Sex Pistols. We were the same in a lot of ways, but we didn't have a queen we could yell at. I could even sneer like Johnny Rotten.
In fact, in 1978, when the Pistols were doing their only American tour, we had a day off in Texas and we all tried to go see their show in Dallas. We were driving hellbent to get there, and our roadie, Kirk "Wheel" Dyer — who is the guy you hear saying "All right Tokyo!!!" at the beginning of the At Budokan album — went the wrong way, so we were heading toward Houston instead. That was our one chance to go see those guys… and we blew it!
All the latest guitar news, interviews, lessons, reviews, deals and more, direct to your inbox!