"There Was This Feeling That Women Don't Play Certain Instruments, Like Guitar and Banjo": Feminist Icon Peggy Seeger Looks Back on Her Pioneering Musical Career
"I'd love to see a new river of women playing differently and not trying to imitate male bands," says the folk legend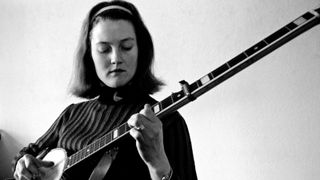 (Image credit: Brian Shuel/Redferns)
Hailing from a house of legends and with a lifetime of wisdom to share, folk guitar heroine Peggy Seeger remains at the forefront of her craft and is a legend in her own right.
Here, Peggy talks about her pioneering musical career during the post-war folk revival and beyond; the trials, tribulations and unexplored musical territory of female guitarists; and getting guitar lessons from Elizabeth Cotten...
Home Tuition
We had a family guitar that hung in the kitchen that belonged to everybody. My father played it. He was born in Mexico and he and I used to play Spanish songs – that's how I started playing guitar, when I was about nine.
My mother [composer Ruth Crawford Seeger] didn't play any other instruments than the piano. She wanted to play the guitar but didn't have the mind for it. My brother, Mike [Seeger], was another influence on my upbringing; he was a more skilled guitar player and we both learned fingerpicking.
The guitar just hung on the kitchen wall, and you took it down whenever you wanted to play it. I came into the kitchen one day – I would've been about 15 – and [Elizabeth Cotten] was playing "Freight Train". I said: "What?! Libba, you've got it the wrong way around!" and she was very apologetic because she obviously thought that she was on her own. She was playing "Freight Train" and Mike and I learned it the wrong way around (the finger did what the thumb normally would do) just to see what she was doing. It was fantastic!
I'd never heard that kind of playing. Mike and I were doing Carter Family [folk guitar-style] so, learning to play like Libba, and me with a classical education, by the time I was 18, I was starting to play some of my mother's piano accompaniments for folk music on the guitar. My mother gave me a classical education, so I know what I'm doing, even when I play folk music. I was deliberately imitating classical music. It was different from what Libba was doing, and different from the Carter Family.
Folk Revival
Folk song began to get attention in the late '40s/early '50s with The Weavers (my brother, Pete Seeger and his group). They took folk songs, souped them up and they zipped to the top of the charts. Songs like "Tzena, Tzena, Tzena" and Lead Belly's "Goodnight, Irene" – that's the kind of thing The Weavers were bringing, and they were very good at it.
But then [Senator] McCarthy got his claws in, and he ruined their career. They were blacklisted [and placed under FBI surveillance]. Before the 1950s, pop music was usually made by big bands and people who became big names, but people didn't perform these songs in their homes – you couldn't because the backing was so incredible. But with the folk music thing, you could pick up a guitar and sing it yourself. It became a do-it-yourself thing. And then you began to get folk singers going from one town to another singing in nightclubs and house concerts.
There was a fantastic songwriting spurt which, I think, was spurred on by folk music. I really do think so. If you can play it for yourself, you can create it for yourself, and you can sing for yourself. If you hear Woody Guthrie singing "Ludlow Massacre" and something's happened in your own neighborhood, you can make up a song like that with very simple guitar, like Woody played. Folk music comes from the working class. It's not a middle-class production. It's not all just being pumped at us from above, and that really started in the '50s.
There was a fantastic songwriting spurt which, I think, was spurred on by folk music. I really do think so. If you can play it for yourself, you can create it for yourself, and you can sing for yourself. If you hear Woody Guthrie singing "Ludlow Massacre" and something's happened in your own neighborhood, you can make up a song like that with very simple guitar, like Woody played. Folk music comes from the working class. It's not a middle-class production. It's not all just being pumped at us from above, and that really started in the '50s.
At one point there were about 3,000 folk clubs in the U.K. They just sprang up like mushrooms up and down the country. The Troubadour was the main one. And ours was the Singers' Club. Sometimes there were fabulous singers and players in them, and sometimes there were appalling singers and players in them. Some of them had a vibe of their own. People sat in a circle and each singer had a chance to sing. It was a case of sing a song, tell a story, or put your cock on the table. You had to contribute something. And people did.
Center Stage
When I first came to the U.K., in 1956, there was this feeling that women don't play certain instruments, like guitar and banjo. Y'know: 'Women are supposed to play with their legs shut. You're not supposed to sit onstage with your legs open.' This was, and still is, a kind of no-no. There were a few guitar players, such as Hylda Sims and Nancy Whiskey, but hardly any.
When miniskirts came around, I wanted to wear them onstage, but I had to sit with my legs together, and it really felt very, very odd. Sometimes I would put a little shawl over my legs so I could sit properly. Women classical players would possibly find themselves in real trouble. Even when you're wearing trousers, there's something in our society that tells you, 'Lady, don't open your legs like that onstage.' It's possible that put some players off, but when you stand up and play, of course, that's quite different.
I want to understand how ladies play big guitars. I don't know why we do it, because it's mashed over you and you're reaching around it. But with a small guitar, you can fit your breast into it; it's perfect if you just settle yourself in right.
Some of us women have small hands and I think getting a small guitar with a small neck and trying the extra light strings to start with might be a good idea. I use extra light strings, and I tune it a half tone low, so that it's very, very responsive. I string the first string with a 9 and the bottom's a 47. I'm not a purist, but I do like wound strings for the top 4.
Role Models
There're plenty of images out there of men playing the guitar, but who are our images as women? Who are our role models as women? If you look at other folk cultures, there aren't a lot of women instrumentalists. The image is of the woman singer and the men players. It was our job to sing. I'd love to know what that's all about.
Maybe we learn to sing earlier. Maybe it's that women had a lot of things that they had to do. Women were busy with the laundry and the children – you can sing while you do that, but it's hard to learn an instrument. Learning an instrument takes a lot of grot at the beginning. Any guitar player will know that. And if you don't do that grot, you have no foundation to your musical house.
So, maybe women didn't get the chance, didn't get the time, or were not given the tuition. It's easier to sing and not play or to play and not sing. So, if it's the woman's job to sing, and she's trying to play something complicated, then that's quite something. Although it's very nice to play with a band, and you can really show your voice off that way, it's a great challenge to try and play while you sing. I can sing loud, but I don't. The idea of singing to delicate guitar or to single string picking, I think, is a wonderful thing for women.
The Power of Precision
Women's hands can work with great precision with small things. They put women on to the very delicate tasks of spinning and weaving because women's hands were more delicate. Women's hands can do the most unbelievable things, and yet in popular music there's very little delicate playing.
In the mainstream of pop, we try to play like men – we pick up the guitar and we whack it. Part of that might be that we don't want to stereotype ourselves. Part of it might be that we want to be part of the mainstream. And part of it may be that we want to prove we can do as well as men, which is something that feminism has definitely gotten over.
I think we should look more into fingerpicking, ladies, I really do. In a way, if we women are going to enter this field, we have to enter it with contrast. It doesn't all have to be loud, and it doesn't all have to be soft, but it's doing more than just whacking [the guitar]. A lot of men can play delicately. We can play delicately, we can sing delicately, and we can do other things with this amazing instrument.
This doesn't mean we have to be peely-wally. We have microphones. We have DI. Let's use our fingers – you can do the most amazing things. There are so many things you can do. It's a very, very versatile instrument, and you can use different tunings, which I'm surprised more players don't do.
On the Pulse
I've never looked upon myself as an instrumentalist – I'm an accompanist. Words, rhythm, melody and harmony: those are our four tools that we have as songwriters. I nearly always start songs with an idea and a riff – with an idea of words and melody. I'm Western European classical harmony based, whereas some people are rhythmically based, but if you listen to my early recordings, I sing and play very fast. Sometimes just with rhythm, and no pulse.
Rhythm and pulse are very different. Rhythm is your feet – it's soldiers marching. Pulse is the beat of your heart, and the heart does different things depending on whether you're stressed, in love, peaceful, or worked up about something. I think it's important to learn the difference.
It's a necessity for a lot of modern music to have this relentless backbeat, but it drives me nuts. It's everywhere! You eat to music, shop to music, sit on the bus to music, and it's a travesty to make music that you're not supposed to listen to. It's more than wallpaper now – the wallpaper screams and you're just supposed to speak over it. Very rarely do you get pulse music in the background. It's always marching music and I think it's responsible for a lot of mental troubles as well as troubles in communication.
Feelgood Factor
The popular image in music now is of four or five men all in 'look at me' positions, and you can just see each member of the band figuring out, 'Am I gonna look cute?', 'Am I gonna look macho?' 'Am I gonna scowl?' 'What am I gonna do to express me in a band?' It's a strange thing because we emphasize individuality and we talk about your clothes, 'making a statement about you'. A statement from your clothes? Well, if everybody's making a statement then there's not really a statement.
It's an interesting time. We're all seeking our own individuality, but I think it's best to figure out what you want to say and make music for yourself to start with – something that, hopefully, will appeal to other people that think the way you do. Or just something that makes you feel good when you're playing, without thinking about performing, or thinking about 'making it'. Pick up an instrument and just enjoy what it sounds like first. This idea of competition and evangelism and having to match up to somebody else's idea of what you should be – in art, it's suicidal.
Tracy Chapman's one of my favorites because she came on the scene singing almost unaccompanied and playing very simple guitar. And that fantastic voice! It was different from anything else, and the minute you're different from anything else, you might have a chance – but a chance for what? If you're trying to do it in order to be different, I don't think that's a reason for making music. Try figuring out: 'What is it I really, really want to say?'
Forward Thinking
Flatpick playing can be very delicate. And it has the possibility of being very loud and what I call 'whacking'. The guitar is an astounding instrument – it really is – but an awful lot of players don't take it to the edge of ability. There's some very skilled flatpick playing, but many young guitarists just don't seem to get beyond playing with an aggressive style. We live in a very aggressive society. It's a very competitive society. We live in a loud society. And the music, for the most part, is very industrial, military and macho sounding. We get the music our society deserves.
So, we need some music that's not necessarily fighting back, but ways of playing that express who we are as a gender and that speak to women of all sorts. The guitar is a fantastic instrument for women because it can express almost any emotion you've got. Experiment with the instrument. It talks! It has terrific possibilities, and we don't use them all.
I'd love to see a new river of women playing differently and not trying to imitate male bands. I've heard some female bands that are like the male bands and they're perfectly good, but I think women often have something different to say, the same as we have something different to contribute to the way things are going in society. Women, don't be afraid of the guitar – you don't have to copy anybody, just learn how to tune it!
Peggy Seeger's autobiography First Time Ever: A Memoir is available to buy here.
All the latest guitar news, interviews, lessons, reviews, deals and more, direct to your inbox!
Rod Brakes is a music journalist with an expertise in guitars. Having spent many years at the coalface as a guitar dealer and tech, Rod's more recent work as a writer covering artists, industry pros and gear includes contributions for leading publications and websites such as Guitarist, Total Guitar, Guitar World, Guitar Player and MusicRadar in addition to specialist music books, blogs and social media. He is also a lifelong musician.