Watch Rare Performance Footage of Folk Legend Woody Guthrie
Pete Seeger introduces "one of the greatest ballad makers" in this 1964 BBC clip.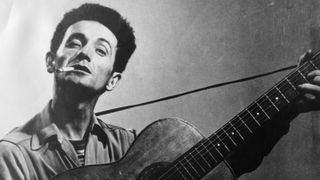 (Image credit: John Springer Collection/CORBIS/Corbis via Getty Images)
On this day, 110 years ago, folk guitar legend Woody Guthrie was born in Okemah, Oklahoma.
In the early 1930s, the budding singer-songwriter set off for Texas where he began to pursue a musical career.
In the throes of the Great Depression, Guthrie hit the road playing guitar and singing in saloons.
In 1937, he ended up in California where he landed a job at Los Angeles radio station KFVD singing traditional and original songs.
Using the station as a platform, Guthrie began to speak out on a range of social issues and he soon became a voice for the disenfranchised.
In 1940, the young musician moved to New York City, recording his landmark Dust Bowl Ballads album that year.
While in New York, Guthrie co-founded a collective of politically minded musicians known as the Almanac Singers.
Members of the group included such notables as Cisco Houston, Josh White, Lee Hays, Sis Cunningham, Burl Ives and Pete Seeger, among others.
From the Almanacs came the Weavers – the highly influential folk band that did much to encourage the American folk music revival during the 1950s and beyond.
Becoming disillusioned with the music biz, Guthrie temporarily left New York in the early '40s.
"I got disgusted with the whole sissified and nervous rules of censorship on all my songs and ballads," he once wrote.
During the war years, Guthrie returned to the Big Apple where he met a like-minded individual by the name of Marjorie Mazia, a professional dancer.
Marrying in 1945, the couple had four children: Cathy, Arlo, Joady, and Nora.
Towards the late '40s, however, Guthrie's health took a turn for the worse. Suffering from Huntington's disease, he hit the road again and eventually ended up in Florida where he worked on his third novel, Seeds of Man.
By 1954, his symptoms had become severe and he was arrested in New Jersey before being admitted to the Greystone Park Psychiatric Hospital.
Arlo Guthrie recalled his memories in a 1988 BBC Arena documentary:
"When he went to the hospital for the first time and my mom went to visit him, a big German doctor psychologist type says, 'Excuse me, Mrs Guthrie, but your husband has delusions of grandeur. He says he's written a book. He says he's a singer.'
"And my mom said, 'No, he's really done all these things.'
"The guy couldn't believe it. He thought he had a real case! And he didn't.
"As surprising as it was to the doctor, the world finds it surprising."
And in this poignant BBC clip from 1964, Seeger introduces his old friend – then hospitalized – to the world…
Influencing generations of musicians, Guthrie has left an indelible mark on guitar culture and was of major importance to countless luminaries, including Bob Dylan.
"Bob Dylan once said, 'You can listen to his songs and learn how to live.' That line sums up what my life has evidenced," said Nora Guthrie.
"His songs, his art, his personal journal entries, his essays full of clear and sometimes explosive ideas, have been there all my life teaching me how to live."
On September 30, Boston Celtic punk supremos Dropkick Murphys will be releasing an acoustic guitar album titled This Machine Still Kills Fascists containing lyrics written by Woody and curated by Nora Guthrie.
"I collected lyrics on all kinds of topics… lyrics that seemed to be needed to be said – or screamed – today," she said.
"Woody Guthrie, he's the original punk," adds Dropkick Murphys co-founder Ken Casey.
"He went against the grain, he fought the good fight, he spoke up and sang about his beliefs. I'm motivated by reading what he wrote and am inspired by his courage.
"One man and a guitar – it's powerful stuff."
Browse the Woody Guthrie catalog here.
All the latest guitar news, interviews, lessons, reviews, deals and more, direct to your inbox!
Rod Brakes is a music journalist with an expertise in guitars. Having spent many years at the coalface as a guitar dealer and tech, Rod's more recent work as a writer covering artists, industry pros and gear includes contributions for leading publications and websites such as Guitarist, Total Guitar, Guitar World, Guitar Player and MusicRadar in addition to specialist music books, blogs and social media. He is also a lifelong musician.