Starring Jazz Guru Bill Frisell, Here's Why Paul Motian's 'On Broadway Vol. 1' Is Essential Listening for Every Guitar Player
Bill Frisell's innovative lines and chord voicings flow majestically on this masterful jazz recording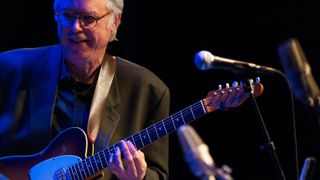 (Image credit: Jack Vartoogian/Getty Images)
One of my standout New York City experiences was sitting right next to the stage at the Village Vanguard, just a few feet away from Bill Frisell, Joe Lovano and Paul Motian while they played their set.
I'd found myself there through serendipitous circumstances. The night before, Bill had come to hear me play at the Living Room. During a break, I heard he might need an amp for his Vanguard gig the next night. I immediately offered my amp to Bill, one of the all-time great guitarists and a super-nice person.
I can't recall if he ended up using my amp, but either way, he put me on the guest list with a seat at the coveted table next to the band. I could've reached out and touched Bill's guitar.
What I was about to witness was a performance I've never forgotten. The players exhibited a telepathic communicative chemistry. It wasn't jazz; it wasn't free music. It was simply amazing and beautiful. All the time, their music transcended musical category.
I might say Motian, Lovano and Frisell were the greatest trio I've ever heard. All this is evident on Motian's On Broadway Vol. 1, which features the late drummer with Bill, Joe and the great Charlie Haden on bass.
Released in 1989, On Broadway was recorded the year before, when Frisell's rig included a Boss Compressor, probably a DeArmond volume pedal and a Boss DD-2 Digital Delay, giving him an almost pedal-steel sound. His lines and chord voicings would majestically flow in and out, creating an ethereal, innovative sound.
Frisell is a musical alchemist. Lovano's saxophone lines could lead the pack, or follow intuitively while playing reactively to almost every musical statement Motian and Frisell testify. One feels like they are listening to a small community, or a sound collage of a town hall meeting.
Paul Motian was the musical chieftain, playing rhythms that were more like ancient, tribal musical statements. Even when his rhythms are delightfully herky-jerky, they remain poignant, and honest.
Paul Motian was a genius. It would be difficult to name my favorite tracks from On Broadway, since each of the nine is vital and a continuation of a larger picture.
"Liza" has a Lovano-Frisell unison that sounds almost futuristic, going quickly into a classic Motian drum break before Joe and Bill shred creatively.
"Over the Rainbow" is simply a masterpiece, while "They Didn't Believe Me" is the trio's midtempo sweet spot, redefining traditional Jazz with personal-sounding harmonic choices.
"What Is This Thing Called Love" sounds cutting-edge modern while feeling introspective. It swings hard, yet lilts drippingly.
Cole Porter's "My Heart Belongs to Daddy" has a bossa feel with traditional folk music changes that Frisell, Lovano, Haden and Motian bring to an amazing place. It's a marvel to hear.
"Last Night When We Were Young" is beautiful beyond words, and "I Concentrate on You," "Someone to Watch Over Me" and "Still in Love" are all equally timeless performances that seem like synchronized parts in a continuing opus.
Sometimes when listening to contemporary jazz with a narrow "rule book," I feel like a dutiful listener. I appreciate the craftsmanship, but it doesn't hit my heart. Paul Motian On Broadway Vol. 1 is music that was very easy for me to fall in love with.
After the trio played their set, I tagged along with the group to the Green Room. I thought Paul, Joe and Bill might revisit the set and pick things apart. The only single commentary I heard was from Paul, who looked at Bill and said, "You're too much!"
On nights like that I feel that everything is all right. Thank you Bill Frisell, Joe Lovano and Paul Motian.
All the latest guitar news, interviews, lessons, reviews, deals and more, direct to your inbox!
Jim Campilongo has 14 critically acclaimed instrumental records available on vinyl, CD and digital download here.