"My Martin and Joey's Gibson Are on All of Our Records. We Consider Them Members of the Band": Kenneth Pattengale on the Milk Carton Kids' Key Acoustics
The Martin signature artist reveals the inspirations and inner workings of his Grammy-nominated folk guitar duo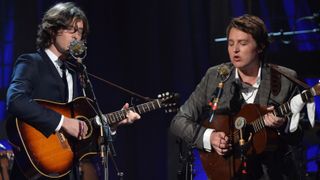 (Image credit: Rick Diamond/Getty Images for Americana Music Festival)
***The following interview extract originally appeared in the Holiday 2018 issue of Guitar Player***
"My guitar style comes from the harmonic necessity of playing in a rather unusual context," says Kenneth Pattengale, the ace six-stringer who performs alongside Joey Ryan in the acoustic-guitar-and-vocal duo the Milk Carton Kids.
"Instead of being a lead guitar player, I'm more of a color guy. I choose the wallpaper or set the scene, whether it's a rainy night or a sunny day. You can do that with the sort of rhythms, chords or accidentals that you 'place around the room.'"
A parlor guitar aficionado, Pattengale is a maestro with intros and outros. He creatively fills sonic spaces with all sorts of melodic runs, double-stops and chord fragments throughout entire songs.
He's also an excellent singer, so the harmonious Milk Carton Kids can sound like a more Americana-tinged version of Simon and Garfunkel, if Garfunkel were a brilliant acoustic texturalist.
How did two dudes that make depressing folk music end up hosting 2018's Americana Honors & Awards?
That was a total trip. Early on, we found out by accident that Joey is funny and that our interpersonal dynamic could be entertaining. A few laughs can help the audience get through a somber set, and our show is a sad affair.
In the early days, Joey had to fill a lot of time talking because I used to break a lot of strings when I first got my main vintage Martin. The guitar needed a lot of TLC, and it needed to learn me as much as I needed to learn it.
What's your instrument's backstory?
It's a 1955 0-15, the smallest full-scale production model Martin ever made. I'd been looking for an 0-15 for years because I love the mahogany's dark sound and the continuity a small chamber provides compared to, say, a dreadnought, where the lower register feels very different than the higher strings.
The little box on the 0-15 makes notes from the sixth to the first strings sound almost as balanced as a piano. I picked up my Martin off eBay in 2009 from a little old lady living in Arizona, and I got very lucky.
When I'd capo above the fourth fret, the strings would buzz, so I got in the habit of wrapping a handkerchief around at the top as a mute, and then that 0-15 sounded exactly like the guitar that I'd always wanted to play.
Joey's 1951 Gibson J-45 dreadnought has an interesting backstory as well. He was gifted that phenomenal guitar by someone he has still never met. It was one of his earliest fans from MySpace, who randomly asked him for his address. That $8,000 guitar just showed up one day.
My Martin and Joey's Gibson are on all of our records. We consider them members of the band.
How has your partnership with Joey Ryan informed your development on guitar?
My style is very specifically the result of Joey and I getting together to play songs with just two guitars. When you're singing harmony along with another guy who plays chords, which is essentially what Joey does, there's a whole lot of space available.
I'll hold down the fort at times as well, but I always have the option of playing lead lines along with our vocals as counterpoint.
My guitar is also the primary arrangement tool. It was the only available means to achieving the fast-picking bluegrass sound we were going for on certain songs from our earlier records, and some ballads would feel sleepy if I didn't play some intricate guitar parts to provide complexity to the arrangement.
Who were your teachers and inspirations?
I've never taken a guitar lesson in my life. I've learned by trial and error. I think I learned a Tony Rice lick once and a B.B. King lick twice. That's the end of it, technically, but I'm a great lover of music.
Joey and I literally wouldn't have a band if Gillian Welch and David Rawlings didn't carve out a path for an audience to receive us.
The way Duke Ellington arranged his big band to communicate musical ideas is always kicking around in my head, informing my choices.
A good percentage of our fans come out primarily to see me play the guitar – not as many that come for the vocal harmonies, but a good percentage. Many ask how to play like me, or how I do what I do. The only real answer is that I'm simply trying my best to play as well as I can.
The intention is to make music that's truthful and beautiful, real and unique.
What instrument would you recommend to achieve your vintage Martin small-body sound that's more accessible and affordable?
Well, this is going to sound like a plug, but I've been working closely with Martin for a number of years on a signature model designed precisely with that idea in mind.
We're constructing an instrument that will capture the sound and serve the original purpose of the 0-15, which was a durable budget model for working people and students.
It's a challenge, because the guitar must be lightweight, with a thin top and a proper X-bracing, and made of quality woods and components.
Visit the Milk Carton Kids website for info on releases, tour news and more.
All the latest guitar news, interviews, lessons, reviews, deals and more, direct to your inbox!
Jimmy Leslie has been Frets editor since 2016. See many Guitar Player- and Frets-related videos on his YouTube channel, and learn about his acoustic/electric rock group at spirithustler.com.