"I Would Try to Get Different Sounds out of My Guitar": Muriel Anderson Talks Interpretation, Inspiration and Dreaming About Guitars
A true musical adventurer, Muriel Anderson has played with Chet Atkins and Les Paul and continues to perform throughout the U.S.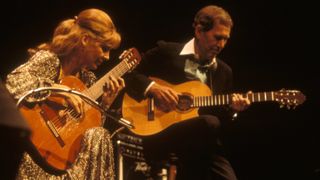 (Image credit: Beth Gwinn/Redferns)
Muriel Anderson is a musical adventurer. When it comes to genre, she's almost impossible to pin down. Though she is known as both a fingerstyle and harp guitarist, those definitions don't come close to encompassing all her interests and capabilities.
A lifelong student of music and a lover of world cultures, Anderson is constantly seeking higher musical ground.
Her ambition has produced a long list of accolades that include winning the National Fingerstyle Guitar Championship, playing with Chet Atkins (see above pic) and Les Paul, and developing Muriel Anderson's All Star Guitar Night, an annual charitable performance featuring some of the finest pickers on the planet.
Her music was featured in Woody Allen's 2008 film, Vicky Cristina Barcelona. More recently, she toured a multimedia collaboration with photo-artist Bryan Allen that includes cultural exploration, visuals and food, and is titled, appropriately, Wonderlust.
When did your classical training begin?
In college. I started with folk guitar lessons when I was eight, joined a bluegrass band and then played in school jazz bands. I did a lot of improvising before that, and I've always been fascinated by international folk music. I came to classical reluctantly because it was the only way I could study guitar in college.
Can you improvise on classical pieces?
There are some Spanish pieces that I can improvise on, but other pieces are so perfect that improvising would not improve them. But I do improvise on phrasing.
Each time I play a classical piece I discover a new way or a new tone to put on a particular note, or how to smooth it into the next note so it feels to me like an improvisation. The interpretations are different every time. That's what keeps the music interesting.
I read that you were very much into Doc Watson as a child. Were there other styles of music that interested you?
I was mostly interested in folk music and some international music as well. I was fascinated by different kinds of sounds. I would try to get different sounds out of my guitar. I was interested in all these ways of thinking about music.
You use some flamenco techniques in your music. Did you study it?
No. I took two flamenco guitar lessons and the instructor just showed me some techniques. But it changed my perception of what could be done with the right hand and how to get fire out of the instrument.
What techniques in particular?
The rasgueado technique [a precise and rapidly performed strumming style in which the fingernails strike the strings] He showed me how to keep it going continuously. I've used aspects of that to come up with other types of strums, depending on whether I want to end with an up strum or a down. Learning that one technique gave me the tools to come up with a bunch of others.
Did you always know you would become a musician?
I knew I would do something in the arts. I wasn't sure if it would be the visual arts, creative writing or music, until I was in grade school and had a dream that I was carrying my guitar to school.
The guitar got heavier and heavier, until finally I set it down and rode it to school. It lifted off the ground and transported me. After that, I figured the guitar would be what carried me, and it was.
All the latest guitar news, interviews, lessons, reviews, deals and more, direct to your inbox!