Listen to Bill Connors' 'Of Mist and Melting' – ECM Jazz at Its Finest
This 1978 acoustic guitar masterpiece exudes atmosphere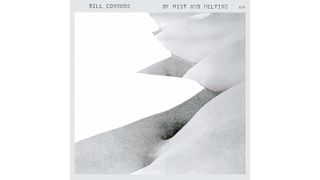 (Image credit: ECM)
Released in 1978, Of Mist and Melting (ECM) was Bill Connors' second solo record.
His first, 1975's Theme to the Gaurdian [sic], was similar compositionally, but trimmed down, with Bill on acoustic guitar and some overdubbing.
The more elaborate Of Mist and Melting is expanded with Jack DeJohnette on drums, Gary Peacock on bass and Jan Garbarek on tenor saxophone.
The standout tracks to me are "Face in the Water," "Not Forgetting" and "Unending." Interestingly, these pieces remind me of Segovia's underrated original works, in particular "Neblina" and the third piece in Cinco Anecdotas.
That both of these Segovia compositions could fit in perfectly on Of Mist and Melting gives merit to Connors' legitimacy as a guitar composer.
Aside from his unique musical choices, Bill Connors' sound is personalized with an application of undeniably distinctive, slow, large-waveform left-hand vibrato.
Even with a blindfold test, one would be pretty certain this acoustic guitarist is the same fiery electric guitar player on the first Return to Forever album, Hymn of the Seventh Galaxy.
Producer Manfred Eicher and engineer Jan Erik Kongshaug did a super job with the sometimes problematic chore of recording acoustic guitar, capturing it like lightning in a bottle.
Additionally, Jack DeJohnette's cymbals are crystalline, Gary Peacock's bass speaks with all the nuances of an acoustic bass, and Jan Gabarek's saxophone is big and strong.
Although Garbarek adds an emotionalism and raises Connors' compositions to their proper heights, his raw emotion occasionally hits me a bit hard, like Enrico Caruso butting his way into a Joni Mitchell song. But that's my personal taste and, perhaps unfairly, my nitpicking.
Certainly, Of Mist and Melting wouldn't be as great as it is without his contributions. Connors is an artist of worth, and I have followed and embraced his LPs with enthusiasm.
His contributions to 1977's Pyramid, with Paul Bley and Lee Konitz, are beautiful and poignant.
Both Theme to the Gaurdian and 1980's Swimming with a Hole in My Body convey an introspective originality, and I love his brief, yet supersonic guitar solo on Julian Priester's Love, Love, from 1973.
Interestingly, Connors departed from his personal style on his 1984 album, Step It, where he channeled a style evoking Allan Holdsworth, while supported by bassist Tom Kennedy and drummer Dave Weckl.
It's a shocking stylistic makeover that is a tribute to his dedication, yet on this album I missed the "original" Bill.
I admit, I've tried to rewrite "Unending," the album's final track, a dozen times, to no avail. It's an example of sparseness cut with a laser beam of certainty.
Connors has a compositional sense and an intuition that ooze with patience and emotion, and he continues to beckon my own approach and ambitious musicality.
Of Mist and Melting remains my favorite Bill Connors record.
To me, it's ECM jazz at its finest.
***Visit the ECM website for a browse through the Bill Connors catalog***
All the latest guitar news, interviews, lessons, reviews, deals and more, direct to your inbox!
Jim Campilongo has 14 critically acclaimed instrumental records available on vinyl, CD and digital download here.