Joe Robinson Unpacks the Technique Behind His Breathtaking Electric and Acoustic Guitar Virtuosity
Robinson reflects on acoustic highlights and offers insights into his new album and signature Maton.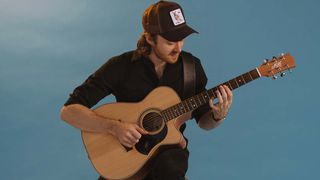 (Image credit: Libby Danforth)
Joe Robinson is a frighteningly fantastic acoustic and electric guitar player who can leave you contemplating one of two things: quit while you're behind, or join his quest onward toward ultimate guitar expression.
Just turning 30, Robinson is already a seasoned vet of the Guitar Army with Robben Ford and Lee Roy Parnell, and he works regularly with Nashville royals Rodney Crowell and Emmylou Harris as well as his mentor and fellow Australian transplant, Tommy Emmanuel.
The prodigiously talented guitarist made a huge splash with his 2009 American debut of acoustic instrumentals, Time Jumpin', and earned Best New Talent in the 2010 GP Reader's Poll before turning 20.
A huge factor in how Robinson got so good so fast may be his waking up at 4 a.m. to ensure a productive practice session each day, and he confirms that's still his routine. Such a dedicated cat isn't about to let the pandemic or anything else slow his creative roll.
Now he's turned a frustrating struggle to bring his Canadian fiancé stateside into an album of love songs. Robinson released Borders in December on his label, Joe's Garage, which he confirms is a nod to the mighty Frank Zappa.
Borders is primarily a singer-songwriter affair akin to John Mayer's solo efforts. Robinson also loves to dub dazzling, jazzy electric solos over acoustic guitar foundations, and challenge conventional pop arrangements. The title track is a perfect example.
"There's one verse, two choruses, and a gang of hot guitar solos," Robinson says with a laugh. To understand where he's coming from, look no further than the last track on 2019's Undertones. Robinson tells his inspiring life story on "Temagog" in a transcendental spoken-word, stream-of-consciousness-style over a compelling solo acoustic track.
Zealots looking for deep guitar guru-ing can subscribe to Robinson's Guitar Synergy channel on TrueFire or take his Joes12 online course. In addition, each week on his YouTube channel, he livestreams a guitar show where he'll offer everything from an enlightening acoustic cover to an in-depth look at his gear.
Robinson is an avowed Maton enthusiast, and during NAMM's Believe In Music Week the venerable Aussie acoustic manufacturer heralded the J.R. Signature.
Watching Robinson use it to thumb-pick a bass line while ripping melodic passages over the top at breakneck speed without breaking a sweat is a testament to his endless practice hours in pursuit of perfection. It may make you feel futile or enthused, but his unbridled passion and purely positive personality make the latter far more likely.
You have so much in common with Tommy Emmanuel. Did he inspire you to become a dedicated acoustic thumb stylist?
I grew up in a farm shack way out in the Australian bush where we didn't even get hot water until 2001, but some family friends that ran a cattle ranch played the Chet Atkins and Jerry Reed repertoire.
There was one copy of Heavy Neckin' [a songbook of Jerry Reed transcriptions by John Knowles] that got passed around the community. Those guys showed me how to use a thumb pick.
I met Tommy Emmanuel and his brother Phil at a music festival when I was 11. Tommy was clearly taking thumb picking to another level, which inspired me to figure out what he had going on.
I played electric guitar in a blues band as a teenager, but it was hard to find other players to be in my band when I was young. Tommy became my north star as a solo performer, and using a thumb pick provides a Merle Travis–like articulation on the bass notes that you can't get without one. I use a Dunlop medium. The thumb pick provides tremendous power, which is also helpful for creating artificial harmonics.
What exactly do you mean?
The technique for playing the kind of cascading, harp-like harmonics that I do involves using the index finger to "fret" the harmonics as the thumb strikes the strings.
The natural angle of the way my fretting hand dangles puts the thumb pick in the perfect position to generate the note very clearly. You can do the same thing with a thumbnail, but not as easily.
Do you mean the kind of harmonics Lenny Breau made famous and used to write about as a columnist in Guitar Player many years ago?
Yes. When I was a teenager I bought a 10-year stack of Guitar Player magazines from the '70s and '80s at the Salvation Army store. I read those from cover to cover, and that's where I found out about a lot of legendary players. Chet Atkins kind of pioneered the cascading-harmonic technique, and Lenny Breau was incredible at it. He's untouchable.
Some good examples of how I use harmonics can be heard on the introduction to my instrumental tune "Royal Flush" and my version of "Misty." They are both from Time Jumpin', which is still relevant as a big part of who I am and what I do. I get tagged in videos on Instagram and YouTube every day as people send me links of them playing "Strutting It," "Daddy Longlicks," "It's Not Easy," and "Misty."
What specific elements do you need from an acoustic to produce quality harmonics?
The guitar has to be set up well because, if the action is too high, it's very difficult to hold the chords down with your fretting hand while focusing on your plucking hand to create the artificial harmonics.
I also replace the top E string in a set that would normally go from .012 to .054 with a heavier gauge, usually a .016, so it's like having two B strings. That delivers better balance in the form of more volume for the top melodies, so it helps my fingerstyle playing in general, not just specifically harmonics.
What made you gravitate to Maton guitars?
Maton guitars are ubiquitous in Australia. My father had one, as did the fellow I took my first lesson from. Once I heard that unique Maton zing, I was hooked. When I heard Tommy's sound playing his Maton through a P.A., I decided I needed that guitar, and when I was about 14 I got his initial signature model as my first Maton.
Its smaller body size is great for fingerstyle playing because the focus is in the middle range. It's made of Queensland maple, which sounds a bit softer and smoother than what I eventually wound up with in my custom Maton, the J.R. Personal. Its back and sides are made of Tasmanian Myrtle, which has a throatier, more aggressive midrange and a faster attack.
I was always playing a million miles an hour, so they figured that would work well for me! There have been a few versions, and we incorporated the best elements into my new signature model, so it's made of Tasmanian Myrtle as well.
Joe Glaser is a premier guitar tech in Nashville, and he turned me on to its unique fret size that is taller than a Gibson fret but wider than a Martin. He found a sweet spot in the middle that's great for bluesy string bending.
Maton players all rave about the proprietary AP5 Pro pickup system. What are your thoughts?
It leaves everything else in the dust. Acoustic-electric players have become so accustomed to the tiny, tinny sound of a standard piezo pickup, but the Maton's piezo delivers a full-range sound that goes all the way down to 20Hz.
The tone is balanced and super responsive, so you can play very delicately. Maton's preamp system is very high output; it's got a lot of juice. Onstage, I tend to crank both the mic and the pickup and use a feedback buster in the sound hole, like Tommy. I don't use the pickup signal much in the studio though.
Can you share some details on one of the acoustic highlights from Borders, "Genevieve"?
That's my fiancé's name, and she lives in Quebec City, Canada. They closed the borders because of the pandemic, and we're still waiting on the visa so she can move here and we can get married. I wrote that song about meeting her, and I wanted to incorporate some similar melodic elements from one of my more popular songs from around 2012 called "Adelaide."
The way I write music is very influenced by counterpoint. There is usually a distinct bass line and a distinct melody line, and everything in the middle is just kind of accentuating one or the other. James Taylor's verbal phrasing and his beautiful sense of chord motion is a big influence that is most prevalent on another new song called "The One." I pretty much stick to standard tuning.
For "Genevieve" I put a capo on the first fret because I like how that sound tweaks the ear. The song is in the key of Ab, and in this case the bass line comes from a straightforward chord progression moving from the G position to E minor to C to D. I play the verse melody on the D and G strings. I like to incorporate diminished chords as well, which is something Nashville writers don't typically do.
What's your strategy when it comes to a song featuring acoustic and electric?
I love the idea of combining good songs with guitar playing on a high level. Pushing the limits of what I can do excites me, and people feed off the energy when they see you stretching. I'll have the band carry on while I put one guitar down and pick up another.
If I'm playing solo, I'll kick on my Boss RC-1 Loop Station using an external foot switch to lay down an acoustic loop while I make the switch to electric. Then I'll use a Wild Dog percussion stompbox to get a kick drum groove going.
The Maton is always my acoustic voice. My main electric is a '58 Gretsch Country Club, and I've recently started playing a Music Man Valentine a lot because it's such a well-designed modern instrument. I've been talking with them about building a unique custom guitar.
My electric amp is a little '65 Fender Champ. My main effect is a Strymon El Capistan dTape Echo. My acoustic amp is an Udo Da Capo 75. Udo Roesner founded AER Amps, which I used for a long time. Last year he came out with his own new venture. The feature set is similar, but the Da Capo 75 sounds a bit more open.
My overarching goal is to be able to put on a good show for people using everything: telling stories with words as well as entertaining people with some guitar pyrotechnics on either the Maton or an electric. I'm still searching for my real unique voice, but I feel like I'm getting close to that point.
What's on the horizon?
I've been writing for a collection of solo acoustic instrumentals as well as a solo electric instrumental album. I have another album with drums, bass, and some strings in the can. It features more of a roots-influenced production with no overdubs. We're figuring out a release plan. I've really enjoyed being home this year and being able to write more and practice more.
Doing the livestream each week is cool because people tune in from all over the world, and I'm looking forward to getting back out on tour. I have some shows planned with Tommy later this year. Our job, especially as we continue to deal with the pandemic, is to bring music that relieves stress and enriches people's lives.
Borders is out now via Joe's Garage.
All the latest guitar news, interviews, lessons, reviews, deals and more, direct to your inbox!
Jimmy Leslie has been Frets editor since 2016. See many Guitar Player- and Frets-related videos on his YouTube channel, and learn about his acoustic/electric rock group at spirithustler.com.