"Here's a Song I Wrote in a Little Apartment, and We're in Bruce's Farm-Barn Studios Singing It Together": Jesse Malin Reflects on Working With Bruce Springsteen and Ric Ocasek
The hardcore troubadour takes us on a guided tour of his prolific career with five choice discs from his extensive catalog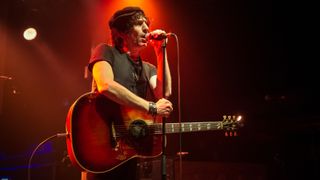 (Image credit: Jordi Vidal/Redferns)
"Playing music is cathartic for me," Jesse Malin says. "I don't know where else I could go to get that feeling." He laughs. "I used to say, 'What else are you gonna do – rob a bank?'"
Malin views his line of work as more a calling than a choice, and true to form, the native of Queens, New York, is a music lifer. He began playing in bands at the tender age of 12, fronting the seminal New York City hardcore act Heart Attack, who were part of a scene that also included Bad Brains and the pre-hip-hop iteration of the Beastie Boys.
Malin went on to experience mainstream success in the early '90s with major-label glam-punkers D Generation, and in the process he became friends with some of his idols, including Joey Ramone and Joe Strummer.
D Generation broke up in 1999, and a few years later Malin re-emerged as a solo artist, playing music in an acoustic, Americana singer-songwriter style that harkened to a different aspect of his musical roots.
"In my teens, I used to busk with my acoustic guitar in the subways on 14th Street," he says. "I'd play songs by the Ramones and Dion and Johnny Thunders, and get some money."
As a solo artist, Malin has issued nine studio albums, several EPs and a live effort that find him, as in his subway days, accompanying himself largely on acoustic guitar. Sometimes he's backed by a band; other times, as on 2008's On Your Sleeve, he's returned to covering Johnny Thunders, as well as Elton John, Jim Croce and Bad Brains, or surrounded himself with piano and strings and duetted with Bruce Springsteen ("Broken Radio," from 2007's Glitter in the Gutter).
Here, the 'hardcore troubadour' takes us on a guided tour of his prolific career with five choice discs from his extensive catalog...
1. 'God is Dead' by Heart Attack (1981)
"This came out when I was in junior high school – PS 194 in Whitestone, Queens. It was a three-song EP my band Heart Attack cut at a studio in Long Island City. We were a power trio, and our manager was a guy named Mojo who the Beastie Boys later wrote a song about.
"We put this out, and then we went and started doing shows with the Misfits and the Bad Brains and the Circle Jerks. I believe it's the first New York hardcore record. The only other band that had a record out around then was the Bad Brains, and they were from D.C.
"It has three songs: 'God Is Dead' is a thrash number, 'Shotgun' is an anti-NRA song – which, you think how many years ago that is and how it's the exact same stuff that we're still dealing with – and 'You' is about a girl that didn't want to give me any notice in junior high school.
"As for the title of the EP, I had never even heard of Nietzsche. I guess I just had this atheism already in my 14-year-old head. Heart Attack was a very physical band. I played an SG, jumped around and sang. We got to play Max's Kansas City, CBGB, A7, the Ritz, and eventually we went on tour, to the point where I stopped going to junior high school and just started touring."
2. 'No Lunch' by D Generation" (1996)
"We met with a lot of producers and the one we picked was Ric Ocasek. He was so sweet and smart and tough, and we loved the Cars, and we loved that he had worked with the Bad Brains. D Generation was a pretty volatile group where we loved each other, we hated each other. We were a family, a gang, a big mess, a powerhouse, a five-headed monster. And so it was really hard to pin us down in the studio. But Ric came in and we just liked him, and we had such a good experience.
"We did the record in two weeks at Electric Lady Studios. Ric made it effortless, but it's a very raw, real record that I'm really proud of. Out of all the records, I like coming back to this one. And I think the band was in a great place. We had a lot of fun making it. Then we went out on the road and opened up for a lot of our heroes, like the Ramones and Kiss and Social Distortion."
"I was really nervous to be a solo artist. I'd always been in bands, but somebody said to me, 'You pay for the rehearsals, you write all the songs. Why isn't the band called Jesse Malin?' I thought that'd be very adult. But once I got past that, I realized it was a time where people were listening to songwriters again, and in D Generation I was always frustrated that my lyrics were never heard. It was all about the mosh pit or the hairdo, and not about the songs.
"So I stripped the music down. I thought it was going to be a pretty quiet record, but then Ryan Adams came in as producer. He'd never produced a full record, but he had worked with so many great people. He and I were looking for a lead guitarist, and he just strapped on the guitar and suddenly became a lead guitarist too.
"We did the record in five days. It's very raw, and I didn't have much money because I didn't have a record deal. But Ryan was fearless and enthusiastic and very supportive, and the band I had at the time just really came through. And for me it was a chance to write about things that were more personal. I could really go deeper into my life and write more autobiographical stuff instead of just writing for the gang."
"This one was recorded in California, mostly, and I'd never done a record out of New York. I'm a big walker, but I would try to walk in L.A. and people thought I was a male prostitute. I made the record with [producer] Rob Caggiano, and we put it out on Green Day's label at the time, Adeline, and they were very supportive.
"It's more of like a pop-rock record, with more electric guitars. On Fine Art I used mostly a [Gibson] J-45, but on this one I played a Les Paul Deluxe and a couple of Strats because there were more textures and we wanted some different kinds of tones. We wanted the Fender and the Gibson sound blended together.
"There's also some pretty intimate songs, like 'Aftermath' and 'Broken Radio,' which, I didn't realize at the time was about my mom, who passed away from cancer when I was 17. So I wrote this song, and right before I was making the record I went to see Bruce Springsteen in Boston, and I told him, 'I'm going to L.A. I'm making a record!' He said, 'Well, if you need me for something, I'm down.' So I figured he'd play some guitar, shout some vocals. But my producer Rob said, 'No, have him do a duet with you on that song about your mom.'
"I didn't really get it at first, but I sent Bruce a demo of it and he wrote back and said, 'Come out to my studio if you'd like.' So we went out to Jersey. It was very surreal. Here's a song I wrote in a little apartment, and we're in Bruce's farm-barn studios singing it together. It was just an unbelievable experience."
"When I was touring for The Fine Art of Self Destruction, I would play covers during the encore because I didn't have too many songs. I enjoy taking songs and instead of, like, karaoke covering them, I break them down into a different thing. I'll take loud songs and make them quiet and take quiet songs and make them loud.
"That's how this covers record came about. I wanted to make something like a mix tape of my schizophrenic record collection – everything from the Bad Brains and Elton John to Jim Croce and the Kills. It was just songs that I loved. And my manager said, 'Don't do this, because you're not going to get paid. You didn't write the songs.' I said, 'Well, sometimes you've got to do it for fun.'
"In the end, she was kind of right, because it was a short touring cycle. But it was a fun thing to do. The title, On Your Sleeve, was about showing my influences and also a nod to my love of record stores, vinyl, buying music and loving music. That's why we get into this in the first place. It's about being a fan first and being inspired."
The Fine Art Of Self Destruction (20th Anniversary Edition) is out now.
Catch Jesse Malin on his 20th Anniversary summer tour this year.
All the latest guitar news, interviews, lessons, reviews, deals and more, direct to your inbox!
Rich is the co-author of the best-selling Nöthin' But a Good Time: The Uncensored History of the '80s Hard Rock Explosion. He is also a recording and performing musician, and a former editor of Guitar World magazine and executive editor of Guitar Aficionado magazine. He has authored several additional books, among them Kurt Cobain: Montage of Heck, the companion to the documentary of the same name.