"I've Been Interested in Guitar as an Instrument That Adds to a Band Instead of Overtakes it": Browan Lollar Talks Finding His Sound
The St. Paul and the Broken Bones guitarist calls on the wisdom of his heroes on the band's latest, 'The Alien Coast.'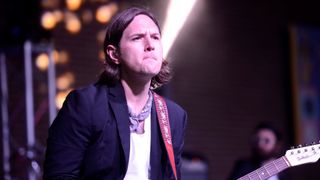 (Image credit: Greg Campbell/Getty Images for Tennessee Tourism)
The guitar players who most influenced Browan Lollar serve as bookends of a sort. In style and tone, the guitarist for horn-heavy soul purveyors St. Paul and the Broken Bones hangs out somewhere between Steve Cropper and Radiohead, and never more so than on his band's latest album, The Alien Coast (ATO).
"I'm so impressed with somebody like [Radiohead's] Jonny Greenwood or Ed O'Brien, because those guys were guitar players in the biggest band on Earth," he explains. "Then they were like, 'We don't want to be a guitar band anymore; we want to be an electronic band.'"
Lollar says he and his bandmates can relate, although he's reluctant to make the comparison.
"Our band is sort of at the same point, where we're like, 'We don't want to make that type of music or be known for one type of music,'" says the guitarist, who previously played in Jason Isbell's 400 Unit band in the early aughts.
"We want to explore and really press ourselves. I find myself thinking about those guys a lot and what they would do in certain situations."
After forming in Birmingham, Alabama in 2012, the octet became darlings of the festival and club circuits for its throwback look and sound. It didn't take long for the band members to grow out of their matching suits, though.
Once their experimental streak began to show, they tugged on that thread and kept pulling it forward.
"A lot of times, especially these days, we'll bring in something that's totally written on a synthesizer," Lollar says.
Once the other band members get ahold of an idea, though, that synth phrase could end up as a guitar riff or horn blast. And for Lollar, that's the fun of it.
On the eve of releasing The Alien Coast, he talked with us about finding his place in an eight-piece band and coming of age in a music town with a backstory all its own.
You grew up near FAME Recording Studio. What was it like to develop around so many great musicians?
I lived over in Florence, which is just across the river from Fame. Everybody knew exactly what Fame had done back in the day.
I grew up going to bars and seeing people like Kelvin Holly, who was Little Richard's guitar player for a long time, play to people who were just ignoring them. I thought you had to be that good to play at a bar.
Years later, after I started touring, I realized how special what we have there is.
How did your early recording sessions impact you as a young player?
We recorded the Jason Isbell and the 400 Unit [2009] record at FAME. That was the first time I'd actually been able to set up camp in there with a band, where we had the studio for a week and got to move in.
It was also my first real opportunity to get into the studio with all the toys and have time to experiment and do things that Jason didn't have planned out before going into the studio. I still think about that session a lot.
Which players were you most impressed by growing up?
I loved Chet Atkins and Mark Knopfler, and people from the old style of playing. Then I got into more band-oriented players like Steve Cropper and David Gilmour. I felt those players knew their role and the spot in the music they needed to fill, and they filled it perfectly.
Steve Cropper isn't flashy, but he would come in with a really raw sound. It was just crazy to me how he was able to make that Telecaster sound work in that setting.
For a long time I've been interested in guitar as an instrument that adds to a band instead of overtakes it, especially with St. Paul and the Broken Bones, because we've got so much stuff going on, and it's so important to be dynamic in the band.
How did you find your place in such a large ensemble?
I had to discover that I didn't have to go in there and be "guitar guy" and come up with riffs and stuff. When we first started, before [2014's] Half the City, I told the guys I didn't want to take a bunch of guitar solos. I didn't think that this band needed to be a guitar solo-y band.
At that point in my life, I was pretty tired of it. I just wanted to focus on writing songs. Luckily, it doesn't really lend itself to that, anyway.
Do you lean on any music theory tips or lessons to find complementary notes to what the horns are playing?
Very little. I'm the one guy in the band that isn't great at music theory. I know it enough to have a grudging respect, because I have to. All our horn players can just spout the stuff off, and Al [Gamble], too, our organ player. I know what works and doesn't over a certain chord.
What do you find most challenging about playing in this band?
There's eight guys onstage, okay? All the low-frequency stuff is organ and bass. All the mid- to high-frequency stuff is pretty much covered by the horns, and all the high-frequency stuff with our singer.
Where does that leave the guitar player? For a long time, I was experimenting to find what kind of guitar tone really suited us.
Where did that journey take you?
I went from a [Gibson] ES-335 to an old [Gibson] Trini Lopez that I really love. It didn't really work, though, so I went to a [Fender] Jazzmaster and finally settled on a [Southside Custom Guitars] T-style, because it's got that Steve Cropper thing where it kind of threads the needle between all those other very rounded, beautiful instruments.
You've been upheld as a plug-and-play guitar player. Considering how far out you get on The Alien Coast, has that reputation held?
Yeah. Actually, it's gotten a little better. When we fly, we've got 1,000 bags to get from point A to point B. Right now on my pedalboard, I've got one of those Cry Baby Mini Wahs, and I really like it a lot.
I've got a Boss ES-5 multi-effects processor; that's what I use for flange and a little bit of echo. That goes into a Strata reverb pedal, and from there I go out.
I don't have a lot of pedals because I have to focus on what I'm playing with my hands. If I start tap dancing too much, I can't play well.
Your playing in this band is well suited to a combo amp. What are you using?
For a long time, I was playing the Supro Thunderbolt Plus, but our horn player Allen [Branstetter] is playing a lot of secondary guitar parts on the new record, and he's going through the Thunderbolt now, and I've moved back over to a Fender Twin.
I can't seem to get away from a Fender amp. Most of the time, if it's not a Fender amp, I'm just trying to make it sound like a Fender amp.
As a band, it sounds like you threw out the rule book this time.
We have been evolving in that way ever since the second record. With this album, we asked about every single part of this record, "Does this song need this?" We didn't just throw guitar on a track if it didn't need it, and honestly that went for anything.
There's barely any horns. We really just wanted it to be a challenge for us. We wanted it to be out of our comfort zone.
Order The Alien Coast here.
All the latest guitar news, interviews, lessons, reviews, deals and more, direct to your inbox!
Jim Beaugez has written about music for Rolling Stone, Smithsonian, Guitar World, Guitar Player and many other publications. He created My Life in Five Riffs, a multimedia documentary series for Guitar Player that traces contemporary artists back to their sources of inspiration, and previously spent a decade in the musical instruments industry.